The Industrial Revolution started in Britain in the late 18th century and changed the lives of most of the population forever. The British economy was transformed from being mostly agricultural to being mostly industrial in the space of a few years. Mechanization forced people off the land into the mills and factories. This is often reflected in family histories as people transition from being agricultural labourers to factory workers. Here then, are some useful online British Industrial Revolution resources.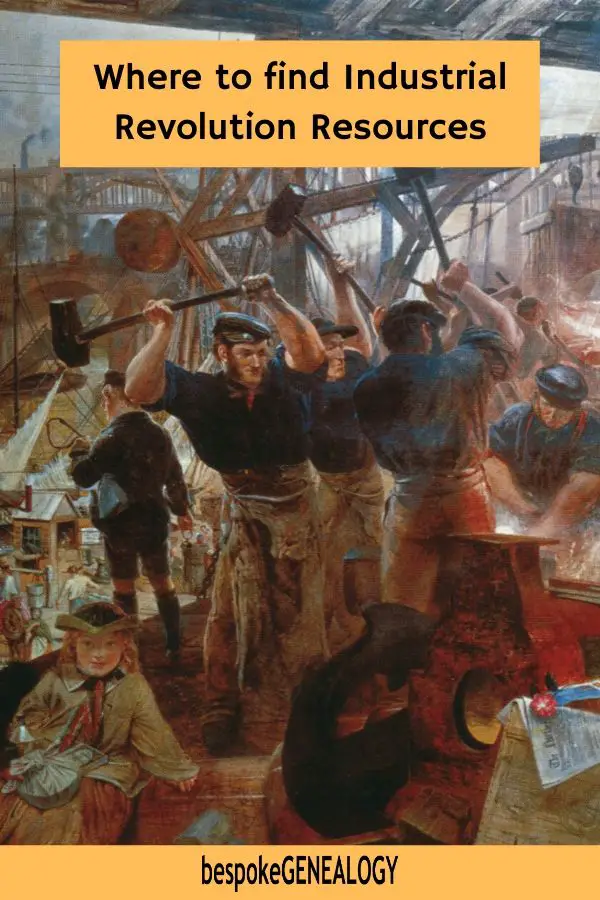 The British Library
Go to the BL Industrial Revolution Guide
A good starting point to learning more about the Industrial Revolution is this interesting guide from the British Library.
Grace's Guide to British Industrial History
Grace's Guide is a great free resource with much material about the history of Britain's industries including details of companies and individuals. There is a directory section containing extracts from a wide range of publications.
See my article Free British Industrial History for Genealogy Research for information about this resource.
Newspapers
Newspapers can be a rich source of information relating to the industrial revolution. Useful content can include news reports, announcements, advertisements etc. You may also find details of specific relatives in accident reports or accounts of legal proceeding.
For more on newspapers see:
National Archives
Go to TNA Occupations, commerce and trade
The National Archives has a number of useful family history guides relating to early industrial occupations. These guides will explain which records are available online or where they can be accessed.
Working Class Movement Library
The Industrial Revolution couldn't have happened without the workers. Although the WCML collection is housed in Manchester, there is a lot of useful information about the British working class on this website.
Historic England Archive
Go to the Historic England Archive
This free site contains over one million catalog entries of photographs, plans and drawings of England's historic sites and buildings. Included are images of working class housing and industrial buildings from the earliest days of photography to the present day.
Collage – The London Picture Archive
Another image site, this time with images of London from the collections at the London Metropolitan Archives and the Guildhall Art Gallery. Included are pictures relating to industry and trade.
The Glasgow Story
The history of Scotland's engineering powerhouse is documented here in words and with thousands of images. This site has much of interest relating to Glasgow's industrial past.
Scottish Mining
Coal was the key raw material during the Industrial Revolution. This site is devoted to the history of this commodity as well as iron ore and shale mining in Scotland. It has a database of over 22,000 names, as well as information on housing, health, strikes and child labour in the industry.
National Library of Scotland Maps
Contemporary maps can be very useful for pinpointing the factory where your ancestor worked or where they lived. This free online collection contains large scale historical Ordnance Survey maps for the whole of Britain.
For more on this resource see: How to find free historical UK maps online
New Lanark Mills
Working conditions in 18th and 19th century mills and factories were usually appalling. However, there were some enlightened owners who started to improve conditions for their employees. David Dale and then Robert Owen at New Lanark Mills near Glasgow treated their workers much better than was normal at the time. New Lanark is now a UNESCO World Heritage site and is worth a visit if you are ever in Scotland. The website has information about the site's importance and history.
For more on these mills see: A Weekend at New Lanark Mills
Welsh Coal Mines
If you have Welsh coal mining ancestors, you'll find this site very useful. It documents more than 200 mines, list disasters and includes stories and poems about them.
Cotton Town
Useful information about the textile industry in the Blackburn area of Lancashire, one of the most important mill towns in Britain during the industrial revolution.
Trade Union Ancestors
This is a useful site for finding out about your family history in the trade union movement. This site can help locate a specific trade union in time and place. There are also articles about some of the events and people during 200 years of trade union history.
University of Leicester Special Collections
This is a huge free collection of scanned UK trade directories from the 1760s to the 1910s. The collection is not searchable, but you can browse by place, so you may be able to find someone if you know where they lived. There is an index on Ancestry so if you have a subscription with this site, you can search by name.
For more on this resource see: Use Historical Directories to find your Ancestors
Institute of Mechanical Engineers
Go to the IMechE Virtual Archive
This online archive gives you access to many useful historical engineering resources going back to 1847. You can look at drawings, notebooks, artifacts and photographs.
For related posts see:
Happy researching!
For further reading, you may be interested in these books:
Please pin a pin to Pinterest: