FamilySearch is an amazing free resource for genealogists. The website has billions of records from around the World and I'm sure all of us use it, at least sometimes. However, I believe that many people are not using the site to its full potential. They're missing out on the millions of "hidden" browse-only records. So, this is a look at these hidden FamilySearch records; how to find and use them.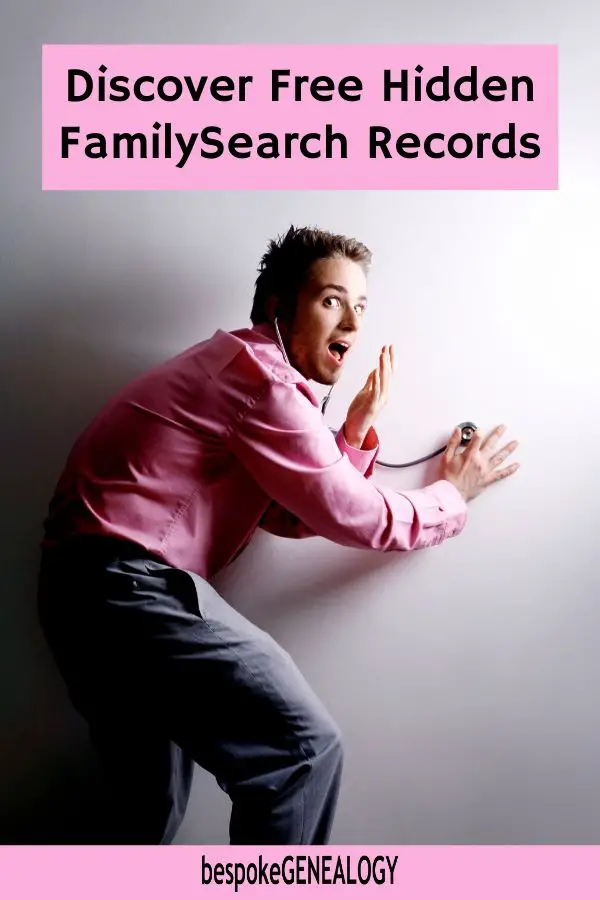 Most of the database sites have at least some browse-only collections. In a previous post, I looked at the hidden records on Ancestry.
Browse-only FamilySearch records
At the time of writing FamilySearch has 2,666 record collections. I estimate that of those, about 750 are browse-only. So, around 28% of the collections are not indexed for general search. I'm not sure how many records 750 collections represent, but FamilySearch say that they have more than 6 billion records in total. So, 28% is a lot of records!
Browse-only records on FamilySearch are quite easy to find. From the main menu, hover over "Search", then from the drop-down menu, select "Records".
At the bottom of the "Research By Location" box, under the search bar, click on "Browse All Published Collections". This brings you a list of (at the time of writing) all 2,666 collections, indexed and browse only. Select the country you are interested in by using the "Place" options on the left of the page. Click on the "Records" column header. This will sort all the browse-only collections to the top of the list. As an example, here is a screen shot for the first part of the browse-only list for England:
There are 109 record collections for England, 29 of them are browse-only.
Tips for using browse-only records
Of course, it can be very tedious browsing these records and it is much harder than using search fields. However, these record sets can be a "gold mine" and may even help you break down a brick wall. Remember, if these records haven't been indexed on FamilySearch, it's unlikely that will have been on Ancestry either. So, they're definitely worth investigating!
Before you start browsing a record set, it's a good idea to have a look at the other sets from that area. Sometimes, you may find an index that hasn't been digitized, so won't be in the general search.
For an example of this, if you are looking for church records in Quebec, Canada, there is a record set called "Quebec Index to Civil Copy of Church Records, 1642-1902" You can drill down a few steps and eventually you'll get to scans of alphabetical lists where you can find, names, dates and churches. With this information, you can then go to the parish register for that church, and scroll through until you find the right year and name.
Some parish registers have indexes at the start of each year, written at the time by the minister. If you are not sure of a year, it's easier to find an index first and to look for a name. If the name is not on the index for that year, go to the next one, and so on.
This is what I do if I can't find an index, but I have an idea which parish an event took place in:
It's often much slower looking through scanned images on a computer than using a microfiche reader in an archive. So, rather than browsing a whole register on my laptop, I'll try and work out which pages I need to look at and just focus on those. For example, if a baptism register has 1100 pages and covers the years, say, 1842-1896 (ie 54 years), that gives an average of just over 20 pages per year.
If I think a person was born around 1860, I'll start by looking at 1858-1862. So, this should approximately be pages 320-420. I'll make a note of the pages I look at so as not to go over them again. If I don't find the record I need in those pages, I'll keep going with other page ranges until (hopefully) I find it.
Of course, this will have to be repeated several times with different parishes, if you're not sure where an event took place.
Books
I've previously written about how historical books can help you with your research and where to find them. FamilySearch has a huge collection of digitized books that can be very useful to genealogists. These books include family histories and local histories that reference families.
Please note that some books can't be accessed online (those with protected access), but you can usually view them by visiting your local Family History Center. However, most books can be viewed online; you can focus your search to just the unrestricted books by selecting access level "Public".
A note of caution though; often references in a book about a specific family are unsourced, so you need to verify them. They can, however point you in the right direction and can be very useful.
For tips on better searching see this post.
Happy researching!
For further reading, you may be interested in:

Click here to see it on Amazon
Please pin a pin to Pinterest: