Newspapers are an incredibly useful resource for genealogists as well as other historians researching the UK and Ireland. If you are looking for your British roots or investigating British history, then the most comprehensive newspaper collection is in the British Library. This article also looks at some other newspaper resources.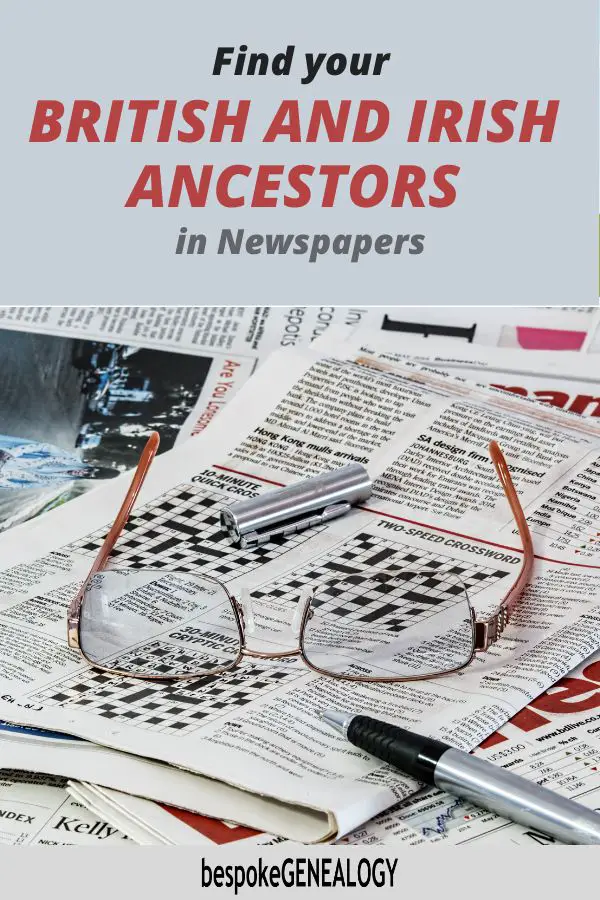 British Newspaper Archive
Since 1869 it has been a legal requirement that a copy of every newspaper published in Great Britain and Ireland is deposited at the Library. There are also some overseas titles in the collection.
Much of the British Library's collection is being digitized. This is a multi year project which started in 2011 in conjunction with FindMyPast. Currently there are over 2000 British and Irish newspaper titles available giving access to more than 62 million pages. The pages are fully searchable and can be refined to focus on
Family notices – birth, marriage and deaths as well as engagements, anniversaries, in memoriam, birthdays and congratulations
Obituaries
News articles – national and local events; history unfolding
Illustrations – including photographs, maps and cartoons
Advertisements
Letters to the editor
All this is very useful to both the genealogist and historian.
Newspapers online include national dailies such as the Daily Herald, Daily Mirror and Daily Telegraph as well as local, trade and specialist papers from all over Britain Ireland. Here is a (very) small selection of what's available:
Aberdeen Evening Express (1879 – 1978)
Ballymena Observer (1857-1957)
Cambridge Daily News (1889-1939)
Derby Daily Telegraph (1879-1950)
Edinburgh Evening News (1873-1942)
Farmer's Gazette and Journal of Practical Horticulture (1845-1870)
Glasgow Herald (1820-1900)
Harrogate Herald (1915-1947)
Illustrated Police News (1867-1938)
Jedburgh Gazette (1871-1920)
Kerry Evening Post (1829-1917)
Lancaster Guardian (1855-1956)
Manchester Evening News (1870-1945)
North Devon Journal (1824-1950)
Ormskirk Advertiser (1857-1940)
Pall Mall Gazette (1865-1923)
Roscommon Messenger (1848-1935)
Sheffield Daily Telegraph (1855-1950)
The Tatler (1901-1966)
Ulster Gazette (1844-1909)
And many more!
The online collection can be accessed on the British Newspaper Archive website for a monthly or yearly subscription or even on a pay as you go basis. Access to the database is also available with some FindMyPast subscriptions.
The National Library of Wales
If you have Welsh ancestors, the National Library of Wales has a great free database of online newspapers which can be accessed for free. The database contains over 15 million articles in both English and Welsh.
For more on Wales see: The Best Welsh Genealogy Resources
The Gazette
Another, often overlooked, resource is The Gazette. It is the official newspaper of record and contains over 350 years' worth of information, all online and completely free. If your ancestors were in the military, owned a business, changed their name or were declared bankrupt, you may well find a notice published in The Gazette.
For more on this, see: An Amazing Free British Genealogy Resource: The Gazette
Google News
Google has digitized many newspaper titles from around the world, including from the UK. To see a complete list, see the Google All Newspaper page.
For more on Google, see: Are You Making The Most of Google For Genealogy?
Irish Subscription Sites
If you have Irish ancestors, the British Newspaper Archive (discussed above) has 100s of titles from Ireland. There are also three other subscription sites that you want to look at. These are:
For more on Ireland, see: Find Your Irish Ancestors with Online Newspapers
For free sources, see: Where to find Free Online Historical Newspapers
For further reading on using British newspapers for historical research, you may be interested in this book:
Click here to see it on Amazon
Good luck with your research!

Please pin a pin to Pinterest: