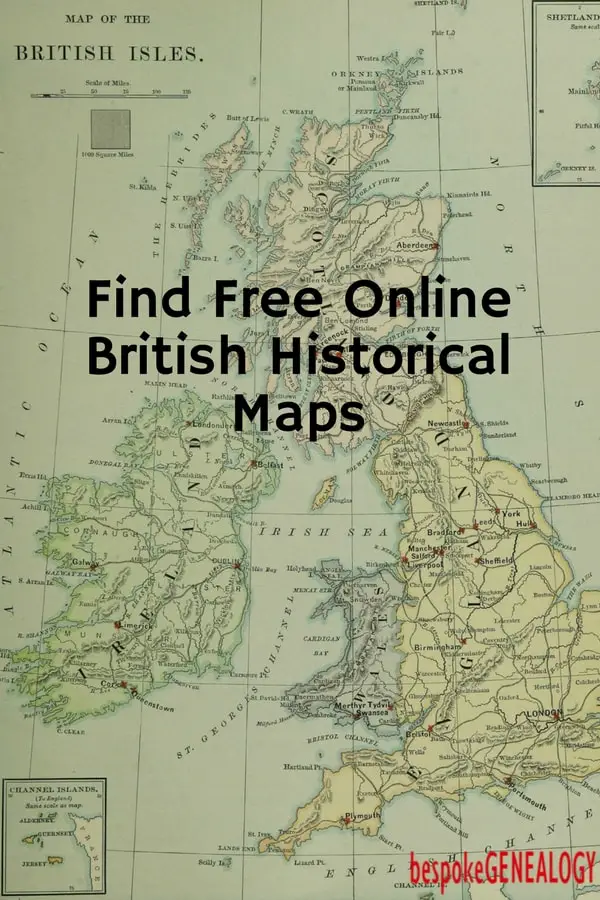 This post shows you how to find free historical UK maps online using the  National Library of Scotland Map Images website. This is an amazing free resource and very useful for giving some context to researching your British ancestors. The amount of historical maps that have been scanned, not just of Scotland but of the whole of the UK is simply stunning. For example, if I look at the village of Sawtry in England (where I grew up) there are 31 different maps available to view, ranging from an Ordinance Survey 1 one inch to the mile dated 1899 to an incredibly detailed 25 inch to the mile from 1892 showing every individual house and business in the village. By cross referencing with census returns, it is possible to pinpoint exactly where your ancestors lived.
The site is very easy to use once you get the hang of it. I recommend using the Geo-referenced Map Images  page. Then in the "Find a place" box, type in the name of the village, town or city in Britain you want to look at. It will then zoom into that place, usually using the Ordinance Survey one inch 1885-1900 series map. You can zoom in and out or move around to see nearby settlements. You can also select different maps by clicking on the drop down "2. Select a map / map series" box. The 25 inch is usually the most detailed.
The beauty of the geo-referenced maps option is that the historical maps are overlaid on top of current maps or satellite images. The "background map" box at the top of the image usually defaults to a Bing hybrid which is a recent satellite image with street names added. Different background map/image options are available by using the dropdown box. By sliding the blue dot on the left of the map, you can see how the historical map relates to a modern map. You can also view the old map next to a modern map by clicking the "Side by Side" button at the top of the page.
There are lots of different maps to explore on this site such as military maps and coastal charts and if you are interested in cartography (as I am); it is very easy to spend hours browsing. There are also some historical maps from other countries including Hong Kong and Canada.
On the subject of maps. you may be interested in The Routledge Atlas of British History by Winston Churchill's official biographer Martin Gilbert and these Ordnance Survey books: