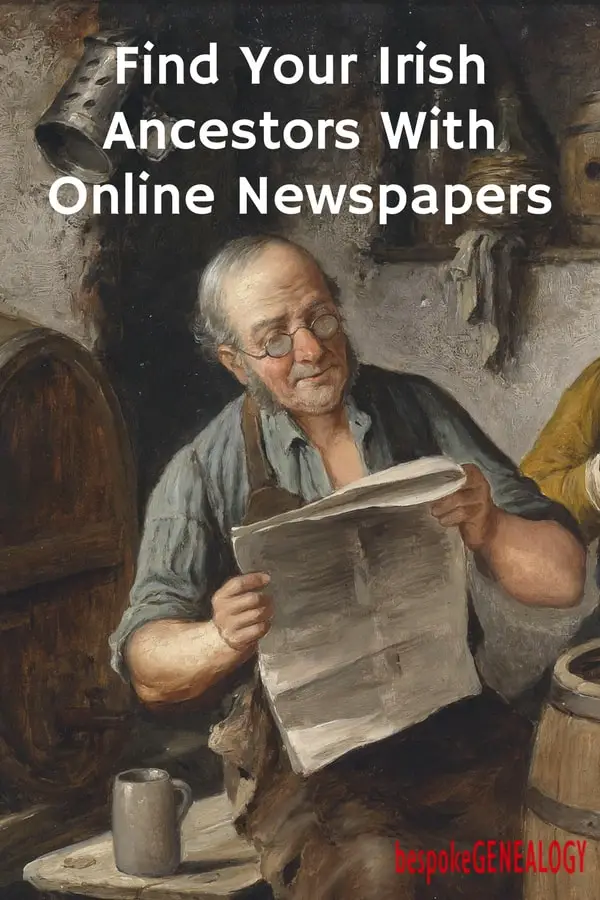 This is another post in a series looking at ways to find our illusive Irish ancestors. The previous articles were:
Why Newspapers are important for Irish genealogy
The 1922 fire at the Records Office in Dublin destroyed a lot of valuable genealogical data, especially pre-1901 census returns and Church of Ireland parish records. However, as I've mentioned in previous posts, not all records were lost and although finding your Irish roots isn't as straightforward as in other countries, it's not impossible.
A really important data set, often overlooked by family historians, is newspaper collections. As well as news about local communities, newspapers often contain useful genealogical information such as obituaries, birth, marriage and death notices and court proceedings.
This information started to appear in Irish newspapers from the second half of the 18th century. At first the BMD announcements would have only been for the wealthy, but this was extended to much of the rest of the population from the mid 1800s.
Only a small percentage of historical newspapers are currently available online, but this is increasing all the time. There is a fee to be paid for most online collections (pay per view or subscription).
Research Newspapers in your own country first
If your ancestors emigrated from Ireland, then to stand a better chance of success in researching your roots, you need to know which part of Ireland they came from.  If you know that your ancestor came from Ireland, but you don't know from which area, you may find an obituary in the local newspaper in his/her adopted town. The obituary may contain valuable genealogical information including specific information about a place of birth.
For a listing of US online collections, check out the Online Newspaper Site. There are also some Canadian, Australian and Irish collections also listed.
There are two main collections of historical Irish newspapers available online; both are subscription sites; the British Newspaper Archive and the Irish Newspaper Archives.
British Newspaper Archives
The British Newspaper Archive (BNA) is a joint venture between the British Library and FindMyPast. It is a huge collection of scanned and searchable newspapers from the British Library's collection of British and Irish newspapers. The BNA currently has 155 Irish newspaper titles including 43 from Northern Ireland. Just about every county on the island is covered.  There are monthly, 3-monthly and yearly subscription packages available.
FindMyPast
If you take out a subscription to FindMyPast that includes Irish records, then you will also have access to BNA's Irish newspaper collection. For more information, click on the link below for your region to visit the relevant FindMyPast site:
Irish Newspaper Archives
The other major collection of online historical Irish newspapers is the Irish Newspaper Archives who have nearly 80 titles available. Again this is a subscription site with monthly or yearly options.
Newspapers.com
Newspapers.com is owned by Ancestry and has 17 Irish titles. This is also a subscription site; a free trial is available.
Ancestry
Ancestry itself has a collection of 30 Irish titles dating from 1763 to 1890. These can be accessed with a Worldwide or UK and Ireland subscription.
The Irish Examiner
The Irish Examiner has its own archives available online from 1841 to the present day. This is a pay site.
The Dublin Gazette
The Dublin Gazette was the Irish equivalent of the London Gazette, the official paper of record for the Country. It existed until independence in 1922. Scanned copies of bound volumes from the 1750s to 1800 are available online with free access on the Irish Parliament's Oireachtas Library website. These volumes are not searchable, so you can only browse, so having a date range to focus on is advisable.
You can also find a few issues on the Beyond 2022 website. For more on the Beyond 2022 project to replace as many of the records as possible that were lost in the Dublin Public Records Office fire of 1922 see: Irish Genealogy Records: Fire and Reconstruction
Iris Oifigiúil
Iris Oifigiúil (Irish Official Journal) replaced the Dublin Gazette in the Republic from 1922. Unfortunately the website only has online archives from 2002. 
The Belfast Gazette
The Belfast Gazette replaced the Dublin Gazette for Northern Ireland in 1922 and can be accessed for free on The Gazette website.
The Irish Times
Finally, the Irish Times  hosts its own archives (1859 – present) on its website. This is another pay site.
I do recommend that you check to see what exactly the subscription sites hold (areas covered and dates) before committing.
For more Irish genealogy see
Good luck with your research!
You may also find these books useful:
Please pin a pin to Pinterest: