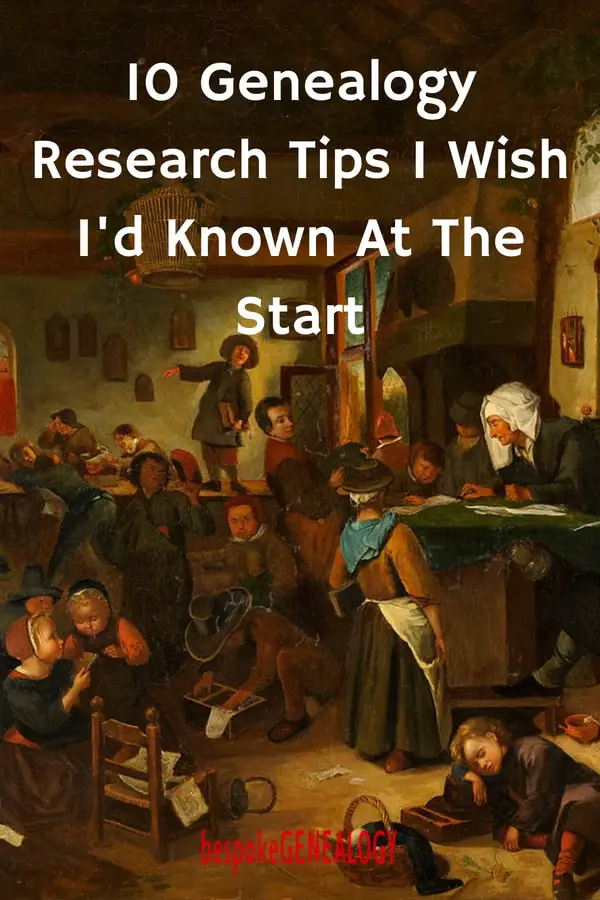 I started researching my family tree around ten years ago. It started off as a hobby; something I did in the evenings, especially during the long Canadian winter. In the early days, (like I guess) many family historians, I made some mistakes. But through trial and error and then by taking some courses, I got a lot better at this. So if you are starting out with your tree, or if you've got a bit stuck, I thought it might be helpful if I wrote about some of the genealogy tips I wish I'd known before I started.
Start your research as soon as possible
I've been interested in history since High School and, at college, I learned how to use archives for local research. Many times since then I'd thought about starting my family tree, but I kept putting it off; giving myself the excuse that I was too busy. In the meantime, my elderly relatives sadly passed away one by one, taking with them all their memories and often access to records and photographs.
When I did eventually get started, all of my relatives on my paternal side were no longer around and there were just a couple left on the maternal side. I very much regret not starting earlier when my relatives were still alive. I have many unanswered questions that they probably could easily have resolved.
Most genealogists recommend that when you start your research journey you interview as many living relatives as possible to get initial information. I talk about this in 10 Steps for Starting Your Family Tree. So, if you haven't begun your research yet, or you've yet to interview your relatives; I recommend that you get started as soon as possible before it's too late.
Keep a Research Log
It took me a while to realize the importance of keeping a record of my research. If you are not logging your work it is very easy to go over the same ground more than once. It can be really frustrating to be doing some research and then getting a sense of déjà vu. You suddenly realize that you've just wasted a couple of hours or more by looking at a particular data set (online or in archives) that you had already looked at awhile back.
So, keep a log and regularly review it. If you are not already a subscriber, you can sign up to Bespoke Genealogy's email list (I won't send you spam) and get 5 free forms and charts, one of which is a research log form. Just click on the button at the top of this page. Alternatively, you can create your own log using a spreadsheet or just write everything down in a notebook.
Get Organized
I'll be the first to admit it; organization is not my strongest trait! I've always hated filing and my desk is usually covered in piles of paper. However, I have discovered that to be successful in genealogy you do need to organize your work, both physical and digital. If you don't, it becomes very easy to lose records and waste valuable time searching for them.
I now scan all physical records that I obtain and then keep the hard copies in a filing cabinet. I have at least one folder for each name that I research and I file the names alphabetically. If I'm doing research for a client, I will keep those documents separately in box files.
I have developed a system for storing my scanned documents and other records obtained online. I have a folder on my computer for each "top level" family I'm researching. So my own family is labelled "McGowan Family" I then have sub folders for each family name that I research, so in my own family I have sub-folders labelled "McGowan", "Kelso", "McMahon", "Connor" etc.
I label the files within the sub-folders in the same format. This is an example of a file name format I use:
18650919_mcgowan_edward_bir_cr_ire
The number at the start of the file name is the date of the event in YYYYMMDD format. By putting the year first your files will be in chronological order.
The name of the person is next. For marriage records, I always use the name of the groom as the file name. I realize that this is a bit sexist, but it keeps the records consistent. The same for census records, I use the head of the household name for the file name.
The type of event is next, so "bir" = birth. I use "bap" for baptism, "mar" for marriage etc.
"Cr" refers to the type of record; in this case a civil record and "ire" is the country (Ireland here).  If you don't have a file naming system of your own, you can maybe adapt this format to suit your needs.
Back up your work
It is so important to back up your research. All it takes is a power surge, a flood, a fire or a theft to lose all your valuable work. I back up my work most weeks to an external hard drive. I've also started to use Google Drive to back up some work to the Cloud.
Use Source Citations for all your Facts
When I started my genealogy quest, I didn't give facts source citations. I was so keen on finding stuff out and seeing how far I could go back that I didn't bother with doing things properly. But when I went back to check some of my work, I realized that, in some cases, I couldn't remember where I'd got the information from.
I then had to go back through all my work checking and verifying everything. I now use a system for citing sources that is used in academic institutions. This is an example for a marriage record:
Marriages (PR) England. High Easter, Essex. 05 October 1872. LODGE, Abraham and REEVE, Eliza. Page 100. Entry No. 200. http://seax.essexcc.gov.uk : accessed 28 March 2016.
I make sure that source citations contain this information in this order:
Type of record
Place
Date of event
Name/s of individual/s
Reference
Where the record was accessed
Date the record was accessed
With this method you, and future generations, can easily see where a fact came from.
Incidentally, I'm planning to write a future post just on source citations.
Don't use other people's trees as sources
When I started my research, I signed up with Ancestry, started a tree and made fast progress. Ancestry gives you other people's trees as hints. Without checking, I just plugged this information into my tree and within a couple of days, I'd got one line of my family back to William the Conqueror! This is amazing, I thought.
However, when I started having a close look at the tree, I saw that there were some really obvious errors, like a child being born to a three year old mother! I had to go back and start again.
There are thousands of online trees out there. Many of them have huge inaccuracies and contain facts without source citations. It is not a good idea to use them as sources on your own trees. They are useful to look at to see what might be a fact, but nothing should be added to your own tree without a verifiable source.
Don't just follow the direct lines
I made the mistake in the beginning of just tracing my direct lines. The problem with doing this is if you hit a brick wall, there is not a lot you can do. I soon realized that I could make greater progress if I also traced the families of siblings and spouses as this gives you a lot more information (see the next point) and also other options if you hit that brick wall. For more on getting over brick walls, see my earlier post here.
Extract every bit of information from records
One thing I learnt fairly early on is that you can often get more information about a particular person from other peoples records than from their own. I'll give you an example. When I started researching my tree, I could find very little information about my great grandfather, Robert McGowan. The only confirmed records I could find for him were his entry on the 1891 Scottish census and his death record in Glasgow in 1894.
However, by extracting every bit of genealogical data from the records of his children, I've been able to piece together a big chunk of his life. I've entered all this information into the software I use (Family Tree Maker) and have now been able to produce the following timeline:
Most of this information comes from the birth and marriage records of his children. This is a key reason why it is a really good idea to trace the lives of siblings and spouses as well as direct ancestors.
Don't use an online tree as your only tree
As I mentioned earlier, like many people, I started my genealogy research with an online tree on Ancestry. This was great until I decided not to renew the subscription and then realized that although I could still look at the tree, I couldn't access the records that were attached to it. I still have a (private) tree on Ancestry and find it useful for searching. A few weeks ago I couldn't access it for a few days. Apparently there had been a software update that affected some trees.
So the lesson learned here is that it is much better to have a tree (and keep copies of records) on your own computer. I initially used a free, open source, family tree program for this called Gramps.  I used this for a couple of years and it's not bad, but sometimes a bit cumbersome. I now use Family Tree Maker which I really like.
Use physical archives if you can
Genealogy has become a massively popular online activity. More and more records are being added to databases every week. However, I read somewhere that less than 10% of genealogy records are actually online. You can usually get records like BMD information, census returns, military records, historic newspapers and trade directories online which can give you some key facts and an outline of a person's life.
However, if you want to put a lot more "meat on the bones", you probably need to access the 90% + of records that are only in archives. If it's not possible to visit an archive that holds the records you need to access, then the LDS may be able to help at one of their Family History Centres.
Alternatively, for a small fee, the archives themselves or the local family history society may be able to do the look-up for you. If your ancestors were in Great Britain, the Resources section on this website has links to all the local English, Welsh and Scottish archives and family history societies.
For for further reading, please check out the Genealogy Books page in our Resources section.
Happy researching!
For further reading; you may find these books useful:
Please pin a pin to Pinterest: