If your ancestors were involved in trade, or were reasonably well off financially, then historical directories can be useful tools for finding more about them. They are especially useful before and in between census years.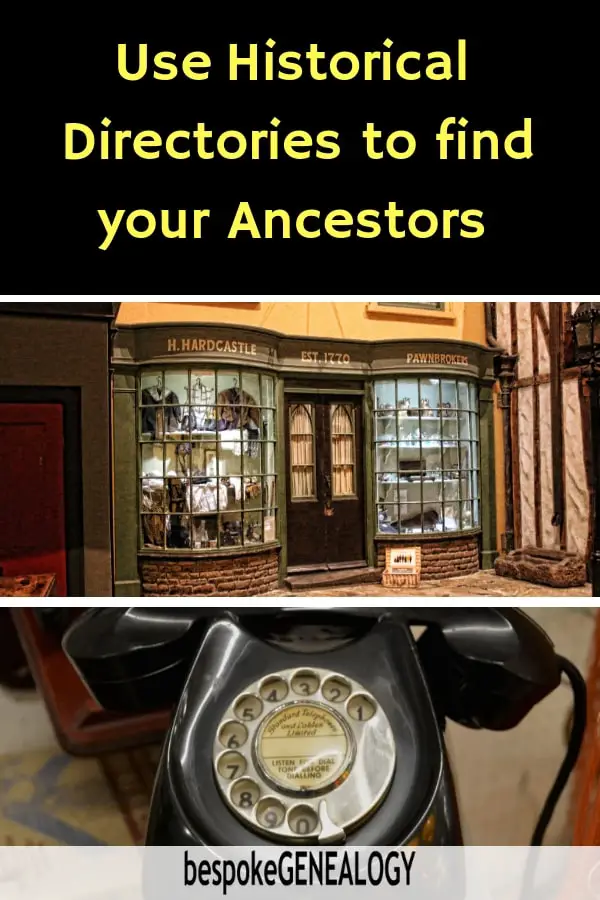 Historical directories, known as trade or street directories first appeared in London in the 17th century. They were later published in the larger cities such as Leeds and Manchester before becoming common in smaller towns. Initially, they just listed the local officials and members of the gentry, but later expanded to include businesses and small traders. By the 19th century, these historical directories were listing residents in many streets. However, they never included the poorest members of society.
This post is a round up of where you can access British and Irish historical directories. Most of these sites have free access, but the largest collections are with the subscription sites, especially Findmypast and The Genealogist.
University of Leicester Historical Directories
Access: Free
Go to UL Historical Directories
The University of Leicester's Special Collections website has a very comprehensive collection of English and Welsh historical directories; covering virtually all counties from the 1760s to the 1910s. The collection is not searchable, but you can go to the county you are interested in, find a directory and browse it. It is relatively easy to use the index in the directory to go to the relevant section by selecting a page number.
This collection is also available on Ancestry and if you have a subscription, you can search by name, place or other keyword.
Incidentally, if you have roots in the East Midlands, you may be interested in the rest of the University's online Special Collections such as the Oral Archive and Leicestershire during World War One. Details of the collections can be found here.
Grace's Guide to British Industrial History
Access: Free
Grace's Guide is an amazing free resource with a wealth of material about the history of Britain's industries including details of companies and individuals. There is a directory section containing extracts from a wide range of publications.
See my article Free British Industrial History for Genealogy Research for information about Grace's Guide.
The Internet Archive
Access: Free
It is always worth checking the Internet Archive to see if there are directories for areas you are interested in.  For example, if I search for Huntingdonshire, I can download the 1850 Slater's Directory for several counties including this one. There is also plenty of other material relating to the area.
National Library of Scotland Internet Archive Page
Access: Free
Also on the Internet Archive is this extensive collection of books, manuscripts and maps, from the National Library of Scotland. The collection contains local directories as well as military lists, family histories etc. It is well worth checking out.
National Library of Scotland; Scottish Post Office Directories
Access: Free
Also from the National Library of Scotland, but hosted on their own website is a collection of over 700 digitized post office directories from 1773 to 1911 and covering the whole of the country.
SWilson.info
Access: Free
This site has a number of scans and extracts of directories in Ireland as well as links to other (free and subscription) sites with Irish directories. There are also plenty of other useful resources relating to Irish genealogy.
Public Record Office of Northern Ireland
Access: Free
PRONI has a useful collection of digitized Northern Irish street directories dating from 1819 to 1900. These cover Belfast and the main towns of Ulster.
Fáilte Romhat
Access: Free
Directories on this site: Pigot & Co's Provincial Directory of Ireland 1824, Postal Directory of Cork 1842-43, Slater's Commercial Directory of Ireland 1846 and Guy's Postal Directory of Cork 1914.
Findmypast
Access: Subscription
Findmypast has a large collection of directories; the Irish set is the largest in the world. As well as normal trade directories, the collection also includes Business Indexes (1892-1987) which contain much more information about particular businesses.
The Genealogist
Access: Subscription
This site has an extensive collection of trade and telephone directories covering the whole of Britain. The collection is much stronger in the English counties than in the rest of the UK though. The earliest London directory dates from 1677 with the bulk of the collection from the 19th century.
Ancestry
Access: Subscription
Ancestry has a huge collection of British (and some Irish) trade, professional and telephone directories.
Happy Researching!
Please pin a pin to Pinterest: