2019 marks the 80th anniversary of the start of the Second World War. It's a good time then, to look at a record set, also 80 years old; the 1939 Register. The register was taken on the eve of war in Great Britain and Northern Ireland. It was similar to a census, but contained additional information. And, unlike a census, it was updated for many years after it was taken. This post takes a good look at this unique resource.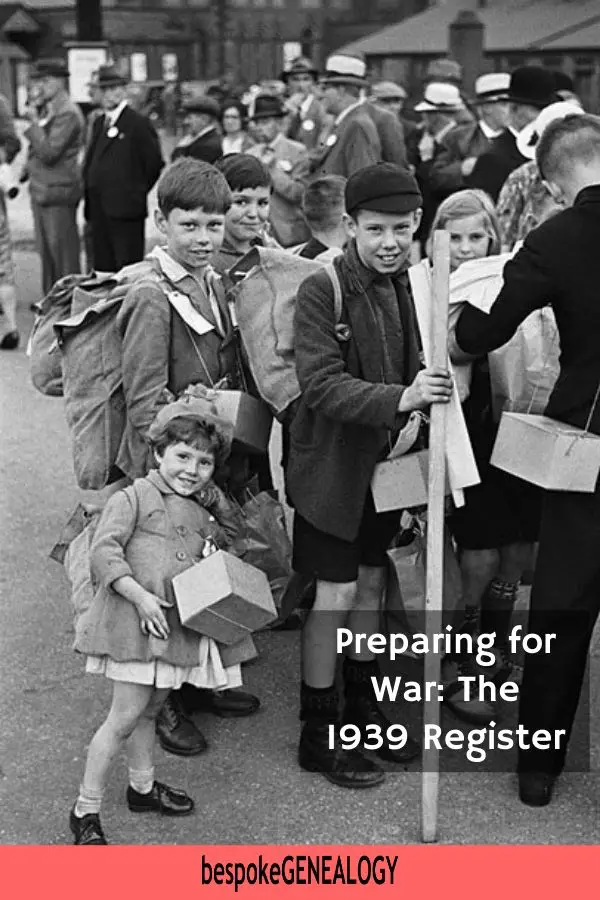 Why the 1939 Register was taken
Britain declared war on Germany on 5th September 1939, after that country had invaded Poland two days earlier. National Registration Day was declared on 29th September and census enumerators visited every household in the UK. They collected the names and other details of every civilian in the country.
The register was used to issue identity cards as well as for statistical reasons.  The information collected was used to determine the number of able-bodied people available for the war effort, as well to calculate food requirements.
The Importance of the 1939 Register
Censuses are normally taken in Britain every 10 years. Privacy laws mean that records become available to family historians after 100 years. The most recent available census is therefore from 1911. The next release should be the 1921 census in 2022. As the 1939 Register is not officially a census, it was released early (in 2014). However, the names of anyone under the age of 100 who are not known to have died have been blacked out of the records.
Unfortunately, the 1931 English & Welsh census records were destroyed after a bombing raid during the Second World War in 1941. The Scottish records survive however and should be released in 2031.
The 1941 census was never taken due to the war. This means, that for England and Wales, the 1939 Register is the only survey of the population between 1921 and 1951.
Information on the register
In 1948 the Register was used for the creation of the National Health Service. As a result, many entries were updated. This continued until computerization in the 1980s. People are often surprised to see someone's married name on the Register, even though that person was single in 1939. Here's an example from my own family:
My aunt, was nine years old in 1939 and was recorded on the Register as Kathleen Morgan. She married in 1964 and her married name, Nicholas, was subsequently added. This is what makes the Register unique and incredibly useful to genealogists.
As well as the names of individuals, also listed are street addresses, sex, actual date of birth (not just the year), marital status and occupation. These occupations tend to be more descriptive than on a census. On a census, you will usually see job descriptions such as "labourer" or "factory worker". On the 1939 Register, they are often more specific like "straw hat finisher" or "printer's guillotine cutter".
Where people are doing additional work as part of the war effort, this is also recorded. You'll therefore see job descriptions such as "ARP (Air Raid Precaution) Warden" or "Special Constable".
Where to find the 1939 Register
England and Wales
The registers for England and Wales are held at The National Archives in London. They were digitized in conjunction with Findmypast, and at first were only available to access online on that site. These records are now also available on Ancestry and My Heritage.
The Index only to this collection should also be available on Family Search. However, when I tried to use it this weekend, it didn't seem to be working.
As I mentioned above, the names of people under the age of 100 (where death has not been reported) have been blacked out from these online records. Every year records are unlocked when individuals reach the age of 100 or where deaths have been confirmed. From personal experience, I have found that Findmypast seems to get records unlocked faster than Ancestry.
For more information on this collection, The National Archives has a detailed guide here.
Scotland
1939 Register records north of the border are held by the National Records of Scotland. Unfortunately, these are not available to view online. You can, however, order extracts from the NRS. Details and a link to download a form can be found here.
Northern Ireland
The records for Northern Ireland are held at PRONI (Public Records Office of Northern Ireland). Like Scotland, they are not available online. You'll need to contact PRONI using the enquiry form here.
For a detailed look at British census records year by year see this guide.
Happy researching!
Please pin a pin to Pinterest: