Birth, marriage and death (BMD) records, along with census returns, are the usually most important 19th and 20th century data sets for family historians. If you have English or Welsh ancestry, you'll probably have to use the GRO (General Register Office) to access vital records, or at least use its indexes. This article shows you how to access and use the free BMD indexes and order a record from the GRO. It also explains how to use the new low-cost digital download feature for some records on the GRO website. Finally, the post looks at the information on these records.
Note: This is a revised and updated version of the article last published on 29 May 2020.
This article focuses on English and Welsh records only; see my other posts on accessing Irish and Scottish civil vital records.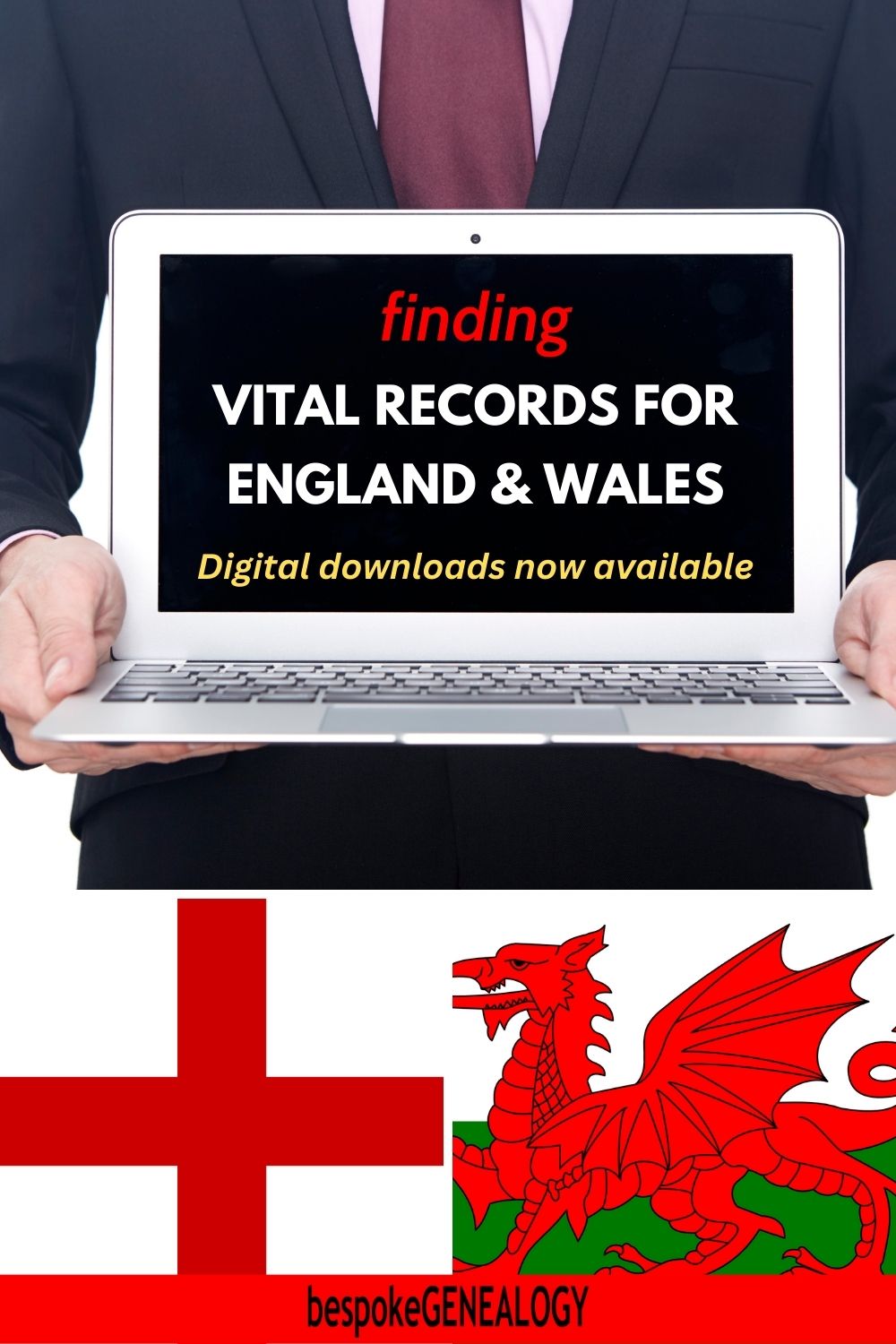 Finding and Buying Vital Records from the GRO Online
Purchasing vital records for England and Wales from the GRO is not as simple as buying them in Scotland or Ireland. Although the GRO introduced their new Online View and Instant Download service in July 2023, it doesn't cover all records. Only about half of the GRO's vital records have been digitized, and not all digitized records are available for immediate download. There are therefore currently three methods of obtaining records depending of the type and year as follows. All prices are in British pounds:
Online View digital download at £2.50 per record. Only births, 1837-1922 and deaths, 1837-1887 are currently available for immediate view and download.
PDF copy of a record emailed in about 4 working days at £7.00 per record. Only births. 1837-1922 and deaths, 1837-1957 are available with this service.
Paper certificate sent to your address via surface mail. This costs £11.00 and can take 1-2 months before you receive it, depending on where you live. This service covers all births, deaths and marriages from 1837.
See the GRO Frequently Asked Questions page for a full price list, more delivery options and to see the commemorative certificates available.
How to find a birth, marriage or death record on the Registration Indexes for free
Whichever format of record you're ordering (download, PDF or paper certificate), you'll need at least some of the following information:
Name/s
Year of event
Registration district
Index volume number
Index page number
You can only search for records that have been digitized on the GRO website. For all other records, you'll need to search the Registration Indexes which are available on all the database sites, like Family Search and Ancestry.
To keep things simple, I recommend first searching for records (all births, marriages and deaths) on the indexes on Family Search or FreeBMD (or Ancestry, Findmypast, The Genealogist, My Heritage if you have a subscription).
I personally often use the free index on Family Search to find records. You can find the indexes here:
As an example, I used the birth index on Family Search to find Ernest Llewellyn Morgan.
From the 1901 census, I know that he was aged 7 (therefore born in 1893 or 1894) and originally from the town in Llanfyllin which is in Montgomeryshire, Wales. Using this information, I searched for Ernest on the Birth Index and easily found him:
The Family Search result has given me all the information I need to be able to order his birth record from the GRO website.
Note: In this case, Ernest's birth town is the same as the registration district. However, very often you'll find that the registration district is a nearby town to where a person was born and may even be in a different county. To find registration districts by county, see the UKBMD website.
How to Order a Record from the GRO Website
Ordering records from the GRO (digital download, PDF or paper certificate) is a bit cumbersome. I'll therefore go through the process step by step using the example of buying the birth record of Ernest Morgan who we searched for on Family Search (see above).
You'll need an account with the GRO to be able to order a record. If you don't already have one, you can set up an account on the Registration page.
Once you've logged in, you're given several options. As I'm ordering a birth record for someone born before 1922, I can select Order a Digital Image. The next screen asks you to select Birth or Death, and then you're asked for the year of registration. I've selected Birth and then entered the year 1893. I then get a search screen and I enter the information found on Family Search for Ernest (see above):
This gives me one result for Ernest:
The result also gives me the Mother's Maiden Surname, which in this case is Humphreys, so I know that this is definitely the right person. Having the mother's name shown here can be very useful if there was more than one person with the same name born in the same year and district.
I want the Digital Image, so I click that button which takes me to the next page which summarizes the record. I can enter my own reference number here if I want to. Once confirmed, I'm asked to confirm that I accept the delivery details. Once I've done that, I get a summary of the order:
I can then proceed to pay by credit card. Once the document is paid for, I get another summary page which this time includes a link to download the record:
After clicking the link, I finally get the record:
The actual downloaded record does not have column headings, unlike the PDF or paper certificate. However, the download screen does show them:
Note: You may have noticed that part of Ernest's birth record has been cropped in the second column. In this case, I can easily work out that the cropped words are Llanfyllin U.S.D. I've read that in some cases, important information has been cropped off. If that happens to you, all you can do is request a refund, the GRO won't re-scan, unless you buy the paper certificate.
It's a similar procedure for ordering a PDF or paper certificate, you just select Order a Certificate or PDF once you've logged on.
History of Civil Registration in England and Wales
Before the introduction of civil registration in 1837, it was the established Church that was responsible for recording baptisms, marriages and burials. Since 1538, it had been a legal requirement for churches to keep Parish Registers to record these events.
Parish registers had to be kept locked safely in chests and most of them still survive, now usually kept at county archives. See A Guide to British Parish Registers.
The problem with parish registers is that the information recorded was not consistent. Some ministers would go into great detail about an event, sometimes even describing the weather conditions. But often, only a bare minimum would be written down.
The agricultural and industrial revolutions meant that many people moved to the cities to work in factories. The established Church was no longer able to track this growing urban population with many no longer attending their services. This was also a time when more people joined non-conformist congregations.
As a result, many events went unrecorded, often resulting in legal problems as lines of descent couldn't be proved.
The Government felt that something had to be done and in 1836 passed the Births and Deaths Registration Act and an associated Marriage Act. So, on 1st July 1837 civil registration in England and Wales was introduced. From this date all births, marriages and deaths had to be registered with the local registration office. This office would then send a copy to the General Register Office (GRO) in London.
It was the responsibility of the local registrar to make sure that events were recorded. This created a bit of a problem as it was not compulsory for individuals to register. So, some events in the early years were never registered. At the start of the new system, at least 5% of births were probably never recorded.
Things changed in 1874 when it did become compulsory to register births, marriages and deaths. There was a hefty fine liable for parties who did not register within 6 weeks of an event.
Information on the records
Here's a look at the fields on all three types of record:
Births
Information listed on birth records:
When and where born; date and place of birth (usually the parents address). Sometimes a time of birth is given, this may indicate that the child is a twin or triplet (etc)
Name, if any; first names of child. Does not include surname
Sex
Name and surname of father; if this field is blank the child will probably have been born out of wedlock and therefore deemed to have been "illegitimate"
Name, surname and maiden surname of mother
Occupation of father
Signature, description and residence of informant; usually the mother or father
When registered
Signature of registrar
Name entered after registration; if the name of the child changed at baptism, a correction could be made here.
Marriages
You should note that if a couple married in an Anglican church, the parish register entry should be exactly the same as the GRO record as this example shows:
This means that if you have a subscription with one of the database sites like Findmypast or Ancestry, they may hold copies of the parish registers for the county your ancestors married in. If they do, this will save you the cost of purchasing a certificate from the GRO.
Information listed on marriage records:
When married; date the marriage took place
Name and surname; names of the bride and groom
Age; ages of the bride and groom. Often this was unhelpfully given as "full age" which means that they were 21 or older
Condition; bachelor, spinster, widowed or divorced
Rank or profession; often only the occupation of the groom is given
Residence at the time of marriage; addresses of both parties
Father's name and surname; names of the fathers of both parties. If they are deceased, this is usually recorded
Rank or profession of father; occupations of the fathers of both parties
There are also some additional fields:
Place of marriage; eg name and address of church
Type of ceremony; eg "according to the Rites and Ceremonies of the Church of England"
Witnesses; this field can be very useful as it can identify a close family member that may not be known to you.
Deaths
Information listed on death records:
When and where died; date and place of death
Name and surname; name of deceased
Sex
Age
Occupation
Cause of death; often this is fairly detailed
Signature, description and residence of informant; usually a family member. "Description" refers to how the informant is related to the deceased
When registered
Signature of the registrar
Why can't I find my ancestor?
Here are some reasons that might explain why you can't find a person in the indexes:
The event was not registered. Most birth, marriages and deaths were However, in the early years, some events may not have been recorded. To begin with, some church ministers thought that the new system was a threat to their livelihood and may have encouraged their parishioners not to register. This diminished over time and from 1874, registration was mandatory and almost all events were recorded. So, in this case, try and find the church records.
There was a transcription error. A mistake may have been made, at some point, either when the event was first recorded, or when the indexes were transcribed. If you can't find an entry in the GRO index, check the local index. For more information on this, see the

UKBMD website

.
The name spelling is wrong. Until the early 20th century, most people couldn't read or write, or even spell their own name. Officials would often write down what they heard. So, if someone was speaking with a thick local accent, the name may have been misunderstood. Check name spelling variants. Also, try saying a name in the regional accent and spell that phonetically.
You're looking in the wrong year. Many people didn't know exactly when they were born and as they got older, their ages on documents tended to be less accurate. This is especially true when a widowed woman remarried a younger man. So, use a wide date range when looking for someone.
You're looking in the wrong place. Many people didn't know exactly where they were born. It's very possible that someone grew up in a different area to where they were born. Also, marriages tended to be in the bride's parish. Again, this could be in a different registration district to where the groom was living.
The child wasn't yet named at registration. Occasionally, a child may have been registered before they were named. They may not have been named until they were baptised, which could have been a few weeks after registration. You'll find these entries at the end of the indexes and will just have been recorded as "male" or "female".
Good luck with your research!
For further reading, you may find these books useful:
Please pin a pin to Pinterest: