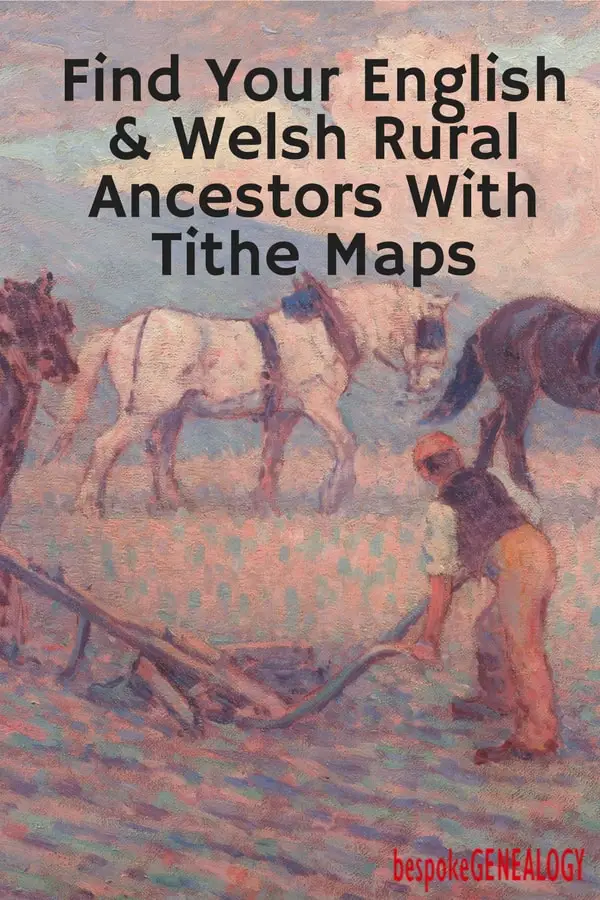 Most of us have 19th Century rural ancestors, usually agricultural labourers working on farms. We may also have ancestors that owned or rented some land. If this is the case and if you have English or Welsh roots, then a really useful resource are tithe maps.
What is a Tithe?
Tithes were originally a tax paid annually to support the local church and clergy. They were paid in kind so one tenth of agricultural goods went to the church. Over the years, much of this land passed from the church to lay owners who then received the tithes.
By the early 1800s, this form of tax had become very unpopular, so in 1836 the Government passed the Tithe Commutation Act which required tithes to be paid in cash instead of goods. This was known as Tithe Rentcharge.
Why the Tithe Maps and Records were created
In order to determine which areas were subject to tithes, who owned them, how much should be paid and who should be paid, a Tithe Survey was carried out across England and Wales. Every parish was first contacted to see where payments were still made in kind and which ones had already been converted to cash.
An assistant commissioner would then visit a parish where tithes were paid in kind and survey the area to determine a valuation. He would meet all parties and the end result would be a tithe apportionment document with the liabilities and rentcharge amount listed. This document was accompanied by a tithe map showing the details of the property.
Both the apportionment and the map used the same number to identify each property so that they could be cross-referenced. Once the parties agreed, the Tithe Commissioner would sign them both and the rent charge became payable.
Tithe Maps and Records on The Genealogist
The tithe maps and apportionments for England and Wales can be viewed online as part of a Diamond subscription to The Genealogist. You can search by name or parish. Note: not all parishes are covered as some had already been converted to cash payments before the survey, but most parishes were surveyed. Below is an example of a tithe apportionment.
This is for Bevill's Wood in Huntingdonshire. The landowner and occupier is Richard Hussey Esq. It shows that the area in question is woodland and gives its exact size of 86 acres, 3 roods and 13 perches. Incidentally, there were 40 perches to a rood and 4 roods to an acre. The amount of Tithe Rentcharge was set at 4 pounds and 4 shillings per annum and was payable to the Rector of the village of Denton. All landowners and occupiers are shown on these documents, so if your ancestor was occupying just a small piece of land, if it was surveyed, he will appear as will his landlord. The tithe map that accompanies the Bevill's Wood apportionment is shown below.
Using The Genealogist's excellent Map Viewer, you can also see the tithe map on top of an old Ordnance Survey map to pinpoint where exact location of your ancestor's property: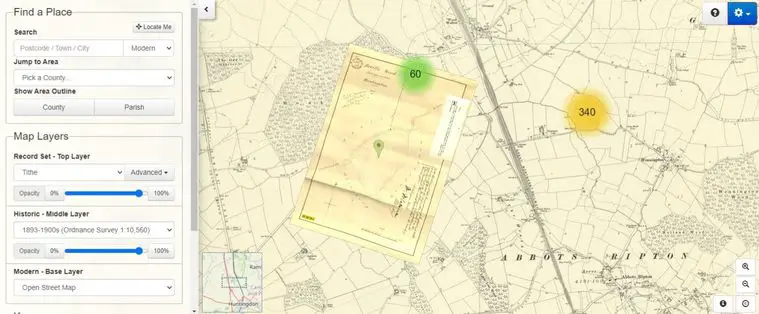 By moving the slider control on the Map Viewer, you can also see the tithe map on top of a modern map or satellite image: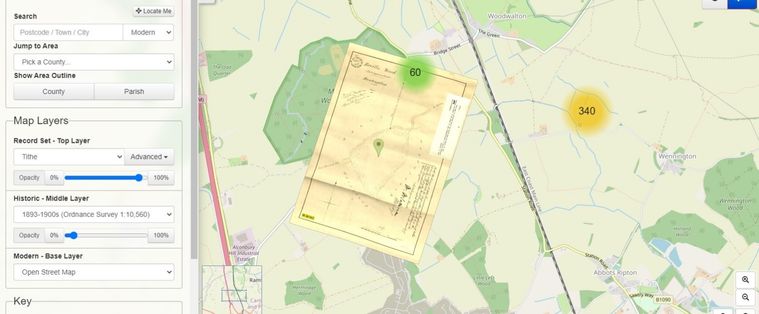 Incidentally if you have English ancestors, a subscription to The Genealogist is definitely worth considering. As well as tithe maps there are many other record sets available, including the most comprehensive collection of English parish registers of any database site. For a full list of the record sets available and to get a 10% discount, click here.
Other online sources of Tithe Records
If your rural ancestors were Welsh, then you can access tithe maps and apportionments free of charge at the National Library of Wales "Places of Wales" site here.
For more on Welsh resources see: The Best Welsh Genealogy Resources
Some English county archives also have free to access tithe records. Click on the links below to access:
You may also be interested to know that historical maps for the whole of Britain can be accessed free of charge at the National Library of Scotland.
For more on this resource see: How to find free historical UK maps online
Happy mapping!
Please pin a pin to Pinterest: