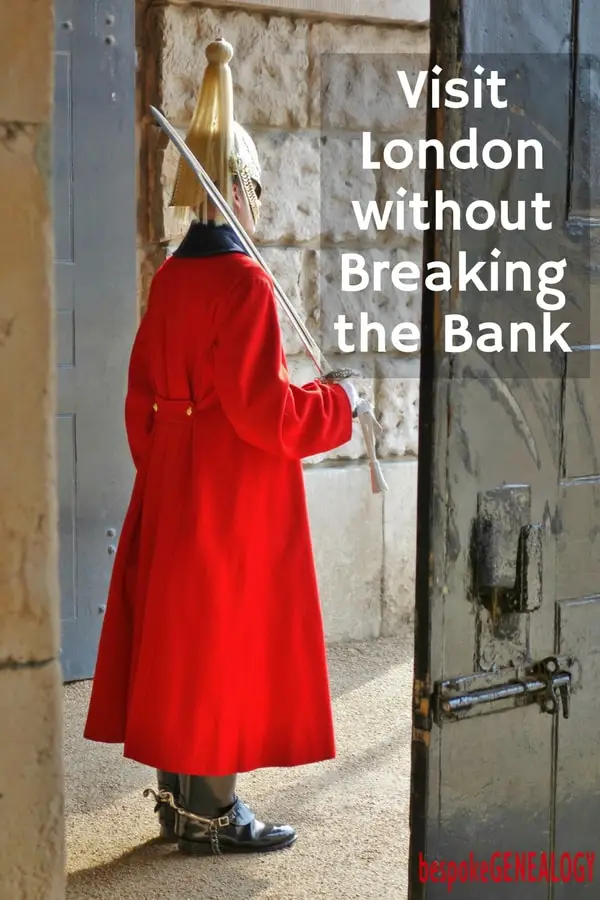 Full disclosure: I was born in London and for most of my life I have lived and worked there or close by. It is still my favourite city and although I'm living in Canada now, I get back as often as I can. So I am a bit biased, but it is a wonderful place to visit and stay for a few days or longer, especially for the history, the culture, the sights and even the food.  The downside is that it is, like most capital cities, expensive. The uncertainty with Britain leaving the European Union has meant that the pound is now cheaper against many other major currencies, but it still is pricey. So, if you are planning your first trip to this fantastic city or your first trip in a while, here are some top tips for a budget London trip.
Get an Oyster card
An Oyster card is a smart card that you can top up and allows you to travel not just on the London Underground (the subway system; otherwise known as the Tube) but also buses, the London Overground trains, other rail services within London, the DLR (Docklands Light Railway) and the Croydon Tram network. London has a zonal fare structure with the central area in zone 1. You can find maps showing the zones here. The Oyster card has a daily cap so that you won't spend more than (at time of writing) GBP12.50 per day for zones 1-6. You can find more information and buy your Oyster cards online before you travel to London at the official Transport for London website here. The cards will be mailed to you. Note: there is a GBP5.00 refundable deposit.
Alternative Trains from Heathrow Airport
Most people who fly to London from North America and many other countries arrive at Heathrow airport. Strictly speaking, this airport is outside London and a fair distance from the downtown core. If this is where you arrive, there are several options to get to the centre, but one of the cheapest is to use the Piccadilly Line on the Tube, especially if you have already bought your Oyster card. The Tube is a bit slow (about an hour to the downtown area), but you should be able to easily get to a station near your hotel.
The new Elizabeth Line, which opened in 2022, is much faster than the Tube. And crosses London underground and out to the east of the city. Although it uses the same fare zones as the Tube, there is a fare supplement for using Heathrow, (unlike the Piccadilly Line).
Usually the most expensive rail option from the airport is the Heathrow Express which travels fast (15 minutes) to Paddington Station in the west of London.
Use regular buses for sightseeing
As already mentioned, your Oyster card is valid on buses as well as the Tube and trains. Many buses are double deck and if you travel off peak (avoiding the morning and evening rush hours during the week), they are a very comfortable way of seeing the sights.
My personal favourite bus route is the #11 that goes from All Hallows Church (near Liverpool Street Station) to Fulham. Note that this route traditionally starts at Liverpool Street Station itself, but the stop was moved due to the construction of the new Crossrail (Elizabeth Line) subway. I believe that the stop will be moved back later this year when the line opens.
Anyway, route 11 is a gem as it passes some top sights such as the Bank of England, St. Paul's Cathedral, the Royal Courts of Justice (the High Court), Trafalgar Square, Whitehall (past Downing Street), Horse Guards Parade, Parliament Square (Houses of Parliament), Westminster Abbey, Westminster Cathedral, Victoria Station, Sloane Square and Chelsea. Details of the #11 are here.
I'll post details of some of the best bus routes in London in a later article.
London is a great Walking City
If you are reasonably mobile and enjoy walking then London is made for you. Many of the best sights are fairly close together and, if the weather is on your side, then there is nothing better than exploring on foot. For a example, a great walk is to start by the Houses of Parliament (nearest Tube: Westminster), cross Westminster Bridge, then turn left and walk along the south bank of the River Thames to Tower Bridge. You can then cross the bridge to the Tower of London (nearest Tube: Tower Hill).
For a selection of free self guided London walks, check out this site.
If you prefer a guided walking tour, check out Free Tours By Foot where you name your own price.
Visit the free museums and galleries
London has some splendid museums and many of them have free entry; here are links to some of them:
Note, most museums have special short term exhibitions where you will have to pay if you want to see them, but the main collections are always free.
Enjoy your trip!