If you have ancestors from Wales; these are the essential websites you need for Welsh genealogy research. I've included several great free resources as well as an overview of what's held by the pay sites.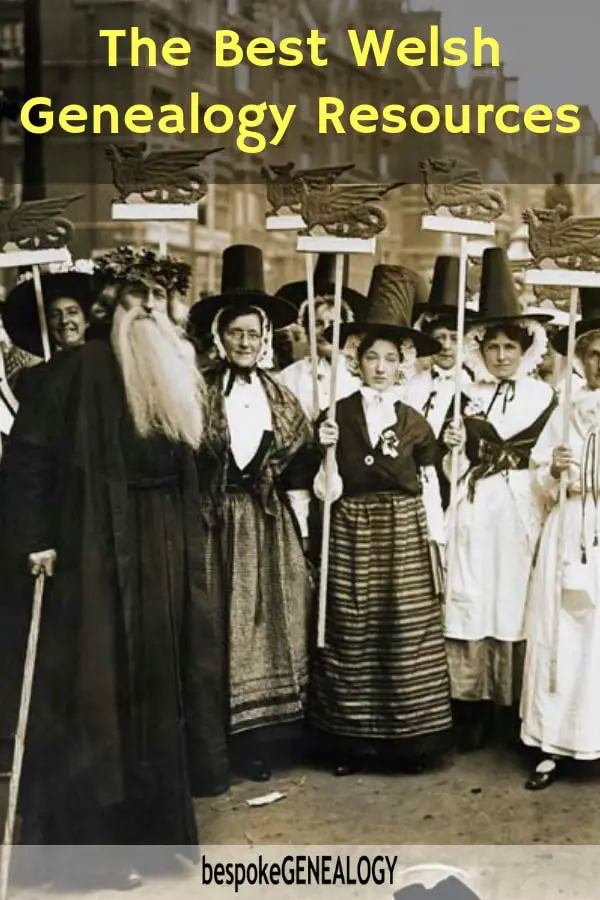 General Register Office
The GRO is the British Government agency that looks after civil registration of births, marriages and deaths in England and Wales. Civil registration started in 1837 and copies of historical certificates can be ordered on this site. At the time of writing, these cost GBP9.25 each, including postage, and are mailed to your address.
There is currently a pilot project running (with no end date) whereby you can order a scanned copy of some certificates as follows:
Births 1837-1917
Deaths 1837-1957
These cost GBP6.00 and are emailed to you within a few days.
Incidentally, the index for births, 1837-1917, is an incredibly useful free resource as it shows the mother's maiden name for each entry. This is great for checking that you've got the right person. You will need to set up a free account to access the index.
Please see The Free BMD Index and British GRO Guide for more information on the GRO.
See my earlier articles for information on Scottish and Irish vital records.
Welsh Parish Records
For birth, marriage and death information before 1837, you'll need to consult parish registers. Unfortunately, unlike in Scotland where records can mostly be accessed in one place (Scotland's People), records for Wales and England have many sources and not all are online.
See my Welsh Parish Register Guide which has links to all the county archives, local family history societies and the parish record collections on the database sites.
The National Library of Wales
The NLW, based in Aberystwyth is the legal deposit library for Wales and holds a massive amount of books, maps, photographs and other archives. Many of the collections can only be accessed by visiting the library in person.
However, the online collections are substantial, very useful to the genealogist and for the most part, are free. Here are the main ones:
Tithe Maps
If you had rural ancestors in Wales in the early 19th century, you may find their property on a tithe map and their details on the accompanying apportionment documents. These can be accessed for free on the NLW site.
For more information about tithe maps see Find Your English & Welsh Rural Ancestors with Tithe Maps.
Welsh Newspapers Online
This is another great free resource from NLW; access 15 million articles from a range of Welsh newspapers dating from the 1800s to the 1910s.
Welsh Journals
This site gives free access to a wide range of Welsh journals dating from 1735 to 2007. The titles range from academic to literary and popular magazine in English and Welsh.
Dictionary of Welsh Biography
On this site, you'll find over five thousand concise biographies of people who contributed to Welsh life and culture.
Cymru 1914
If your Welsh ancestor was in the army during the First World War, or lived through it in Wales, you should probably visit this site. This project was a "mass digitization of primary sources relating to the First World War from the Libraries, Special Collections and Archives of Wales."
For a full list of digital resources available from the National Library of Wales, see the NLW Resources page.
Findmypast
The subscription site Findmypast has collaborated with the National Library of Wales and the Welsh County Archivists Group to create the Wales Collection. This set contains Welsh baptisms, banns, marriages and burials from parishes in most counties in Wales. Access the Wales Collection here.
Findmypast also has many other Welsh genealogy records including census returns, the 1939 Register, trade directories and newspapers. For a list of the Welsh records sets on the website visit this page.
Ancestry
Ancestry has over 300 Welsh record sets including census returns, parish registers and directories. See their card catalogue for a full list of sets.
Family Search
The free database website, Family Search, has a number of useful Welsh resources including a partially completed project to digitize the National Library of Wales collection of marriage bonds (1600-1754). There are also several courses that you can take to help you with your research. Visit the Family Search Wales page for a list of the record sets held and links to the resources.
Welsh Coal Mines
If you have Welsh coal mining ancestors, you'll find this site very useful. It documents more than 200 mines, list disasters and includes stories and poems about the mines.
Welsh Mariners
Welsh Mariners contains a database of nearly 24,000 Welsh merchant seamen who held certificates of competency or service from 1845 onward as well as from some other sources like census returns. There is also a smaller database of over 3300 Welshmen who served in the Royal Navy during the time of the Battle of Trafalgar.
Peoples Collections Wales
This site contains a collection of stories, photographs and documents donated by the people of Wales. It can be searched by place.
For more useful British websites see:
20 Totally Free UK Genealogy Sites
50 Useful English & Welsh Genealogy Websites
Happy researching!
Please pin a pin to Pinterest: