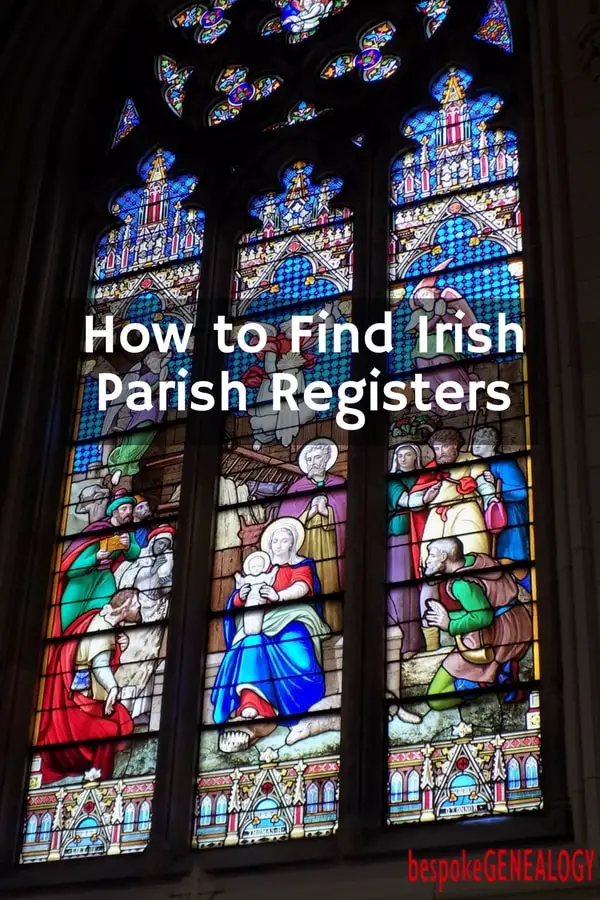 Following on from my earlier posts looking at Irish civil registration and Irish censuses, today I'm going to look at Irish Parish Registers. Unlike in Scotland where almost all church records (Established and Roman Catholic) are available online and in one place (at Scotland's People), surviving Irish records are in many places, both online and in physical archives. This article is just an introduction to this record set; an overview of what is available and where. Later posts will look in more detail at parish registers as well as other records that can help you find your Irish roots.
Many people believe that Irish genealogy is impossible as all records were destroyed during the civil war in 1922. It is true that many records were destroyed following the explosion and fire at the Public Record Office and I looked at what census records were lost in the previous post. At the time of the fire, the archives held the records of 1006 parishes of the Church of Ireland and only records for four of these were saved. However, 637 parishes had not deposited their records, so these survived. In addition, no Roman Catholic parish records had been deposited, so most of these survive as do many non-conformist records.
Civil Registration
Civil registration began in Ireland in 1845 with non Roman Catholic marriages and for all birth, marriages and deaths from 1864. Many of these records are available online for free for the whole of Ireland at Irishgenealogy.ie. Please see my previous post for more information about these records.
Parish Registers
Therefore, to find births, marriages and deaths in Ireland before 1864, you are going to have to look for parish records. Before I outline the main sources of records, there are a few things that you ought to keep in mind:
Although official membership of the Anglican Church of Ireland was less than 25% of the population, it was the established church, so even if your ancestors were Catholic or non-conformist, some of their baptisms, marriages or burials may have been recorded in Church of Ireland registers.
Due to restrictions placed on the Roman Catholic Church, few records exist before 1829.
Marriages often happened in the bride's parish.
People were often buried in their home parish, not where they were living (if different).
For a better chance of successfully finding the right parish record for your ancestor, it helps greatly if you know where they lived and what church they belonged to.
Many Catholic registers are in Latin, so names will be Latinized, eg Patrick may be written as Patricius. Here is a list of Latin names and the English equivalents.
Irish Christian names can be tricky. Often people were known by a different name to that which appears on the records. For example, your ancestor may have been baptized as Mary, but was known all her life as Maureen. You can find a helpful list of Irish name variations here.
Before you start, I would strongly recommend finding out which registers survive for the parish you're interested in. An easy way to do this is to use John Grenham's Irish Ancestors website. For more information on this essential resource see:  How to use John Grenham's Irish Ancestors Website
These are the main sources of Irish Parish Registers:
IrishGenealogy.ie
In addition to the civil records mentioned above, this site also has a small number of church records which can be accessed for free as follows:
Church of Ireland – Carlow, Dublin and Kerry
Roman Catholic – Cork & Ross, Dublin and Kerry
Presbyterian – Dublin
You can find the parishes and the dates these records cover here.
National Library of Ireland Catholic Parish Registers 
This is a fantastic resource. During the 1950s, the NLI microfilmed the surviving Roman Catholic Baptism and Marriage registers up to 1880 from most of the parishes in the Republic and Northern Ireland. These microfilms have now been digitized and are available to view free of charge here.
The registers have effectively been recreated using the microfilm images. The site is very easy to use with the interactive map on the page, as long as you know which parish to look for. The registers are not indexed by name, so you can only browse them. To search by name, you need to use FindMyPast (see below).
For much more on this essential resource, see: Using Free Irish Catholic Parish Records
FindMyPast
You can also access the NLI Catholic Register database for free via FindMyPast and use their search function, so you can look for individual names as well as other fields.
FindMyPast has the largest collection of online Irish records and it is well worth exploring what they do have. As well as other Irish birth, marriage and death records, they have lots of other essential ones. As most of the pre 1901 census returns were lost, many of FMP's Irish records are really useful as census substitutes, such as the dog licence registers. Electoral rolls, military records, land records etc. You do need a subscription to access these records, but you can sign up for a 14 day free trial here to see if they are of use to you before you commit to a full subscription.
Ancestry
Ancestry's Irish BMD collection is available elsewhere for free. You can find Irish civil registration at IrishGenealogy.ie (above) and the Church registers from Family Search (below).
Family Search
Family Search has two Irish parish record collections
Ireland Births and Baptisms, 1620-1881.
Ireland Marriages, 1619-1898.
These are mostly transcriptions from Church of Ireland records with a few Catholic and some non-conformist records. Coverage is very patchy, so you need to check what records they have for the parish or County you are looking at before you search.
Roots Ireland
Roots Ireland is the website of the Irish Family History Foundation. It is a pay site with the cheapest options being US$12 for 24 hours or $29 for a month. They have transcriptions from the registers of Catholic and other churches in most of the counties of Ireland. Before you commit to a subscription, I recommend that you check what records they have available for your county and to make sure the records are not available for free elsewhere (see above sources).
PRONI
PRONI is the Public Record Office of Northern Ireland. They hold copies of parish registers of the various churches for the counties on Northern Ireland as well as some in the Republic. PRONI has published a useful booklet explaining the parish register copies they hold as well as listing by county and parish exactly what they do hold. You can find it here.
These records are not online, so you would have to visit the archives in person or find a researcher to view them on your behalf.
Parish registers are also held in other archives and some are still in churches, so you may have to do some detective work to find them. I plan to publish more information on Irish parish registers and archives in the coming weeks, so if you haven't done so already, I recommend you sign up below (for free) to get updates.
For more Irish genealogy see:
And for more Irish genealogy articles, please visit the Ireland page here.
Good luck with your Irish research!
Please see my other posts for information on English, Welsh and Scottish church records.
For further reading on Irish genealogy, you may find the following books interesting:
There are more genealogy books in our Resources section here.
Please pin a pin to Pinterest: