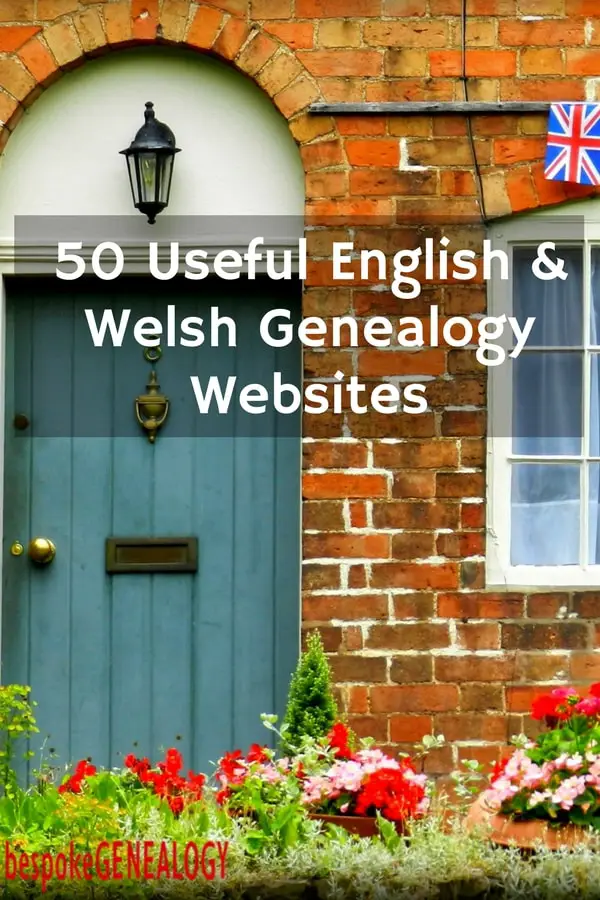 If you have English or Welsh roots, here is a roundup of 50 useful genealogy websites that should be of use to your research. Some are subscription or pay per view sites, but many are free. I'm sure that you will be familiar with at least a few of them, but some of them maybe new to you. I hope you find them useful.
General Database sites
Family Search
Family Search needs no introduction. Run by the Church of Jesus Christ of Latter Day Saints, this free site has records from all over the World. The English and Welsh records consist mainly of parish register and census transcriptions, although they do have some others such as school records.
Find My Past
FindMyPast is a British based subscription site. They have an extensive range of British and Irish records including civil registration indexes, census returns and parish registers for some counties. Membership also includes access to the British Newspaper Archive. The real gem on this site is the 1939 Register for England and Wales which is not available online elsewhere. This record set is very similar to a census so is really useful for locating relatives after the last published census in 1911.
The Genealogist
The Genealogist is another British based subscription site. It has many of the same records as the others, although it probably has the best collection of English parish record transcriptions. It also has some other records, like English Tithe maps that are not available online elsewhere. Click here for a 10% discount on a subscription.
Anc

estry

Ancestry is a huge US based multi-national website. The UK collection has similar records to the other sites mentioned above, plus some others like London Electoral Registers that are not available anywhere else online.
British Newspaper Archives
This collection is collaboration between FindMyPast and the British Library and is by far the largest collection of online British and Irish newspapers. Newspapers are really useful for genealogists for birth, marriage and death announcements as well as obituaries and articles about ancestors. See my post about this collection for more information.
Society of Genealogists
The London based Society of Genealogists has an extensive library containing family histories and many other useful genealogy records. Membership provides access to the library as well as some online records and courses.
National Archives
The National Archives is the official archive for England and Wales as well as for the UK Government. It holds over 1000 years worth of national documents. Records are held in Kew, West London and in Yorkshire. Most records have to be physically consulted in the reading room at Kew. However, some records are available online on the website on a pay per view basis. It is well worth exploring the website as there are lots of useful resources such as tutorials, guides and videos.
British Library
The British Library is the national library of the UK, holding every publication produced in the UK and Ireland. Like the National Archives, most items can only be accessed physically at their main site in St. Pancras, London. However, there is a lot of useful information and there are some records (including sound archives) on the website. See the here for more information.
FreeCEN
This volunteer project is transcribing the 1841, 1851, 1861, 1871 and 1891 censuses so that they can be made available free online. The 1881 census is already available online for free on Family Search and other sites. FreeCEN is a work in progress so you need to check whether the returns for the area you are interested in have been transcribed yet.
Civil Registration
General Register Office (GRO)
Civil registration of births, marriages and deaths began in England and Wales in 1837. You can order copies of birth, marriage and death certificates online at the GRO. Normally certificate copies are mailed and the cost is GBP9.25 including postage.
However, at the time of writing, there is still a pilot project in effect which allows you to order PDF copies of birth records (1837-1917) and death records (1837-1957). These copies are emailed within a few days of ordering. The cost is GBP6.00 each. This project has been extended indefinitely. Marriage records as well as later birth and death records are not covered by this project and will be mailed.
See The Free BMD Index and British GRO Guide for more information about the GRO and the Indexes.
FreeBMD
This site has the aim of transcribing all indexes of births, marriages and deaths in England and Wales from 1837 (the start of civil registration) to 1984. Volunteers have been transcribing records since 1998 and the project is largely complete now, with only some later years still to do. Details of coverage can be found here. The BMD indexes are very useful in themselves, but the information in them is also needed when ordering copies of vital records from the GRO  (Government Record Office, see above).
UK BMD
The GRO birth marriage and death records are actually copies. The originals were recorded at local register offices and copies were then sent to the GRO. As the copies were hand written, errors occurred. The UK BMD project, in conjunction with local family history societies, is to transcribe the local indexes to the original records. Again this is a work in progress, but it is always worth checking to see if you can find records here for your ancestors. There are other records on this site and loads of information and tutorials, so I recommend having a good look round.
Parish Registers
Bespoke Genealogy Parish Register Guides
If you are looking for births, marriages and deaths in England and Wales before the start of civil registration in 1837, you will need to find parish records. I have put together directories of the historical counties of England here and Wales here. These directories show where you can find physical and online records for each county (with links). There are also links for the local Family History Societies for each county. These societies sometimes have useful online information and records.
FreeReg
FreeReg is a sister site to Free BMD and Free Cen. It is another volunteer site with the aim of transcribing all church and non conformist records. It is fully searchable, but the work is far from complete. You will need to check individual parishes to see how much is available.
Parish Chest
If the parish records you want to access are not available on Family Search or any of the subscription sites, an alternative is to get hold of a transcription of the registers of a particular parish. These transcriptions were usually originally done by family history society volunteers and have now been digitised and are available on disc. The sale of these discs raises useful money for the societies. Parish Chest is one of the retailers selling these discs online, along with other genealogy related products.
Genfair 
Genfair is similar to Parish Chest and is run by the retail arm of The Genealogist and operates as a sort of marketplace for some of the family history societies.
If FHS transcriptions for a particular parish are available on disc, you should find them at either Parish Chest or Genfair.
Graves
Deceased Online
This is a database of UK burials and cremations. It is a pay per view site, although you can search for free (full search requires registration). It has digital scans of burial and cremation records as well as photographs of gravestones. Not everywhere is covered, but it is still a very useful resource.
Find A Grave
This free site records the graves of people around the World including the UK. It relies on volunteer contributors to photograph and record inscriptions. It is fully searchable and has just had a revamp.
Gravestone Photographic Resource
A similar site to Find A Grave, but probably with more British records.
Commonwealth War Graves Commission
Find the graves of British and Commonwealth servicemen killed in action from the First World War onwards.
Working Lives
Grace's Guides
If you have ancestors that were employed in British industry and you know who their employer was, you may find some information about the company on this site. There are company histories, advertisements and period magazine articles. This site is well worth a browse as there is lots of fascinating information.
For much more information about this great website see Free British Industrial History for Genealogy Research.
Working Class Movement Library
Although this library is based in Manchester and you would have to visit to access the collection, there is a lot of information about the British working class on the website.
Clergy of the Church of England Database 
This is a free online database containing details of the clergy in the Church of England between 1540 and 1835.
Pioneering Nurses
A database of the first nurses to sign up to the Royal British Nurses' Association professional register in 1890.
The Long, Long Trail – The British Army in the Great War of 1914-18
Information about the soldiers, regiments and battles of the British Army in the First World War
The Workhouse
Everything you need to know about the grim institution that was the British workhouse
Directories from the University of Leicester
This is a magnificent collection of scanned UK trade directories from the 1760s to the 1910s. The collection is not searchable, but is browsable by place, so you may be able to find your ancestors if you know where they lived. The University has an agreement with Ancestry so if you have a subscription with this site, you can search by name.
Lane's Masonic Records
A listing of Masonic lodges in England between 1717 and 1894.
Maps
NLS Maps
A huge, free, collection of digitized historical maps of the whole of Great Britain.
For much more information on this great resource, see How to find free historical UK maps online.
National Library of Wales – Places of Wales
Free access to digitized tithe maps of Wales.
Images
Britain from Above
Historic aerial photographs that can be cross referenced to recent maps.
Historic England Archive
Search over 1 million catalogue entries of photographs, plans and drawings of England's historic sites and buildings. The collection consists of images of domestic and industrial buildings from the earliest days of photography to the present day.
England's Places
The collection dates from the 1850s up to the early 1990s, it consists of photographs mounted on cards (often annotated) and stored in red boxes arranged by place. These cards have been scanned and are held in "virtual red boxes" which can be searched by place.
For more information on the three sites mentioned above, see How to Find Free Historical Images of England.
Collage – The London Picture Archive
Images of London from the collections at the London Metropolitan Archives and the Guildhall Art Gallery.
British Film Institute
The BFI has a huge online archive of British movies and documentaries. You will need to buy a subscription to access much of the content, but you can access some historical films for free.
Other Useful Sites
British Surnames
This is a searchable database of British surnames. It has details of name origins and distribution.
Future Learn
Many free online courses including genealogy and history.
Lost Cousins
Lost Cousins is unique; you enter all the relatives you have from a certain census, usually the 1881 England, Wales, Scotland, 1880 US and 1911 Irish censuses. The site's algorithm will then match you with anyone else who has entered the same data. If there is a match, you will likely have found a distant cousin. I would recommend that any serious family history researcher should join up and enter their data. They will also be able to receive the excellent frequent newsletter.
Note: although it is free to join, enter your data and use the search facility; if there is a match, one of the "cousins" will have to be a subscriber. A subscription is only GBP10.00 a year though.
London Lives
If any of your ancestors lived in London, then this site is definitely worth a look. The collection is not very comprehensive, but it does have manuscripts from 8 archives and 15 datasets ranging from criminal court records to coroner and hospital records.
Measuring Worth
This is a useful tool for measuring worth of the British pound (or other currencies) from 1270 to present. This comes in handy, especially when you are looking at Wills.
Marriage Locator
You can use this tool to determine the parish your ancestors got married in from the GRO index. The same information is on both the GRO marriage record and the parish register. So, if the parish records are available online, this tool will help you find it and save you the cost of a marriage certificate.
Bomb Sight
This website has mapped all the Second World War bomb sites in London. If you have ancestors living in London during the war, you can see if they were affected.
List of Archaic Medical Terms
If you have looked at a death record and have not understood the cause of death, this website will help.
People's Collection Wales
A collection of stories, photographs and documents donated by the people of Wales. The site can be searched by place.
English Handwriting 1500-1700
Top tips for helping you to decipher old handwriting.
College of Arms
This is the official body that issues and polices coats of arms in Britain. There is lots of useful information if this is something you are interested in.
British History Online
A digital library of primary and secondary sources for the history of Britain and Ireland from 1300 to 1800.
Beginner's Latin
This site will help you decipher Latin words and phrases used in many early documents.
The Gazette
The London Gazette is the official organ of public record in Britain and the archives go back to 1665. If your ancestors were involved in legal proceedings, became bankrupt or owned a company, you will probably find something in the database.
For more on this resource, see An Amazing Free British Genealogy Resource: The Gazette.
The Proceedings of the Old Bailey, 1674-1913
The Proceedings were printed accounts of trials that took place at the Old Bailey; the Central Criminal Court in London, between 1674 and 1913. They have been digitized and are fully searchable. They contain details of nearly 200,000 criminal trials held between these years.
Happy researching!
You may also find these books useful:
You can see more genealogy books in the Resources section.