This post is another in a series looking at Irish genealogy records. Other posts look at civil registration and parish registers. I know from personal experience how difficult it is researching Irish ancestry as many records have been lost or are difficult to access, so this time I'm going to look at Irish censuses; which records remain and which were lost.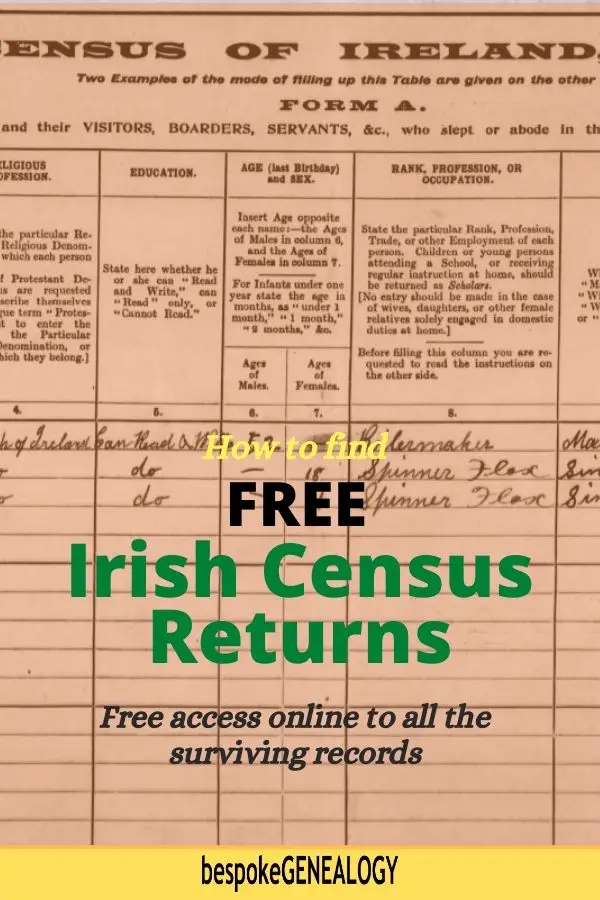 Background
Retention of census records in Ireland has been a disaster with so much lost for a number of reasons. I'll just run through the censuses that were taken and then look at what survives. Ireland became part of the United Kingdom in 1801, and from 1821 censuses were collected every 10 years along with the rest of the UK. The Irish censuses of 1821 and 1831 were more detailed than the British equivalents as they recorded names. Censuses were then held every 10 years until 1911. The 1921 census was cancelled due to the war of independence.
In 1922, after the war of independence, Ireland was split. Northern Ireland remained part of the UK with the rest of the island becoming the Irish Free State, and later, the Republic of Ireland. Independent Ireland then took censuses in 1926, 1936, 1946, 1951, 1956, 1961, 1966, 1971, 1979, 1981, 1986, 1991, 1996, 2002, 2006, 2011 and 2016.
In Northern Ireland, a census was also taken in 1926, then in 1931 (limited), 1951, 1961, 1971, 1981, 1991, 2001 and 2011. In 1939 along with the rest of the UK, a National Register was taken on the eve of war, so that identity cards could be issued. This Register was very similar to a census.
Lost Records
Now the bad news; most of the 19th century returns and some of the 20th century ones no longer exist. The 1861 and 1871 returns were destroyed not long after they were taken and during World War One, the 1881 and 1891 returns were pulped. Then there was the explosion and fire of 1922 at the Public Record Office in Dublin during the civil war which destroyed, apart from some fragments, the returns of 1821, 1831, 1841 and 1851, along with other priceless documents going back 100s of years. And if you think it can't get any worse, the 1926 Northern Ireland census returns were lost during World War Two!
Surviving Records
So, what's left? There are some fragments of the 1821-1851 censuses as follows:
1821 – Cavan, Fermanagh, Galway, King's County (Offaly) and Meath.
1831 – Londonderry
1841 – Cavan, Cork, Fermamagh and Waterford.
1851 – Antrim, Belfast City (one ward only), Dublin City (index to heads of household only) and Fermanagh.
These surviving records are available online and are searchable. They can be found at the National Archives of Ireland website here.
Nothing remains of the 1861-1891 censuses.
The good news is that the 1901 and 1911 census returns remain virtually intact as they were held in a part of the Records Office that didn't burn down. These are also available to access free online at the National Archive site here.
The Irish Government has announced that the 1926 census will be available, free of charge, in April 2026.
1939 Register
In Northern Ireland, the 1939 Register is accessible free of charge via a Freedom of Information request at PRONI (Public Record Office of Northern Ireland). You can fill out an online enquiry form here. You will need to know the address of your relatives, or at least the Townland. PRONI will send you a list of people residing at that address, although anyone under the age of 100 years old will be removed, unless proof of death has been recorded.
Incidentally, the 1939 Register for England and Wales is available online with a subscription at FindMyPast. For Scotland you can apply to the National Records of Scotland with a Freedom of Information request. Details and a form are here. Unlike Northern Ireland, a fee is payable and you will have to provide death details for the people you are researching.
For more on the 1939 Register see: Preparing for War: The 1939 Register
Some Census Substitutes
In future posts, I'll be looking in detail at other sources of Irish records that can be used as census substitutes. In the meantime, I would recommend that you have a good look at the Irish records held by FindMyPast. Of all the online databases, FMP has by far the most comprehensive collection of Irish records with more being added all the time. Useful records that can be used as census substitutes include:
Trade Directories
Electoral Rolls
Griffith's Valuation
Other very useful records include:
Prison Records
Dog License Records (most families had dogs in 19th century Ireland)
Military Records
Poor Law Relief Records
And many more!
If you have Irish ancestry (as I do), then I thoroughly recommend taking out a subscription. You can sign up for a 14 day free trial here to see if these records can help you before you commit.
Finally, some exiting news was announced last week about Irish records. Trinity College Dublin, together with their partners the National Archives of Ireland and the UK, PRONI and the Irish Manuscripts Commission launched the Beyond 2022 project. This will create Ireland's Virtual Record Treasury which will be a digital reconstruction of the Public Record Office of Ireland building and it's collection. Using surviving records, items held in other archives, transcripts, copies and other sources, they will recreate digitally as much of the 1922 collection as possible. This ambitious project will be launched in the centenary year of the fire in 2022. You can read more about it on the official website here.
For more Irish genealogy see:
Good luck with your Irish research!
For further reading on Irish genealogy, you may find the following books interesting:
There are more genealogy books in our Resources section here.
Please pin a pin to Pinterest: