Those of you with Irish ancestry will know how difficult it is to make progress in researching your roots. One of the main reasons for this is due to the loss of some key record sets in the 1922 fire at the Public Records Office in Dublin during the Civil War. This post looks at the Irish genealogy records that were lost and those that survive. I also look at the ground-breaking Beyond 2022 project that aims to reconstruct as many of the lost records as possible.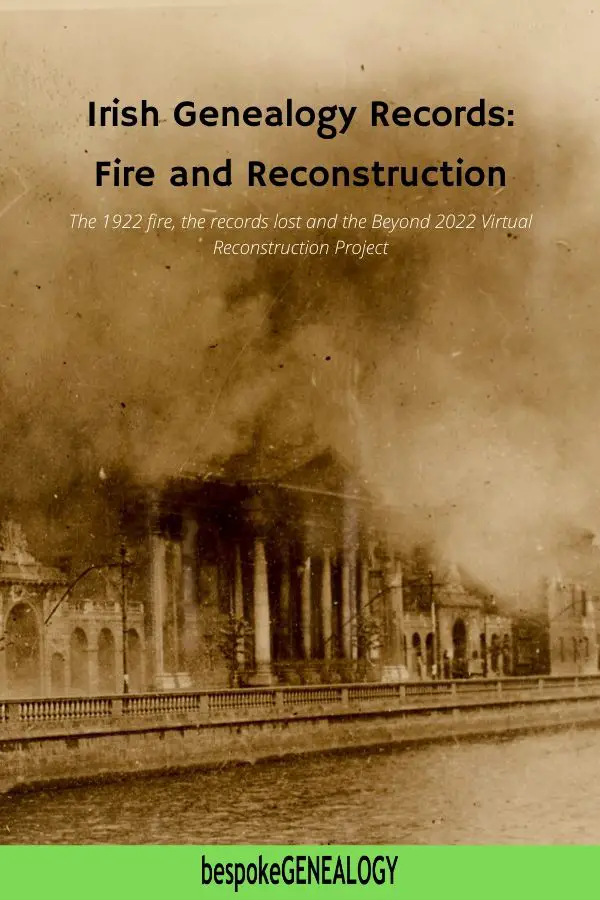 The 1922 Fire and the Irish Genealogy records lost
During the Irish Civil War, on 28th June 1922, there was an explosion in the Public Records Office followed by a fire. Many priceless Irish genealogy records were lost including Wills and Title Deeds, Church of Ireland parish registers, census returns and other records going back seven centuries.
Apart from some fragments, the census returns of 1821, 1831, 1841 and 1851, were lost. The 1861 and 1871 returns had already been destroyed not long after they were taken. And to make matters worse, during World War One, the 1881 and 1891 returns were pulped for some reason. This means that almost no 19th century Irish census returns exist now.
Over 1000 Church of Ireland parish registers, containing birth, marriage and death records were also lost in the fire.
Records that survive
Many people are under the impression that hardly any records in Ireland survive. This is a misconception as many very useful record sets do survive. Here is an overview of some of the key ones:
Some fragments of the 1821-1851 censuses did survive as follows:
1821 – Cavan, Fermanagh, Galway, King's County (Offaly) and Meath.
1831 – Londonderry
1841 – Cavan, Cork, Fermanagh and Waterford.
1851 – Antrim, Belfast City (one ward only), Dublin City (index to heads of household only) and Fermanagh.
These surviving records are available online and are searchable. They can be found at the National Archives of Ireland website here.
Nothing remains of the 1861-1891 censuses.
The really good news is that the 1901 and 1911 census returns remain virtually intact as they were held in a part of the Records Office that didn't burn down. These are also available to access free online at the National Archive site here.
For more on this, see How to find Irish Censuses
All civil birth, marriage and death records survive. Civil registration began in Ireland in 1845 with non-Catholic marriages and for all births, marriages and deaths from 1864. Note that before 1922 Ireland meant the whole of the island. After partition in 1922, the counties of Antrim, Armagh, Down, Fermamagh, Londonderry and Tyrone became Northern Ireland and remained part of the United Kingdom, while the rest of Ireland became the Republic.
The Irishgenealogy.ie  website is owned by the Irish Ministry of Culture and is where you can access the historic records of births, marriages and deaths of the General Register Office for free. Records available online cover the following years:
Births: 1864 – 1918
Marriages: 1864 – 1943
Deaths: 1878 – 1968
Note: The online records will eventually go back to 1845 for non-Catholic marriages and back to 1864 for deaths. Also, as Northern Ireland remained in the UK after partition, marriages and deaths from 1922 for these counties have to be purchased from GRONI (Government Record Office Northern Ireland).
For more on civil registration in Ireland, see: How to Find Free Irish Vital Records.
Although the majority of (the established) Church of Ireland parish registers were lost in the fire, most of the population of Ireland was, and is, Roman Catholic. Luckily, these records, along with other denominations were not held at the Records Office.
Until recently it was difficult to access Catholic records online, but now, the National Library of Ireland have put their collection of microfilmed registers online with free access. For more on these valuable records see Using Free Irish Catholic Parish Records.
Many other records survive that can be used as substitutes for missing records, especially the censuses. Findmypast probably has the largest and most diverse collection of online Irish records and I would recommend having a good look at their sets.
These include:
Trade Directories
Electoral Rolls
Griffith's Valuation
Prison Records
Dog Licence Records (most families had dogs in 19thcentury Ireland)
Military Records
Poor Law Relief Records
Beyond 2022 project
There is an exciting project underway in Ireland to find copies or substitutes for records that were lost.
Trinity College Dublin, together with their partners the National Archives of Ireland and the UK, PRONI (Public Record Office Northern Ireland) and the Irish Manuscripts Commission are working on the Beyond 2022 project. This will create Ireland's "Virtual Record Treasury" which will be a digital reconstruction of the Public Record Office of Ireland building and its collection.
Many of the records held in the PRO were copied by scholars in the 19th century. So, using surviving records, items held in other archives, transcripts, copies and other sources, the project will recreate digitally as much of the 1922 collection as possible. This ambitious project will be launched in the centenary year of the fire in 2022. You can read more about it on the official website here.
See this Irish Times article for more information.
For more Irish genealogy checkout the following pages:
For further reading, I would recommend the following books:
Happy researching!
Please pin a pin to Pinterest: