I'm often asked which subscription website I would recommend for British genealogy research. My answer always is that it depends on what you need. I know that this isn't very helpful, but different people need different records depending on their own family history.
This post looks at the four big players in the British genealogy market and gives some tips for helping you decide which subscription to buy.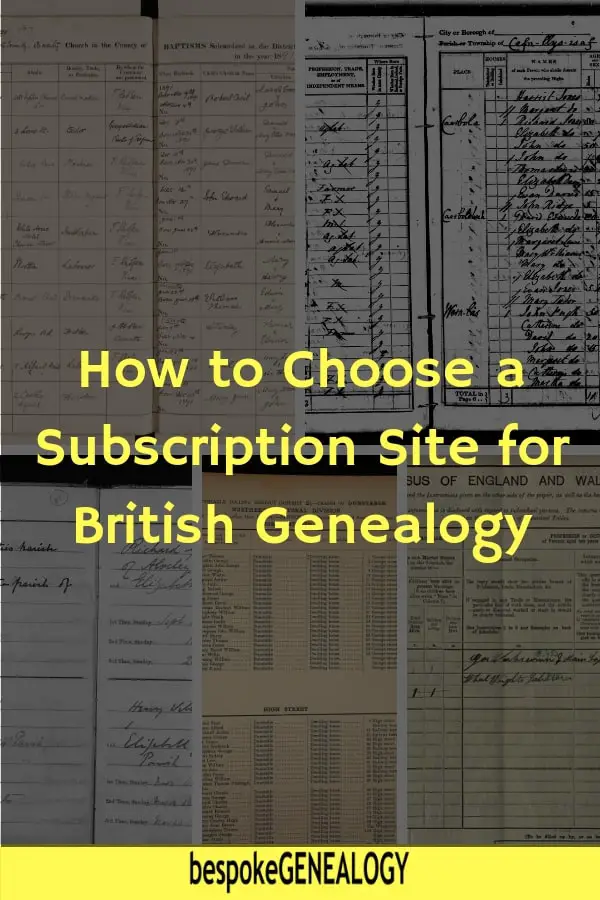 I hope this post will be useful to family historians just starting their British genealogy research or for seasoned researchers who have been using the same website for several years and want to know whether they should try a different one.
The Subscription Sites
This post looks at British collections, ie English, Welsh and Scottish records. Irish record sets will be discussed in a future post. The subscription sites holding the most British genealogy records are Ancestry, Findmypast, The Genealogist and My Heritage.
All of these sites have England and Wales census records (transcriptions and images) 1841-1911, civil birth, marriage and death indexes from 1837 and online family trees as well as DNA testing programs.
Ancestry
Ancestry is by far the largest global genealogy subscription site. Its British collections are very comprehensive and they probably have the best London sets. Be aware though, that access to many of their military records may require an additional subscription to their sister site Fold3.
Findmypast
Findmypast is a British based genealogy site with records from around the world. However, they are strongest with British and Irish records and have one of the largest (if not the largest) collections for these countries of any site. They have good regional coverage and a diverse range of records.
Some membership packages include access to the huge British Newspaper Archive collection (in association with the British Library). This is a fantastic resource and, in my view, worth the cost of membership on its own.
The Genealogist
The Genealogist is the "dark horse" of British genealogy with some interesting collections that other sites don't have. They are especially strong with English parish registers.
Unique collections include English tithe records (great if you have rural ancestors) and the growing 1910 "Domesday" collection. See these posts for more information on these record sets:
For more information on this site see: A Great Alternative Website for British Ancestry
My Heritage
My Heritage's British genealogy collection is small compared to the three other sites, although they have the main sets like census records and BMD indexes. They are stronger with records from other European countries, so if you have ancestors from Britain and mainland Europe, then this site may be worth considering.
Things to consider before choosing a subscription
Here are five things that I recommend thinking about before committing to a subscription:
What British records are available elsewhere for free?
All of the subscription sites have a few record sets that you can find for free elsewhere, so I would recommend checking these out first, before committing to a subscription. The key free sites to look at are:
Family Search.  This site, run by the Mormon Church, has a number of British genealogy collections that can be accessed for free. These are mostly transcriptions and where an image is available of a record, you may need to be a member of the church or have a subscription to another site (like Findmypast) to view it. The main record sets Family Search hold are:
England & Wales Censuses 1841-1911
England & Wales Birth, Death and Marriage Registration Index from 1837
England Parish Record Transcriptions from 1538 (note that coverage is variable with some counties having more records than others. Check the website for more information).
England and Wales, National Index of Wills & Administrations, 1858-1957.
Check the links to see the full list of record sets for England, Wales and Scotland on Family Search.
Free BMD. This site has free access to most of the England and Wales civil registration indexes of births, marriages and deaths from 1837 to 1984.
General Register Office. This is the website to use for ordering copies of birth, marriage and death certificates. You can also access the births index 1837-1918 and deaths index 1837-1957 for free. The birth index is especially useful as it gives the mother's maiden name.
For more information about civil registration in England and Wales, see How to find English and Welsh Vital Records
For more free British genealogy sites see:
Which record sets are held by the subscription sites?
The record sets you need will depend on your own family history. Things like when your ancestors left Britain (if they emigrated), where they lived and what they did for a living will all be factors in deciding which site has the best record sets for your needs. I would therefore recommend having a good look at what each site holds.
Probably the most useful record sets for your research (apart from census returns and the BMD indexes which all these sites have) will be parish registers. Different sites have parish records for different counties, so check the card catalogues to find what records are held for the counties you are interested in.
Here are the links to the genealogy sites card catalogues:
Were your ancestors Scottish?
If your ancestors were Scottish then most key records are going to be found on the Scottish Government site Scotland's People which is pay per view. The collections they hold are:
Civil birth, marriage and death records from 1855
Church registers from 1553 (Church of Scotland, Roman Catholic and other non-conformist churches)
Census returns 1841-1911
Valuation rolls from 1855
Legal records
For more information about this site see Scottish Genealogy: Making the Most of Scotland's People.
Some Scottish records are held by the subscription sites like census transcriptions 1841-1901 (not the images) and some parish registers held by Ancestry and Findmypast (see their card catalogues).
Test drive the sites with a free trial
All of the subscription sites offer trial periods (usually 14 days), so try them out before committing. See below for links to these free trials:
Check the subscription options and the UK sites
Most of the sites have different subscription levels based on the number of collections you can access so it's always best to make sure you have the right plan to access the records you need.
Also, if you are based in say, North America or Australia and are just focusing on British records, you may save money by signing up to the British websites of Findmypast or Ancestry and selecting British only records. This should be cheaper than paying for the worldwide subscriptions on your local sites. Links to these British sites are below:
Happy researching!
For further reading, you may be interested in these books:
Please pin a pin to Pinterest: