If you have UK (especially English or Welsh) roots and are looking for a subscription site with British records , or your Ancestry subscription is coming up for renewal, I would strongly recommend that you have a good look at The Genealogist. This is a great alternative website for British ancestry.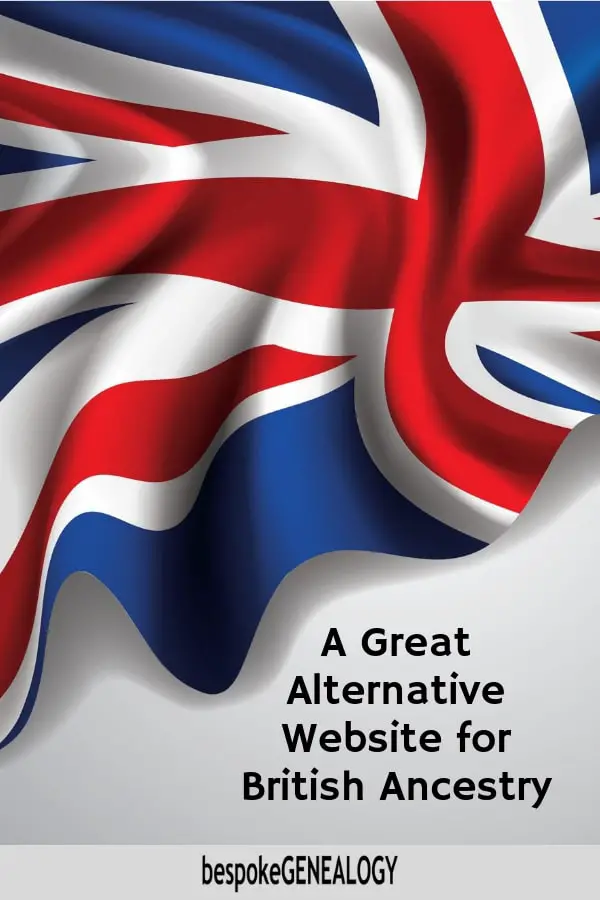 The Genealogist has many of the same records, like census returns and BMD sets as the other sites. However, it also has many unique and useful records like Tithe maps and the 1910 Valuation survey that no one else has. It is therefore well worth checking out.
Full disclosure: I am an affiliate of The Genealogist (as well as some other genealogy sites), so if you click on a link and then buy a subscription, I get a small commission that helps pay for this website. This is at no extra cost to you. In fact, if you click on one of The Genealogist ads on this page, you will get a 10% discount .I have a subscription myself and really enjoy using the site.   
So, here are some of the key record sets on The Genealogist you should look at:
Censuses
The Genealogist holds the same English and Welsh census records as other sites with transcriptions and images of the 1841 – 1911 returns. It also holds some surviving London fragments of the 1821 and 1831 censuses.
A cool feature of the census search page is that you can search for an address as well as an individual (see above). This is really useful if you can't find a person where you expect them to be. You can have a look at who was living at a particular address and see if there has been a transcription error of if your person really wasn't there.
1921 Census Substitute
The 1921 English & Welsh census is not due to be released to family historians until 2022. If you can't wait, you can check out the 1921 census substitute. This uses The Genealogist's huge collection of directories from around that time.
Civil Birth, Marriage and Death Indexes
The site holds civil registration indexes for England and Wales for 1837-2005 which is similar to other sites.
In addition, you'll find some overseas BMD records as well as World War One and Two death indexes.
Parish Records
The Genealogist holds a huge collection of parish records and probably has the largest collection of English records than any other site, with at least some coverage of all counties. Be aware though, that not all parishes within counties have records available here, so it's best to check.
Headstones
You'll also find a good collection of headstone photographs from many churchyards in the country.
Map Explorer
A fantastic new feature on the site is Map Explorer. Geo-referenced historic maps are overlaid onto several modern background maps. This allows you to pinpoint exactly where your ancestors were living on modern maps.
There are three layers to the Map Explorer; the base layer which is the modern map, the historic layer where you can select an Ordnance Survey map from the 1890s to the 1960s. Finally, the record set layer can be selected from one of the geo-referenced map based collections like the 1910 Domesday maps or the headstone collection.
Changes of Name
Sometimes we find that someone has vanished from records; we can find no trace of them after a certain date. One reason for this could be due to a name change. Someone can change a name for a number of reasons; to escape a scandal or debt, to gain an inheritance or simply because they didn't like their name.
The Change of Name database on The Genealogist is therefore a very useful resource. These records come from a number of sources including private acts of Parliament; Royal Licences published in the London and Dublin Gazettes; notices of changes of name published in The Times after 1861 and some other publications.
Tithe Records
The Genealogist is the only website to have a comprehensive collection of online English Tithe maps and the associated apportionment records. If you have rural ancestors in England during the first half of the 19th century, you may find a map showing the land that they owned or rented and the associated tithe rent charge paid. The latest additions to the collection include full color scans of the maps which are beautifully detailed.
For more information see: Find Your English & Welsh Rural Ancestors with Tithe Maps
1910 "Domesday" Survey
Another collection exclusive to The Genealogist is the 1910 Land Valuation Survey, otherwise known as the 1910 Domesday books.
Lloyd George's government had introduced the first British old age pensions in the 1909 budget and these together with a huge investment in the Royal Navy had to be paid for. The idea was to tax "unearned increment" of land (nowadays known as capital gains). Therefore, once the budget had been passed by Parliament, the Inland Revenue undertook a comprehensive survey of all land and property in Britain and this resulted in the "Domesday Books" or more correctly "valuation books".
The resulting records consist of very detailed maps and associated records about property giving details of ownership, who was renting it, how much was paid and its size. At the moment, records are only available on the site for Greater London, but eventually records and maps for the whole country will be online.
For more on this collection see:  British Genealogy Gems: The 1910 Domesday Books
Poll Books
Poll books were the predecessor of electoral rolls and list men who were entitled to vote as a result of owning property. The dates are mostly from the early 1700s to the early 1800s. These are useful pre-census records if you have property owning ancestors.
For more on poll books and electoral rolls see: Find Your UK Ancestors with Electoral Rolls
Other Records
Other really useful British records on the The Genealogist include:
Trade Directories
Wills
Military Records
Education Records
Non-Conformist Records
And many more; for a full list of data sets see this page.
The Genealogist also gives you the option of creating an online family tree using TreeView.  DNA tests are also available.
If you have British ancestors, then The Genealogist is definitely worth checking out.
Happy researching!
Please pin a pin to Pinterest: