Irish genealogy research has traditionally been quite difficult, due mainly to many important records being lost, especially in the Dublin fire of 1922. However, in recent years it has got much easier with millions of Irish genealogy online records becoming available. To demonstrate the wealth of online resources now available, this post is a roundup of the largest collections.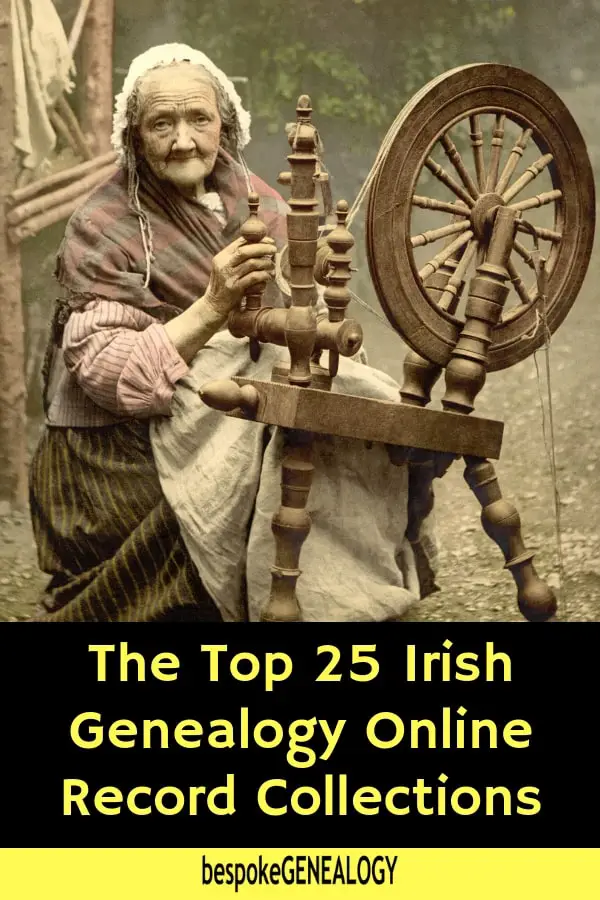 The top 25 sets are shown, in reverse order of size. Many of the collections are from the subscription site Findmypast as they have invested heavily in Irish records and are now the largest player in this sector. There are also some important free collections listed here from the National Library of Ireland, the National Archives of Ireland, The Irish Ministry of Culture and Family Search.
British & Irish Roots Collection
This is the only collection here that also contains British records which explains why it has such a large number of records. I've included it as it is an important set. It contains records (from a wide range of sources) of Irish and British emigrants to the United States and Canada from the 16th to the 20th century.
Ireland, Petty Sessions Court Registers
The Petty Sessions were the lowest courts in Ireland and heard civil and minor criminal cases. These 19th century records contain details of the victims, the accused as well as the witnesses.
Ireland, Roman Catholic Parish Baptisms
All of the microfilms of Catholic parish registers that the NLI hold have been digitized and are available on this site to browse for free. These are images of most of the surviving baptism records to 1880. Some registers start around 1740-50, but most are later, some not starting until the mid 1800s.
You'll need to know the parish where your ancestors came from as the records have not been indexed on this site. However, they have been indexed on Find My Past and you can search them for free, although you will have to set up an account.
Ireland Dog Licence Registers
Dog licences were introduced in Ireland in 1865 requiring owners to register their animal and pay a fee. Dog ownership was very common, especially in rural areas and these records can therefore be a valuable census substitute. Information recorded included names and addresses of owners, dates of licence issue as well as details about the dogs.
Irish Civil Death Records
This site is run by the Irish Ministry of Culture and their biggest collection contains searchable images for the whole of Ireland of civil death records from 1878 to 1966 (Northern Ireland to 1922 only). Records can be downloaded for free.
Irish Civil Birth Records
Also from this Irish government site are civil birth records from 1864 to 1916 for the whole of Ireland.
Ireland, City and Regional Directories, 1847-1946
These directories published by Alexander Thom were published between 1847 and 1946 and contain details of businesses and some individuals as well as other information.
Ireland, Births & Baptisms, 1620-1881
This collection is an index of baptisms taken from Roman Catholic and Church of Ireland parish registers. Coverage is patchy with some counties having more records than others. There will be some duplication with the National Library of Ireland Catholic records (above).
Ireland Census 1901
Most pre-1901 census records in Ireland have been lost; the 1901 is the earliest survey to have remained intact. These records can be searched for free on the National Archives website.
Ireland Census 1911
Sister set to the 1901 census (above).
Irish Prison Registers 1790-1924
This set contains the surviving prison records across Ireland for 1790 to 1924.
Ireland Roman Catholic Parish Marriages
Like the Catholic baptism records (above), these records are browsable by parish. They can also be searched for free on Findmypast.
Griffith's Valuation 1847-1864
This set is another useful census substitute. If your ancestor rented or owned land in Ireland between 1847 and 1864, you should find them listed in this collection. Free transcriptions of Griffith's Valuation records can also be found on the Ask about Ireland site.
Irish Civil Marriage Records
As well as birth and death records (see above), this site also has civil marriage records from 1870 to 1941 (Northern Ireland to 1922 only).
Ireland Valuation Office Books
This is another major property set containing details of individuals who owned or rented property between 1824 and 1856.
Dublin Workhouses Admission & Discharge Registers 1840-1919
Poverty levels were very high in Ireland during the 19th century and many people therfore passed through the workhouse system. This set contains details of people who used the Dublin workhouses.
Ireland, Society Of Friends (Quaker) Congregational Records
If your Irish ancestor was a Quaker, then this set should be useful. Records survive from the mid 1600s and some of them contain a lot of detail.
Ireland Calendars Of Wills & Administrations 1858-1920
This set contains wills proved between 1858 and 1920 and will contain details of the deceased as well as the beneficiaries.
Ireland Merchant Navy Crew Lists 1863-1921
If your ancestor joined the merchant navy in Ireland between 1863 and 1921, you should find records here.
Ireland, Poverty Relief Loans 1821-1874
This collection contains records of people in the west of Ireland who applied for poverty relief loans around the time of the Irish famine.
Ireland, Sustainability Loan Fund, 1812-1868
This collection has details of loans provided to the industrious poor of Ireland between 1812 and 1868.
Landed Estates Court Rentals 1850-1885
This collection has details of tenants of bankrupt estates between 1850 and 1885. Many estates got into financial difficulties during the famine which explains why this collection is quite large.
Ireland Census 1821-1851
Almost all of the pre-1901 census records have been lost. However, some fragments remain between 1821 and 1851. These can be accessed for free on the National Archives of Ireland site.
Ireland, Royal Irish Constabulary Service Records 1816-1922
The Royal Irish Constabulary was the police force in the country. This collection contains details of the men who served in the force between 1816 and 1922.
For some more Irish genealogy see:
Happy researching!
For further reading on Irish genealogy, check out these great books:
Please pin a pin to Pinterest: