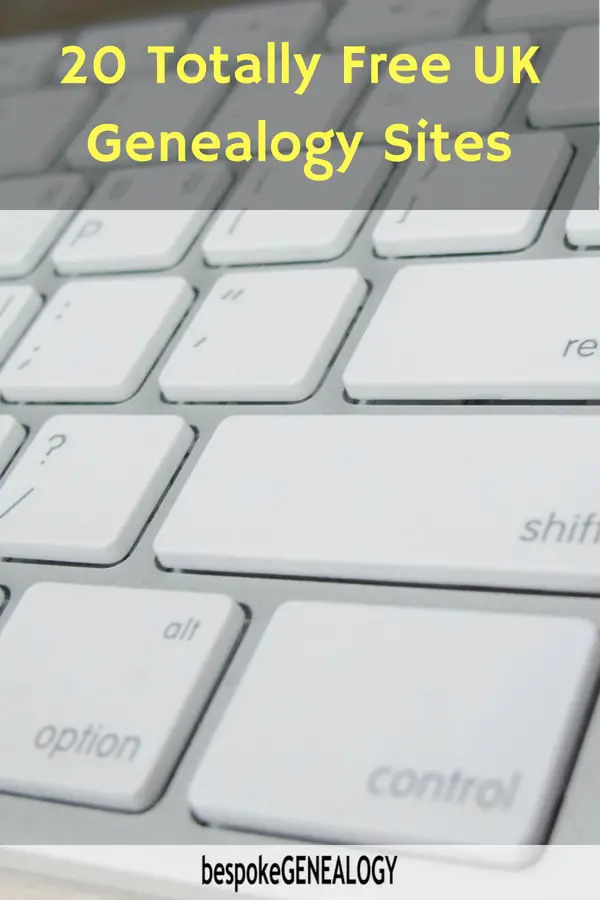 This post follows on from an earlier one; 50 Useful English & Welsh Genealogy Sites which had both free and subscription sites listed. This time, I've included another 20 free UK genealogy sites. I've focused on less well less known, specialized, websites and I hope at least a few of them will be new to you and maybe even useful.
I'm working on expanding the links pages in the Resources section of this website, so if there are any sites you think I should include, please leave a comment below. 
Interment 
This US based website has been around for many years and contains transcriptions of gravestones and death records from cemeteries and graveyards from around the globe. It has a sizable UK section, although not all counties are covered. Well worth checking out along with other similar sites like Find A Grave.
Chartist Ancestors
Chartism was a 19th century protest movement aimed at gaining democratic reforms for the working class. It took its name from the 1838 People's Charter. This website has plenty of information on the movement's history as well as a database containing 14,000 associated names. Your ancestor may be amongst them.
Convict Transportation Registers Database 
Around 160,000 convicts from Britain and Ireland were transported to Australia between 1787 and 1867. This database from the State Library of Queensland contains details of 123,000 convicts. It was compiled from British Home Office records.
The Proceedings of the Old Bailey, 1674-1913
The Proceedings were printed accounts of trials that took place at the Old Bailey; the Central Criminal Court in London, between 1674 and 1913. They have been digitized and are fully searchable on this site. They contain details of 197,745 criminal trials held between these years.
I recommend watching the helpful video tutorial on how to use the advanced search facility before getting started. Even if you don't have any criminal ancestors, or victims of crime, this site is well worth a browse as many of the cases are fascinating.
Welsh Newspapers Online
This is a National Library of Wales site and contains 1.1 million pages of Welsh newspapers from the early 1800s to the 1910s. You can search for a name or subject or just browse the collection which contains both English and Welsh language publications.
Mills Archive
The Mills Archive, run by the Mills Archive Trust, has a wealth of information on mills (wind and water) and the people associated with them. If your ancestor was involved in milling, then you should definitely visit this website.
The Word on the Street
This is a fascinating online collection of almost 1800 Scottish broadsides from the National Library of Scotland. A broadside was how the bulk of the population got their news before the days of tabloid newspapers. Broadsides were single pages and often pinned up on walls in pubs. The dates of this collection span from 1650 to 1910.
Welsh Mariners
Welsh Mariners is the work of Dr Reg Davies.  It contains a database of nearly 24,000 Welsh merchant seamen who held certificates of competency or service from 1845 onwards as well as from some other sources like census returns. There is also a smaller database of over 3300 Welshmen who served in the Royal Navy during the time of the Battle of Trafalgar.
Historic Hospital Admission Records Project
This site contains a database of over 140,000 admission records of four children's hospitals in London and Glasgow covering a period from 1852 to 1921. It requires registration to see complete records but this is completely free.
JewishGen All UK Database
This site also requires free registration. It contains a database of over 390,000 records of individuals belonging to Jewish communities in the UK and is therefore a must if you have British Jewish ancestry.
Museum of London Picture Library
The Museum of London Picture Library website is somewhat dated, but is worth checking out as it contains 35,000 images illustrating the history of London from early times up to the present day.
Collage
Another London image site and much more up to date is Collage. It contains over 250,000 images of London from the London Metropolitan Archives and the Guildhall Art Gallery. You can easily spend all day browsing the images.
Protestation Returns
In 1642, by order of the House of Commons, all adult men in England were obliged to swear an oath of allegiance to the Protestant religion. A list of names from each parish was then sent back to Parliament. About a third of these lists survive. These have been digitized and are available to search here, by clicking on the link to the Portcullis online catalogue.
These lists are the nearest thing to a census in that period.
Legacies of British Slave-ownership
The history of slavery probably gets more attention in the US, but it was also a significant part of the British Empire's grim past. This project, led by University College London, focuses on how colonial slavery shaped modern Britain. The database has information on colonial slave ownership from 1763 to 1833.
Unfortunately the database does not contain details of the enslaved themselves. However, UCL are working to link their database to existing databases of the enslaved.
British Navy Lists
Hosted on archive.org, this is the digitized collection of British Navy Lists from the National Library of Scotland. The Navy Lists were published regularly from 1814 and contain details of officers in the service.
War Memorials Register
Compiled by the Imperial War Museum, the War Memorials Register currently holds records of 74,000 memorials in the UK, the Channel Islands and the Isle of Man. Memorials often list the names of the individuals they commemorate.
Every One Remembered
This is a Royal British Legion project in partnership with the Commonwealth War Graves Commission. Its aim is to commemorate each of the 1.1 million men and women who died during the First World War. At the time of writing, over 400,000 people are remembered on the site with short biographies.
Anglo Boer War
This site remembers the Boer War, 1899-1902 as well as other South African conflicts between 1779 and 1906. It includes a database containing records of over 500,000 soldiers as well as a detailed chronology of the Boer War itself.
Crew List Index Project
This project, known as CLIP, is run by Pete and Jan Owens.  It has several databases containing transcriptions from various sources of ships crew lists and registered shipping. Records cover the mid 1800s to the mid 1900s.
The Blacksmiths Index
The Blacksmiths Index is a project run by Ann Spiro. It contains information on Blacksmiths compiled from census returns as well as from information supplied by other researchers. If your British ancestor was a blacksmith, this site is worth checking out.
I hope some of these sites are of interest to you. Happy researching!
For more great free resources see: 120 Free Genealogy Websites
For further reading, you may find these books useful:
There are more genealogy books in the Resources section.
Please pin a pin to Pinterest: