Before civil registration in Britain and Ireland, the only record of the death of a person was often a burial record. Even after civil registration, burial records and monumental inscriptions can be very useful genealogical resources as they often provide additional information about the deceased and his or her family. This post is a roundup of some sources for burial records and monumental inscriptions for Great Britain and Ireland.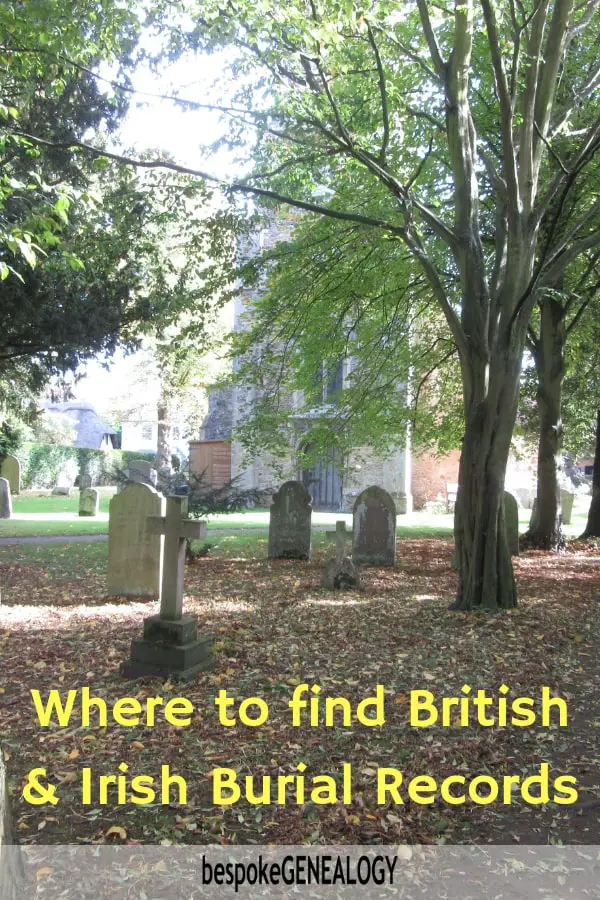 Note: not all burial records will be in church registers. In urban areas especially, many church graveyards reached full capacity in the mid 19th century and people were often buried in large municipal cemeteries. So, even if a family had been living in the same area for several generations it is very possible that you won't find a burial record in the same church as where the person was baptised and married. Sites like Deceased Online and Find A Grave (both below) have records from municipal cemeteries.
Parish Registers
Most church parish registers (including burials) in England and Wales are now held by county archives. These registers can be viewed by visiting the archive and browsing the registers (usually on microfilm or in bound books of transcriptions). Some archives, like Essex, have digitized all of their parish records, and these can be viewed on their website for a fee. Other archives, such as the London Metropolitan, have reached agreements with one or more of the database sites where they can be viewed as part of a subscription.
See my parish register guides for England, Wales and Scotland for links to county archive websites, local family history societies and the collections held by the database sites.
Most parish registers (including burial records) for Scotland are held by Scotland's People and can be accessed on a pay per view basis. Their holdings include Church of Scotland, Roman Catholic and other non-conformist records. See Scottish Genealogy: Making the Most of Scotland's People for more information.
For Ireland see How to Find Irish Parish Registers.
Historical Newspapers
Historical newspapers often have valuable information about deaths and burials. Published pieces can range from simple death notices to detailed funeral accounts listing the people attending and the messages from loved ones. You may also find obituaries giving an account of the life of the deceased.
The main sources of online newspapers (mostly subscription sites) for Britain and Ireland are:
Find A Grave
This site records the graves of people around the World including Britain and Ireland. It relies on volunteer contributors to photograph and record inscriptions. It is fully searchable and is free to access.
Deceased Online
This is a database of UK burials and cremations. It is a pay per view site, although you can search for free (full search requires registration). It has digital scans of burial and cremation records as well as photographs of gravestones. Not everywhere is covered, but it is still a very useful resource.
Gravestone Photographic Resource
A similar site to Find A Grave, but probably with more British records.
Commonwealth War Graves Commission
Here you can find the graves of British and Commonwealth servicemen killed in action from the First World War onward. This is a free resource.
From-Ireland
This free site, compiled by Dr Jane Lyons, has over 70,000 Irish gravestone records with coverage of all 32 counties. There are also other records including directories and a Roman Catholic parish index as of 1836.
Fáilte Romhat
More useful Irish genealogical information can be found on this free site including cemetery transcriptions, directories and maps.
Interment
This US based website has been around for many years and contains transcriptions of gravestones and death records from cemeteries and graveyards from around the globe. It has a sizable UK section, although not all counties are covered.
War Memorials Register
Compiled by the Imperial War Museum, the War Memorials Register currently holds records of 79,000 memorials in the UK, the Channel Islands and the Isle of Man. Memorials often list the names of the individuals they commemorate.
Everafter
This site has records of deceased people in several cemeteries in Wales, Northern Ireland and the Republic of Ireland (and many more in the US). Details include plot references and some pictures of headstones.
National Burial Index
The National Burial Index has been compiled by volunteers from family history societies throughout England and Wales. The current (third edition) contains over 18 million entries from 9100 locations in 50 counties. The entries have been sourced from parish registers and Bishop's Transcripts as well as from cemetery and crematoria records.
The index can be purchased on disc via the links to retailers on the website or accessed on Findmypast as part of a subscription.
Find A Grave In Scotland
This pay per view site has records from cemeteries across Scotland. However, judging by the News page, it doesn't seem to have been updated since 2011.
Happy Researching!
Please pin a pin to Pinterest: