Scotland is blessed with some of the best genealogy records anywhere in the world. You may think that you can only access them on pay per view or subscription sites. The good news is that there are plenty of free resources available. Here are the top free Scottish genealogy websites.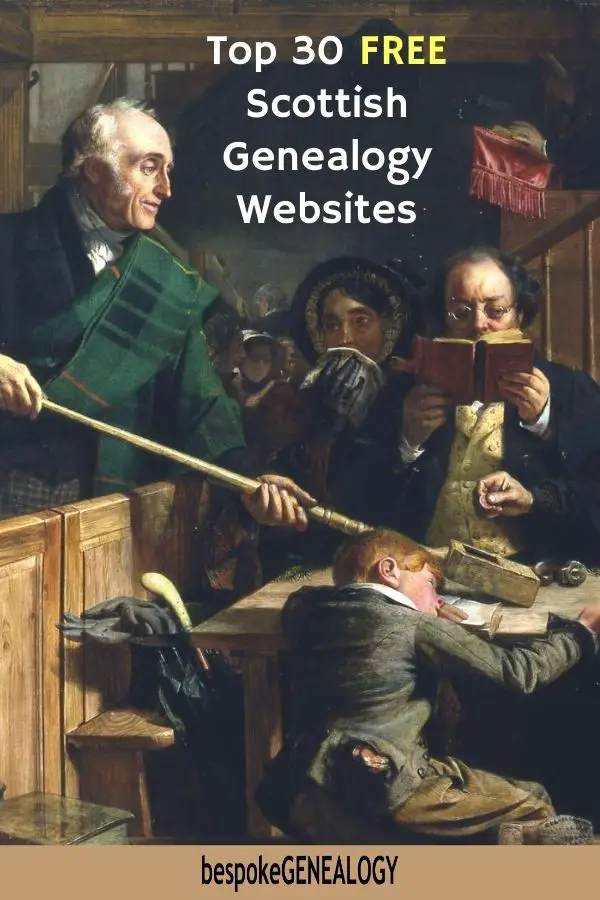 Family Search
This site needs no introduction and has resources from all over the world. In the Records section, there are four specific Scotland databases:
In addition, there are another 12 UK collections which include Scotland. You can find the complete list here.
As well as these record sets, don't forget to check the Books section on Family Search. Here you'll find thousands of digitized books, including works on Scottish families and Scotland.
Scotland's People
This is the Scottish Government site where you can pay to download important Scottish genealogy documents including civil birth, marriage and death records, parish registers and census returns. I've included it here as it is free to search and you can still get useful information from the indexes. For example, you can find the name of a spouse on a marriage entry.
For more on this site, see: Scottish Genealogy: Making the Most of Scotland's People
Scotland BDM Exchange
Before you buy a vital record from Scotland's People, you should check this site first. The Scotland BDM Exchange is a free resource where people can exchange birth, death and marriage records of Scottish ancestors.
Scotland's Places
Scotland's Places is a database site giving free access to early Scottish tax records. Resources include Carriage tax rolls (1785-1798), Cart tax rolls (1785-1798), Clock and watch tax rolls (1797-1798), Dog tax rolls (1797-1798) and many more.
For more on this useful resource see: Free Scottish Genealogy on ScotlandsPlaces
National Library of Scotland Internet Archive Page
Go to the NLS Internet Archive page
The NLS page on the Internet Archive is an extremely useful collection of books, manuscripts, maps, directories, military lists, family histories etc. relating to Scotland.
Free Online Books
As well as the Internet Archive (mentioned above), there are several other sites that give access to free digitized historical books. These will include books on Scotland and Scottish genealogy. See this article for more information and links: Where to Find Free Genealogy Books
National Library of Scotland; Scottish Post Office Directories
Go to NLS Post Office Directories
This NLS collection contains over 700 digitized post office directories from 1773 to 1911. For more on directories see: Use Historical Directories to find your Ancestors
National Library of Scotland Maps Page
This is another great free NLS resource. Here you will find a huge collection of digitized Scottish maps from the 1500s to the 1900s. These maps are useful for learning more about where your ancestors lived. For more on this resource see: How to find free historical UK maps online
Statistical Accounts of Scotland
The Statistical Accounts of Scotland were surveys undertaken by parish ministers from the Church of Scotland between 1791 and 1799 and 1834-1845. These Accounts provide useful information about local communities in Scotland. They cover population, industry, transport, geography and culture.
FreeCen
FreeCEN's volunteers are transcribing the data from the UK's (including Scotland's) census returns 1841- 1891. Much work has already been completed and details of coverage can be found here. Note: little progress has been made on the 1881 census as this is freely available on other sites such as Family Search. 
For more information on British censuses see The Complete Guide to the British Census
Find A Grave
This site records the graves of people around the World including Scotland. It relies on volunteer contributors to photograph and record inscriptions. It is free to access and is fully searchable
War Memorials Register
Go to the War Memorials Register
Compiled by the Imperial War Museum, this Register currently holds records of 90,000 memorials in the British Isles, including Scotland. Memorials often list the names of the individuals they commemorate.
Commonwealth War Graves Commission
Go to the Commonwealth War Graves Commission
On this free site you can locate the graves of Scottish servicemen, (along with their British and Commonwealth comrades) killed in action during conflicts from the First World War onward.
The Highland Clearances
This site has information on the Scottish emigrants who headed to countries around the world, after they were forced to leave their crofts in the Scottish Highlands. It tells the stories of these people and includes a database containing the names of many individuals.
The Scottish Emigration Database
Go to the Scottish Emigration Database
This site is a project from the University of Aberdeen. It contains records of over 21,000 passengers who embarked at Scottish ports headed for non-European destinations between 1890 and 1960.
The Glasgow Herald on Google
You'll find an almost full digitized set of "The Glasgow Herald" here. The years covered are 1806 to 1990 and are available free in Google's newspaper section. These collections are fully browsable, so if you have an idea of the date a particular event took place, you can browse the papers. The search function on the Newspapers page doesn't work very well.
Some other Scottish newspapers are also available on Google. A full list of their Worldwide newspaper collection can be found here.
The Edinburgh Gazette
The Edinburgh Gazette, along with sister papers the London Gazette and the Belfast Gazette are the official publications of record of the British Government.
The Gazette's archive can be searched for free and contain over 350 years worth of valuable genealogical information. Military supplements are regularly published and can also be accessed in the archives. These supplements contain medals and awards information as well as deployment and promotion details.
For more information about this free resource see: An Amazing Free British Genealogy Resource: The Gazette
The Word on the Street
This resource is a database of almost 1800 Scottish broadsides (which was an early tabloid) from the National Library of Scotland. The collection spans the years 1650 to 1910.
British History Online
BHO has a vast amount of free Scottish resources available from the medieval period to the 20th century. Records include maps and journals.
Electric Scotland
This comprehensive site contains a wealth of information about Scotland and the Scots. Resources include digitized books and the 1892-6 Ordnance Gazetteer of Scotland.
People of Medieval Scotland
Go to People of Medieval Scotland
A database of people in Scotland mentioned in over 8600 contemporary documents.
Scottish Mining
This site contains information on the history of coal, iron ore and shale mining in Scotland. It includes a database containing more than 22,000 names. It also has data on housing, health and strikes as well as the employment of children in the industry.
Survey of Scottish Witchcraft
A database of 4000 names of people who were accused of witchcraft in Scotland between 1563 and 1736.
Dictionary of Scottish Architects
A database of architects who worked in Scotland between 1660 and 1980. Entries include biographical information, employment and training as well as details of buildings worked on.
Grace's Guide to British Industrial History
Grace's Guide is an amazing free resource with a wealth of material about the history of British (including Scottish) industries. It includes details of companies and individuals. There is a directory section containing extracts from a wide range of publications.
For more on this website see: Free British Industrial History for Genealogy Research
University of Glasgow Story
This site includes a database with information about graduates from this university going back to 1451.
Historic Hospital Admission Records Project
Go to Historic Hospital Admissions
This resource is a database of over 140,000 admission records of four children's hospitals in Glasgow, Scotland and London covering a period from 1852 to 1921. It requires registration to see complete records but this is completely free.
The Glasgow Story
On this site, you'll find lots of historical information about Scotland's largest city. The most useful resource for genealogists is the Valuation Rolls for Glasgow collection. These records cover 1913 to 1914. They can only be searched by street or area, not by name unfortunately.
Virtual Mitchell
This site is the online digitized images collection of the Mitchell Library in Glasgow. These historic photographs feature Glasgow's buildings, streets and people.
Scottish Handwriting
A website from the National Records of Scotland. It contains examples and tutorials where you can learn how to read old Scottish handwriting; a skill needed when deciphering old documents.
Dictionary of the Scots Language
This is a useful aid for when you look at old Scottish documents and want to know the meaning of a word. The site is an online version of The Scottish National Dictionary (modern Scots, 1700 onward) and A Dictionary of the Older Scottish Tongue (12th century – 1700).
Happy researching!
For further reading, you may be interested in these books:
Please pin a pin to Pinterest: