A great free genealogy resource that is often overlooked by family historians is out of copyright digitized books. These free genealogy books can be downloaded from a number of sources and can be incredibly useful for your research. So, here are some examples of great books to download followed by some sites where they can be accessed.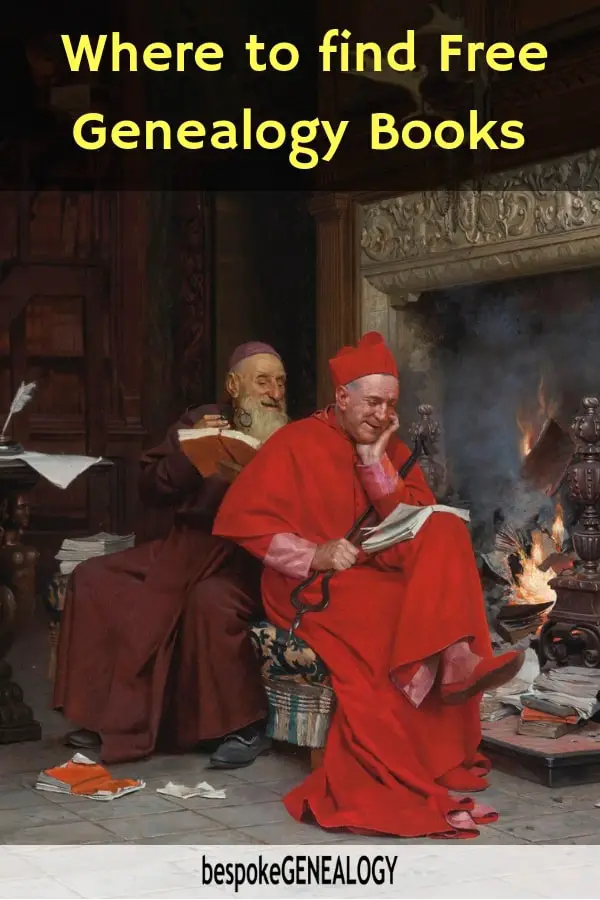 Examples of Free genealogy Books on the Internet Archive
If you haven't used the Internet Archive to find genealogy books, to give you a taste of what's available, here are examples of some British books I've downloaded for my own research:
Websites
Internet Archive
Already mentioned above, the Internet Archive has millions of out of copyright books (and other media) that can be downloaded for free.
Google Books
Around 30 billion books and journals can be searched using Google Books. Out of copyright books (especially pre-20th century), can be downloaded for free as pdfs. When searching for books I recommend using the Google Books search rather than the general web search to find books. Search for a name and narrow down using places and if anything has been written about your ancestors, then you should find it here.
Please also see my post about Google for other useful things they have for genealogists.
Project Gutenberg
Project Gutenberg has over 57,000 free ebooks which can be downloaded in Kindle or epub format.
The Universal Digital Library
This was a project started by the Carnegie Mellon University with the somewhat ambitious goal of digitizing every book ever written. Unfortunately the project came to an end in 2006. However, one million books were digitized and they can be searched or browsed on this website.
Wikibooks
These are open content textbooks that anyone can edit. There is a genealogy section.
Just Free Books
This site is a free ebooks search engine. It searches the content of more than 700 websites that offer free ebooks.
British History Online
One of my favourite sites; British History Online contains digitized printed primary and secondary sources for the history of Britain and Ireland, focusing on the period between 1300 and 1800. Well worth a browse.
Family Search Books
Finally, don't forget Family Search. The free database site has a huge online digital library with genealogy books from all over the world. This is an ever growing collection as more of their library gets digitized.
Please note that some books can't be accessed online (those with protected access), but you can usually view them by visiting your local Family History Center. However, most books can be viewed online; you can focus your search to just the unrestricted books by selecting access level "Public".
I hope you find these links useful.
Please see the Resources section for other useful things for genealogists.
For more great free resources see: 120 Free Genealogy Websites
Happy researching!
Please pin a pin to Pinterest: