Are you new to genealogy? Do you want to start your family tree but don't know where to begin? Here are my 10 steps for starting your family tree.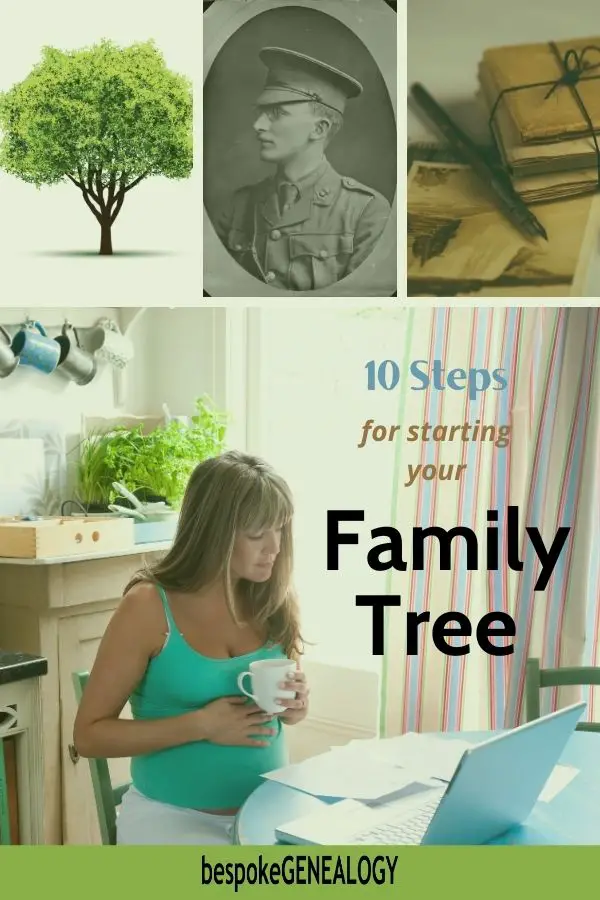 Step 1; Write down what you know
Almost every genealogist will advise starting a family tree with yourself. So, write down everything you know about yourself and your family. You can draw a simple family tree starting with yourself. Include birth, marriage and death dates as well as maiden names if known.
Step 2; Decide what you want to learn
What is it that you want to discover? Are you only interested in your paternal line and just learning about ancestors with your family surname? Or are you interested in tracing all the lines on your family tree? Or do you just want to answer a specific question, such as discovering whether a family story is true or not.
Once you know what you want to learn, review what you know (see first step) and make a list of the missing information. From here you can develop a research plan. Decide what you want to work on first and the information you'll need.
Step 3; Locate your family records
Gather together all the relevant documents that you and your immediate family hold. Find birth, marriage and death records, a family bible (if there is one), legal documents, relevant correspondence etc.
Step 4; Start using family tree software
I would recommend starting to use family tree software for your research as soon as possible. Unless, of course, you want to manually create your tree on paper.
You have a number of options with your tree:
You can create an online tree on Family Search or on one of the subscription sites like FindMyPast or Ancestry.
However, I would recommend getting a family tree software package and keeping it on your computer or tablet. You'll find these programs are a lot more flexible than online trees and have more options. There are also privacy issues with the online trees.
You can always upload your tree later to a website if that's what you want to do.
There are several software packages available; two of the most popular are Family Tree Maker and Roots Magic. Both of these packages can be synced with Ancestry online trees.
If you don't want to pay for software at the moment, I would recommend Gramps. This is a good open source package.
Step 5; Get your research organized
Before you get very far with your research, it's a good idea to have a system in place to organize your work. If you're using family tree software (see above), you can attach digital copies of records to the relevant people on your tree. You can also attach notes and comments to people as well as create to do lists.
You should always identify sources for all facts on your family tree. This way, anyone looking at the tree in the future will know where the information came from.
It's a good idea to decide how you're going to file physical records. You may want to invest in a filing cabinet or file storage boxes. It's a good idea to keep a file for each surname. You should also develop a system for naming digital files, so they're easy to find.
For more on this topic see: How to Improve your Genealogy Organization
Step 6; Interview your relatives
If your parents, grandparents, aunts and uncles are still alive, talk to them to find out what they know. For every new name that you can add to your tree, get as much information as you can from your relative.  If possible, you need to try and find out:
Full names
Where deaths occurred, dates and places of burial
Marriage dates and places
Names of spouses including maiden names if applicable.
Children's names and places of birth
Occupations and places of work
Military service; which service, regiment, ship or squadron
Schools and colleges attended
If there are any newspaper clippings or photographs.
If any family member has already done any research.
If they have any relevant documents that you can copy (even if it's just with your phone)
If you know of any cousins or other relatives that you can contact, you should go through the same process with them.
You should verify the information you gather from these interviews before adding to your tree.
For more on interviewing, see Family Interview Questions and Tips
Step 7; Start searching online
Once you've got all the information and records from your own family, it's time to search the web. Before rushing into buying a subscription with Ancestry or another pay site, see what's available for free. The best place to start is Family Search. This site has a huge collection of records from around the world.
Make sure you also check the "hidden", browse only, records as well. For more on this, see: Discover Free Hidden FamilySearch Records.
For more free online resources see: 120 Free Genealogy Websites
To begin with, you should start with vital records (births, marriages and deaths) and census returns. You can then look for other documents.
To find out how to obtain vital records in the jurisdiction you're interested in, check out the Family Search Wiki.
You may find that the records you need to access can only be found on one of the subscription sites. I would recommend looking at the records each one holds before committing. The main sites have trial periods, so you can try them out.
Check out your local library (after the lock-down) as members may be able to access Ancestry and/or other subscription sites in branches.
The main subscription sites are:
Step 8; Extract as much information as possible from every document
Make the most of all the information on every document. Marriage records, for example, often give the names of all parents including maiden names. Look at the names of witnesses, they may be relatives. Scottish birth records usually show the date and place of the parents' marriage.
Step 9; Research siblings and spouses
I always recommend researching siblings and spouses and not just direct lines. This way you're more likely to find information that can take you back further. Research a complete generation before moving back to the next.
Step 10; Complete your research at home before looking at an emigrant's country
If your ancestors were immigrants, finish researching your country before moving abroad. You need to make sure that no stone is left unturned. This way you're more likely to find a document that gives a clue to your ancestor's exact place of origin.
This means looking at your direct ancestors and all the collateral lines, i.e. your cousins and their spouse's families.
Good luck with your research!
You may be interested in a book that I use which has lots of information for the beginner, as well as the seasoned genealogist; it's Helen Osborn's "Genealogy: Essential Research Methods":
You may also find these books useful:
Please pin a pin to Pinterest: