Oral history can be a very valuable genealogy resource. Talking to living relatives, particularly elderly ones, can yield priceless information. This can be especially important when just starting your family history project. This post looks at some family interview questions to ask a relative, as well as how to prepare and conduct one.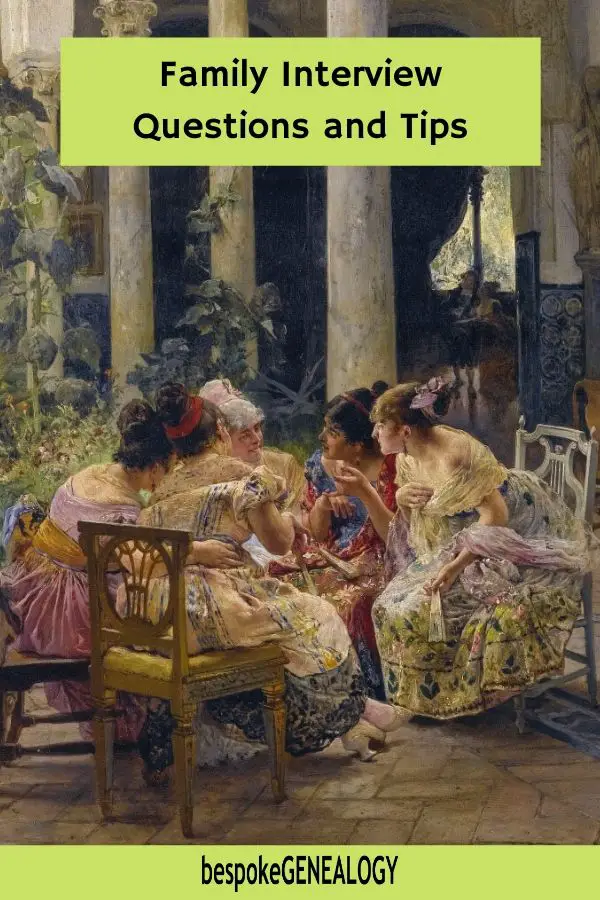 When and who to interview
Speaking personally, I very much regret not starting my family history research much earlier. Had I done so; I would have been able to interview some of my elderly McGowan relatives. Unfortunately, they had all passed away when I started, taking many family secrets with them. So, if your parents, your grandparents and any of their siblings and spouses are still alive; get interviewing before it's too late.
Also, if you know of any cousins or other distant relatives that you can contact, it can be extremely useful to interview them. They may have information and know some family stories that you don't.
You can also look for more distant cousins. A good way of doing this is to join Lost Cousins. This site works by connecting people who have the same ancestors on the 1880 census in the US and the 1881 census in Canada, Scotland, England and Wales. There is more information about how it works here.
How to conduct a family interview
If possible, it's always best to conduct a face to face interview. If you can visit a relative's home then you also have the opportunity to view (and copy) photographs and any relevant documents.
With the interviewee's permission it's recommended to record the interview. Most smartphones have a sound recorder so you can use this. Test it before you start though, and make sure that it's recording both parties.
If you have several interviews to record, you may want to invest in a purpose-built digital recorder like this:
Zoom H1n Digital Handy Portable Recorder and 16GB Deluxe Accessory Bundle with Xpix Pro Lavalier Mic + Tripod + AAA Batteries + Fibertique Cloth
There are also several other recorders available on Amazon.
You may want to record the interview on video. There are some great tips for doing that at OnGenealogy here.
If your relative is too far away to meet in person, then it'll have to be Skype, WhatsApp, the phone or even email.
Before the interview, it's a good idea to ask your relative to have any old photographs of family members ready. Also, old documents like birth, marriage and death records. If they have a family bible that goes back a few generations, that'll be especially valuable.
If you can, make copies of the photos and documents. You can use the camera on your smartphone if that's all you have. If your budget allows, I'd recommend getting a portable scanner like this:
Doxie Go SE – The Intuitive Portable Scanner with Rechargeable Battery and Software
The Flip-Pal is ideal as you don't need to connect it to a computer to use. It can work off batteries and the data are stored on an SD card, which can be uploaded when you get home.
Incidentally, more useful stuff can be found here:  Useful Gadgets for Genealogists
You should have an idea of the sort of information you want to gather during the interview. The most important basic facts to establish will be names, relationships, dates, occupations and places. There may be a lot of other relevant information obtained as well.
The best way to conduct the actual interview, is to let the interviewee do most of the talking. You can produce a list of questions to use to steer the conversation in the right direction.
The interviewee will probably also be interested in your own family. So, it's often a good idea to bring some family photos with you to leave.
Sample family history questions
Here are some samples of the types of questions that can be asked in an interview. Similar questions can also be asked about other family members discussed.
What is your full name?
Were you named after someone and, if so, whom?
What is your date of birth and where were you born?
Where did you live as a child?
What are the names of your siblings and where were they born?
Tell me about the work you did.
Did you serve in the military? Tell me more.
Where did you go to school?
Are you a member of a Church and were your parent's members too?
What were your parent's names (including mother's maiden name)?
When and where were they born?
What did they do for a living?
How did your parents meet?
Did you know your grandparents? What were their names?
Do you remember your uncles, aunts and other relatives when you were a child?
What were their names?
Did any of them live close to you?
Have you inherited a family bible?
Have you inherited any other family heirlooms? Do you know their stories?
Do you remember any family stories?
Do you remember attending any family weddings or funerals?
Is there anything else you'd like to tell me?
Make sure to leave contact details in case your interviewee remembers additional facts later.
Happy researching!
For further reading, check out:
The Family Tree Toolkit: A Comprehensive Guide to Uncovering Your Ancestry and Researching Genealogy
Family Tree Memory Keeper: Your Workbook for Family History, Stories and Genealogy
Please pin a pin to Pinterest: