This post suggests some different ways to improve your genealogy organization. Being organized with your genealogy research can save you precious time, prevent you from going over the same ground again and again and may even save you money.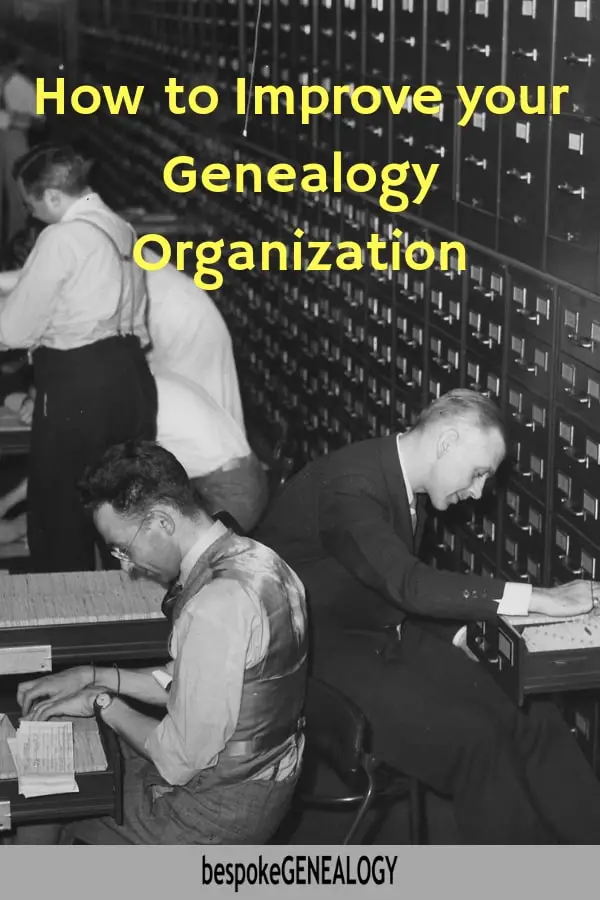 I have to admit that I'm not the most organized person in the world. Anyone who sees my desk will testify to that! However, I have learnt that being organized at least when it comes to genealogy research, really pays off. So, if you are looking to improve your research organization here are a few suggestions based on some of the things I do.
Back up your research regularly
If you are doing most of your research on your computer, it's essential to back up your work on a regular basis; at least weekly if you are constantly working on your tree. A power surge, theft, flood or accident can wipe out years of research if your work is not backed up.
You can save your work to the Cloud using Google Drive. You will need a free Google account if you don't already have one. Just go to the Google search page, click on the 9 square icon on the top right of the page and then click on account.
The same square icon will also lead you to Google Drive which comes with 15GB of free storage. You can buy more storage if you need to. Once you have set up your Google Drive, you can also download Backup and Sync software here. Now you are all set to do regular backups.
Alternatively, back up your files on to an external hard drive. This is what I do as I don't entirely trust the Cloud to protect my data. I use a WD Elements portable external hard drive like this one:
Click here to see it on Amazon.
It has 2TB of storage which is much more than the free capacity of 15GB on Google Drive.
Use Family Tree Software
I thoroughly recommend using family tree software on your own computer. Most of these programs can do much more than an online tree and can allow you to organize and prioritize your research. I personally have been using Family Tree Maker for many years and find it indispensable. A useful feature of this program is the ability to add tasks to individuals on your tree which become a "to do" list:
You can then see at a glance what you need to focus on.
The current (2017) version of Family Tree Maker also has a great new feature which allows you to give people on your tree a colour. I use a sort of traffic light system; here is part of my own tree:
I use green for people where I have as many facts listed as I think I can get, including birth, marriage (where applicable) and death records.  If they are orange I have some information, but there are still some records to find. Red signifies I only have a name and need to find all records. You can also use the colours to show the ancestors of each of your four grandparents.
Family Tree programs usually come with a range of reports and charts that can be printed out. Some like FTM and Roots Magic can be synchronized with Ancestry and Family Search so you can keep your online trees up to date should you wish to.
If you can't justify investing in a family tree program at the moment, I recommend Gramps. This is a free open source program. I used it for several years before I bought Family Tree Maker and it is perfectly adequate.
Use source citations for all your facts
It's really important to correctly source all facts on your family tree. If you don't do this, you or future generations won't be able to determine where the information came from.
I use a system for citing sources that is used in academic institutions. This is an example for a marriage record:
Marriages (PR) England. High Easter, Essex. 05 October 1872. LODGE, Abraham and REEVE, Eliza. Page 100. Entry No. 200. http://seax.essexcc.gov.uk : accessed 28 March 2016.
I make sure that source citations contain information in this order:
Type of record
Place
Date of event
Name/s of individual/s
Reference
Where the record was accessed
Date the record was accessed
Keep a Research Log
If you are not keeping a record of what you have looked at, it is very easy to go over the same ground more than once. It's so frustrating to be doing some research and then getting a sense of déjà vu. You realize that you've just wasted a couple of hours or more by looking at a particular data set (online or in archives) that you had already looked at awhile back.
So, keep a log and regularly review it. If you are not already a subscriber to this site, you can sign up to my email list (I won't send you spam) and get 5 free forms and charts, one of which is a research log form. Just click on the button at the top of this page. Alternatively, you can create your own log using a spreadsheet or just write everything down in a notebook.
Develop a system for your digital files
After you've been researching for a while, you will probably have accumulated a large collection of digital records. It's important to have a system for filing these records on your computer so that you can easily find them.
This is my system for storing scanned documents and records obtained online. I have a folder on my computer for each "top level" family I'm researching. So my own family is labelled "McGowan Family" I then have sub folders for each family name that I research, so in my own family I have sub-folders labelled "McGowan", "Kelso", "McMahon", "Connor" etc.
I label the files within the sub-folders in the same format. This is an example of a file name format I use:
18650919_mcgowan_edward_bir_cr_ire
The number at the start of the file name is the date of the event in YYYYMMDD format. By putting the year first your files will be in chronological order.
The name of the person is next. For marriage records, I always use the name of the groom as the file name. I realize that this is a bit sexist, but it keeps the records consistent. The same for census records, I use the head of the household name for the file name.
The type of event is next, so "bir" = birth. I use "bap" for baptism, "mar" for marriage etc.
"Cr" refers to the type of record; in this case a civil record and "ire" is the country (Ireland here).  If you don't have a file naming system of your own, you can maybe adapt this format to suit your needs.
Filing Physical Documents
Most genealogy research is done online now, so you probably won't have too many physical records to file; unless of course you keep a hard copy of all your digital files. I use a similar system for my physical records as I use for digital files, with a folder for each surname researched in a particular family. I have all my own research in a filing cabinet and keep a separate box file for client research:
Gaylord Archival Record Storage Box with Handholds

Click here to see it on Amazon.
See the resources section for more organizational aids.
For further reading, you may find Drew Smith's book Organize Your Genealogy: Strategies and Solutions for Every Researcher helpful:
Click here to see it on Amazon.
Happy researching!
Please pin a pin to Pinterest: