Only the landed gentry and some of the middle classes didn't need to worry about money. Most of our ancestors (up to the mid 20th century) would have struggled to make ends meet. Things like crop failures, economic recession, death of the breadwinner, shortage of unskilled work etc., would often plunge families into poverty. This post looks at some of the online resources available to help you find your poor ancestors in Britain.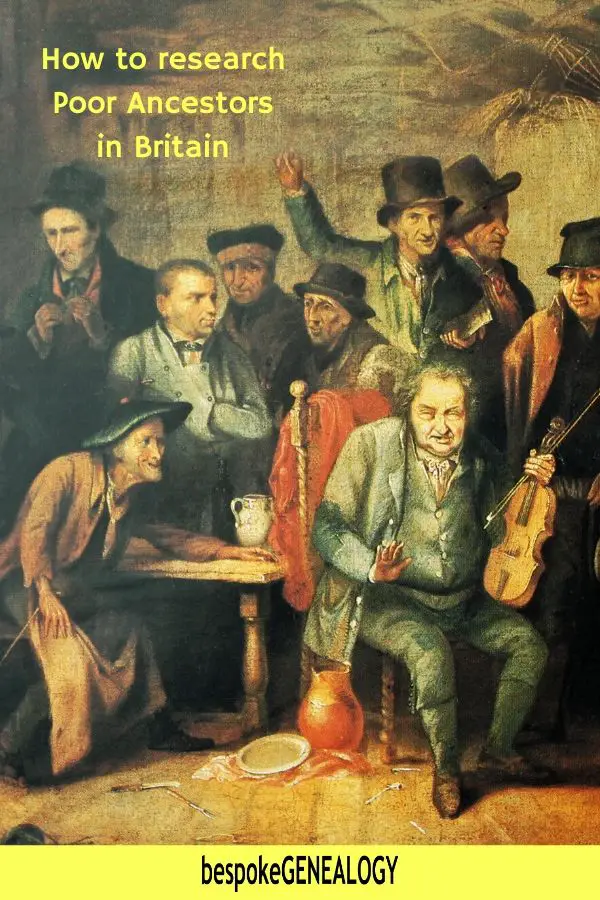 Poverty and Poor Law Guide
A good place to start your research of your poor ancestors is to read this guide at the National Archives. It will give you an overview of the creation of the Poor Law Unions in 1834 and the records available before and after that date.
The Workhouse
The Workhouse was often the last resort for families in poverty. For much more on this grim institution, see the comprehensive Workhouse website. It contains records and resources as well as everything you need to know about the British workhouse.
Children's Homes
The Children's Homes website is a sister site to The Workhouse (above). Many children from poor families ended up in a charitably funded institution. This site looks at all the known children's homes from 1553 onward and shows you where you can find records.
Newspapers
Newspapers can be very helpful for finding your poor ancestors. A great source is the Poor Law Union's Gazette available at The British Newspaper Archive (BNA). This publication has a very useful section called "Deserters of Families". Here's an example from 1865:
As you can see it describes, in detail, a man wanted by a local Poor Law Union. There is a lot of valuable genealogical information in these pieces. This example gives his family's address as well as the man's former place of employment.
The BNA collection is also available as part of some Findmypast subscriptions.
Sometimes people experiencing poverty would resort to crime in order to survive. This would normally be the theft of something which could be sold. In rural areas it might be poaching on a large estate. If they were caught, the arrest and trial would be reported in the local newspaper.
For more on newspapers see:
The Proceedings of the Old Bailey, 1674-1913
More serious crime would go to trial at the Old Bailey in London. Old Baily Online has lots of useful information on its proceedings.
The Proceedings were printed accounts of trials that took place at the Old Bailey; the Central Criminal Court in London, between 1674 and 1913. They have been digitized and are fully searchable. They contain details of nearly 200,000 criminal trials held between these years.
Even if you don't have any criminal ancestors, or victims of crime, your relatives may have been called as witnesses.
National Records of Scotland: Crime and Criminals
For a guide to criminal records in Scotland, see the National Records of Scotland site.
National Library of Wales Crime and Punishment Database
And for Wales, see The Crime and Punishment database at the National Library of Wales. It contains information about crimes, criminals and punishments from the gaol files of the Court of Great Sessions in Wales from 1730 until 1830.
For more, see: Where to find British Crime and Punishment Records
The Gazette
One cause of poverty would have been bankruptcy. If your ancestor was a registered bankrupt in Britain, then you will probably find him in the Gazette.
The London Gazette is the official organ of public record in Britain and the archives go back to 1665. The Bankruptcy Notices usually give the name, address and occupation or business of the bankrupt.
For more on this resource, see An Amazing Free British Genealogy Resource: The Gazette.
London Lives
The London Lives website is a comprehensive free resource focusing on the poor and working classes in the capital.
The site consists of more than 240,000 manuscripts and printed pages from eight archives in London as well as another fifteen data sets from other projects. These primary sources from 18th century London are fully searchable and include criminal court and coroner records.
Charles Booth's London
For more on poverty in London, you should see this excellent free resource; Charles Booth's London.
Charles Booth, a Victorian businessman, organised a survey into "London Life and Labour" which ran from 1886 until 1903. It looked at three aspects of life in the capital: poverty, industry and religious influences. Booth is probably best known for the poverty maps that this survey produced. These maps are incredibly detailed and are color coded showing the level of poverty or wealth in residential streets. There were seven classifications:
Black – Lowest class. Vicious, semi-criminal.
Dark Blue – Very poor, casual. Chronic want.
Light Blue – Poor. 18 to 21 shillings a week for a moderate family.
Purple – Mixed. Some comfortable others poor.
Pink – Fairly comfortable. Good ordinary earnings.
Red – Middle class. Well-to-do.
Yellow – Upper-middle and upper classes. Wealthy.
Also on the website are the notebooks used to record the data.
If you have ancestors who lived in London during the Victorian or Edwardian periods, this site is essential for getting an understanding of their living conditions.
For further reading, I recommend Tracing your Insolvent Ancestors by Paul Blake:
Happy researching!
Please pin a pin to Pinterest: