If you have British roots, you probably have "Ag Labs" (agricultural laborers) in your family tree. You may also have more prosperous ancestors who were farmers or tradesmen involved in the rural economy. Or, if you are very lucky, your ancestors may have been members of the "landed gentry" and significant landowners. This post looks at some sources for better understanding your British rural ancestors.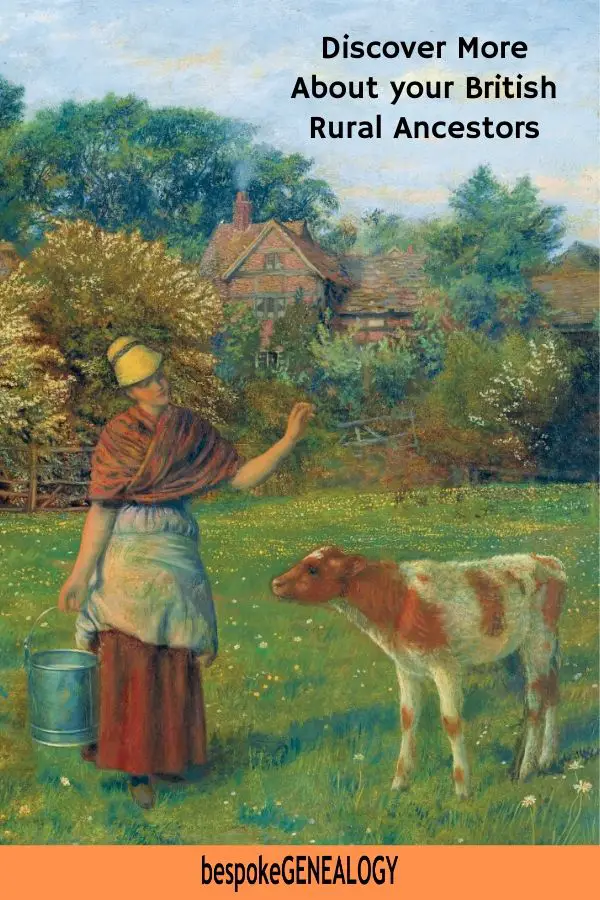 Before the Industrial Revolution in the late 18th century, most people worked on the land in some way. Then farming mechanization forced many people into the mills and factories, or even to emigrate to other countries.
However, a significant proportion of the population stayed on in rural communities. In my own tree for example, most of my maternal family were tenant farmers or agricultural laborers well into the 20th century.
A good place to start a study of your British rural ancestors is to look at the communities your family lived in. I recommend beginning with detailed historical maps of the local area.
Ordnance Survey Maps
You can find an amazing free map resource at the  National Library of Scotland Map Images website. Historical maps have been scanned for the whole of Great Britain, not just of Scotland. Typically for a community, you'll find at least 20 different maps available to view, ranging from Ordinance Survey one inch to the mile to a very detailed 25 inch to the mile scale. This particular edition shows almost every individual house and business in a village. By cross referencing with census returns, it's possible to pinpoint exactly where your ancestors lived.
The site is very easy to use once you get the hang of it. I recommend using the Geo-referenced Map Images  page. Then in the "Find a place" box, type in the name of the village in Britain you want to look at. It will then zoom into that place, usually using the Ordinance Survey one inch 1885-1900 series map. You can zoom in and out or move around to see nearby settlements. You can also select different maps by clicking on the drop down "2. Select a map / map series" box. The 25 inch is usually the most detailed.
Tithe Maps
Tithes were originally a tax paid annually to support the local church and clergy. They were paid in kind so one tenth of agricultural goods went to the church. Over the years, much of this land passed from the church to lay owners who then received the tithes. By the early 1800s, this form of tax had become very unpopular, so in 1836 the Government passed the Tithe Commutation Act which required tithes to be paid in cash instead of goods. This was known as Tithe Rentcharge.
In order to determine which areas were subject to tithes, who owned them, how much should be paid and who should be paid, a Tithe Survey was carried out across England and Wales. Every parish was first contacted to see where payments were still made in kind and which ones had already been converted to cash. An assistant commissioner would then visit a parish and survey the area to determine a valuation. He would meet all parties and the end result would be a tithe apportionment document with the liabilities and rentcharge amount listed. This document was accompanied by a tithe map showing the details of the property. Once the parties agreed, the Tithe Commissioner would sign them both and the rent charge became payable.
The tithe maps and apportionments for England (and Wales) can be viewed online as part of a Diamond subscription to The Genealogist. You can search by name or parish. Note: not all parishes are covered as some had already been converted to cash payments before the survey, but most parishes were surveyed.
Welsh tithe maps and apportionment documents can also be viewed for free on the National Library of Wales website.
For more information about tithe maps see Find Your English & Welsh Rural Ancestors with Tithe Maps.
British History Online
British History Online is a free digital library of primary and secondary sources for the history of Britain and Ireland from 1300 to 1800. You should find masses of information here about most communities in the country.
Scotland's Places
Scotland has some of the best online genealogy resources anywhere. One website that is often overlooked by family historians researching their Scottish roots is ScotlandsPlaces. This free site has plenty of information about communities as well as useful record sets, many of which date from the 1700s or even earlier.
ScotlandsPlaces was launched in 2009 and is a collaboration between three Scottish archives – Historic Environment Scotland, the National Records of Scotland and the National Library of Scotland. The site originally charged a subscription, but since 2016 it has been completely free to access all its records.
The site contains historical tax rolls as well as other records relating to places in Scotland such as Ordnance Survey Name Books, maps, photographs, drawings and archaeological records.
As well as access to scanned images of original documents there are also transcriptions for most of them.
For more on this resource see: Free Scottish Genealogy on ScotlandsPlaces
Historic England
The Historic England archive contains over 1 million catalog entries of photographs, plans and drawings of England's historic sites and buildings. The collection consists of images of domestic and industrial buildings from the earliest days of photography to the present day. This site is free to use and you can look for the significant surviving historic buildings in your ancestor's community.
Historic buildings don't just include the local manor house, but also surviving workers cottages. You may find the house where your ancestor lived.
England's Places
England's Places is a sister site to Historic England. It is a collection of photographs dating from the 1850s up to the early 1990s. It consists of images mounted on cards (often annotated) and stored in red boxes arranged by place. These cards have been scanned and are held in "virtual red boxes" which can be searched by place.
For more information see How to Find Free Historical Images of England.
Newspapers
After census returns, parish registers and civil registration records, newspapers are probably the most valuable source of information about the rural population.
The British Newspaper Archive is a collaboration between FindMyPast and the British Library and is by far the largest collection of online British and Irish newspapers. Newspapers are really useful for genealogists for birth, marriage and death announcements as well as obituaries and articles about ancestors. See my post about this collection for more information.
The BNA is a subscription site. For some free sources see: Where to find Free Online Historical Newspapers
Directories
Directories are a great way of finding farmers as well as rural tradesmen and craftsman. For more on this resource and links see: Use Historical Directories to find your Ancestors.
The Workhouse
Agricultural work tended to be seasonal and a poor crop meant that many rural families often faced poverty. This would often mean spells in the workhouse. For much more on this grim institution, see the comprehensive Workhouse website. It contains records and resources as well as everything you need to know about the British workhouse.
For further reading, see Jonathan Brown's book; Tracing your Rural Ancestors:
Happy researching!
Please pin a pin to Pinterest: