Most of us will have at least one person in our family tree who had a brush with the law. It may have been a minor offence or something more serious. So here is a round up of the best places to find British crime and punishment records.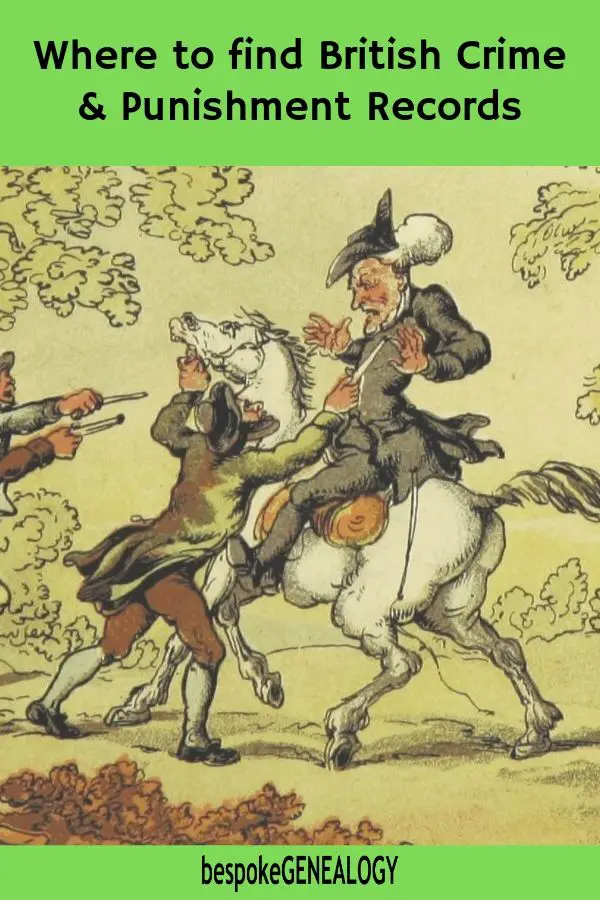 The Proceedings of the Old Bailey, 1674-1913
The Proceedings were printed accounts of trials that took place at the Old Bailey; the Central Criminal Court in London, between 1674 and 1913. They have been digitized and are fully searchable. They contain details of nearly 200,000 criminal trials held between these years.
Even if you don't have any criminal ancestors, or victims of crime, your relatives may have been called as witnesses.
Welsh Newspapers Online
Historic newspapers are a great source for finding information about your criminal ancestors. Almost any crime, big or small, that passed before the courts will have been recorded here.
Welsh Newspapers Online is a free National Library of Wales site and contains 1.1 million pages of Welsh newspapers from the early 1800s to the 1910s. You can search for a name or subject or just browse the collection which contains both English and Welsh language publications.
British Newspaper Archives
This collection is collaboration between FindMyPast and the British Library and is by far the largest collection of online British and Irish newspapers. See my post about this collection for more information.
The Gazette
The London Gazette is the official organ of public record in Britain and the archives go back to 1665. If your ancestors were involved in legal proceedings, became bankrupt or owned a company, you will probably find something in the database.
For more on this resource, see An Amazing Free British Genealogy Resource: The Gazette.
National Archives:  Crime and Punishment
The National Archives in London has a useful crime and punishment research guide explaining the records that they hold and are held by other archives. Very few of these records are available to view online. However, you can search the catalog and if you find a specific record that you want, you can pay for a copy to be made.
Relevant records held by TNA are court records, Metropolitan Police records and Home Office prison staffing records.
Findmypast England & Wales, Crime, Prisons & Punishment, 1770-1935
This record set contains over five million records of criminals who passed through the English and Welsh justice system between 1770 and 1935.
The Genealogist
The Genealogist has convict transportation registers of prisoners who were sent to Australia between 1787 and 1870. The site also has a register of people charged with indictable offences between 1805 and 1892.
Convict Transportation Registers Database
Around 160,000 convicts from Britain and Ireland were transported to Australia between 1787 and 1867. This database from the State Library of Queensland contains details of 123,000 convicts. It was compiled from British Home Office records.
Ancestry
Ancestry also has a criminal register, this time between 1791 and 1892 and covering England and Wales.
London Lives
Go to the London Lives website
This free resource focuses on the poor and working classes in the metropolis. It consists of more than 240,000 manuscripts and printed pages from eight archives in London as well as another fifteen data sets from other projects. These primary sources from 18th century London are fully searchable and include criminal court and coroner records.
National Records of Scotland: Crime and Criminals
This useful guide explains the records available in Scotland and how to access them.
National Library of Wales Crime and Punishment Database
The Crime and Punishment database has information about crimes, criminals and punishments from the gaol files of the Court of Great Sessions in Wales from 1730 until 1830.
Happy researching!
Please pin a pin to Pinterest: