This article looks at one of the most important online record sets for Irish genealogy research; Irish Catholic parish records; specifically, the great free resource held by the National Library of Ireland on their website. I'll run through how to make the most of this important collection here.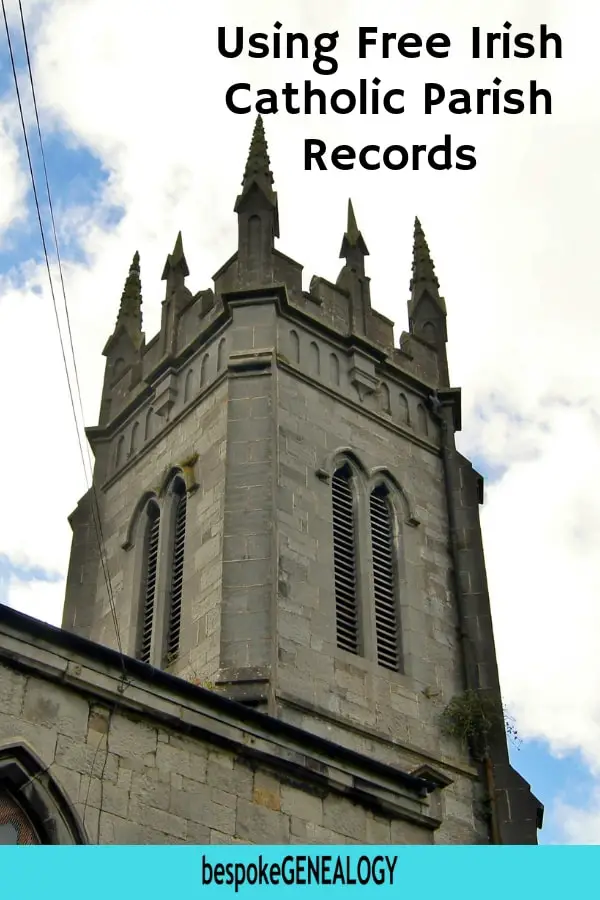 Universal civil registration of births, marriages and deaths began in 1864 in Ireland which was much later than in England & Wales (1837) and Scotland (1855). For more information on civil registration, and how to access historical records, see:  How to Find Free Irish Vital Records.
So, if you are looking for vital records before 1864 you'll need to consult church records. In an earlier post; How to Find Irish Parish Registers, I looked at registers in general.
The majority of the population of Ireland was and is Roman Catholic, so records from this Church are the most useful to large numbers of researchers. Until recently it was difficult to access Catholic records online, but a couple of years ago the National Library of Ireland put their collection of microfilmed registers online with free access and this has been a game changer.
Things to consider before starting your research
In the earlier post about Irish parish records, I mentioned a few things to think about before researching the registers and it's worth repeating them here:
Although official membership of the Anglican Church of Ireland was less than 25% of the population, it was the established church, so even if your ancestors were Catholic or non-conformist, some of their baptisms, marriages or burials may have been recorded in Church of Ireland registers.
Due to restrictions placed on the Roman Catholic Church, as well as poor record keeping, few records exist before 1829.
Marriages often happened in the bride's parish.
For a better chance of successfully finding the right parish record for your ancestor, it helps greatly if you know where they lived and in what parish.
Many Catholic registers are in Latin, so names will be Latinized, eg Patrick may be written as Patricius. Here is a list of Latin names and the English equivalents.
Irish Christian names can change. Often people were known by a different name to that which appears on the records. For example, your ancestor may have been baptized as Mary, but was known all her life as Maureen. You can find a helpful list of Irish name variations here.
I would also strongly recommend getting hold of John Grenham's book Tracing your Irish Ancestors:
The book is packed full of useful information, sources and links that can help you with your Irish research. This latest edition (the 5th) includes mention of the online NLI records. The book also details the Roman Catholic records that survive by parish and where you can find them if they are not available at the NLI.
Using the Catholic Parish Registers at the NLI
The registers online at the NLI are not indexed by person's name. You will therefore have to know the county and parish and then browse the register until you find what you are looking for. Findmypast has indexed these registers and they can be accessed for free on the FMP website. I'll go through the index below.
What records are available on the NLI site?
In 1949, the National Library of Ireland started a 20 year project to microfilm all surviving Catholic baptism and marriage registers to 1880. This cut off date was selected as although civil registration began in 1864, it took a few years before it was widely accepted.  These microfilms have been digitized and are on the NLI website.
Find a parish and register
To find the parish you are looking for, go to the main page and you can either enter its name in the search bar:
Or click on a county on the interactive Ireland map:
You can then drill down to find your parish.
Click on the name of the parish in the dialogue box and you'll be taken to a Microfilm page.
Here you will see which registers are available with date ranges shown. Select a microfilm and you'll be taken to the viewing screen:
Here you can either browse the register or use the button in the top left to filter by events (baptisms or marriages) and dates. The other buttons can be used to adjust the image (brightness, contrast, inverse). You can also print or download from here.
If you know where to look, this site is very easy to use. However, if you don't know which parish to look in, you should try the Findmypast index.
Using the Findmypast Index
You can search the Findmypast Roman Catholic Parish register index for free, but you will need to register for a free account. Go to the search page here.
This page will give you several options to add additional information and hopefully you will be able to find what you are looking for. Be aware though that you may experience difficulties due to the quality of some of the source material, variable handwriting styles and the software used. So if you can locate a parish, you might have more success by browsing the registers.
For more Irish genealogy see:
Finally, as well as the John Grenham book mentioned above, you may also find these books useful:
Please pin a pin to Pinterest: