If you have Irish roots, you'll probably have already discovered that looking for your ancestors in Ireland is not easy. This is because so many records have been lost, especially after the 1922 fire in the Public Records Office. However, Irish research is not impossible as many records still survive. You just need to know what resources exist and where to find them. This article looks at John Grenham's Irish Ancestors website which is brilliant at helping you find the records you need.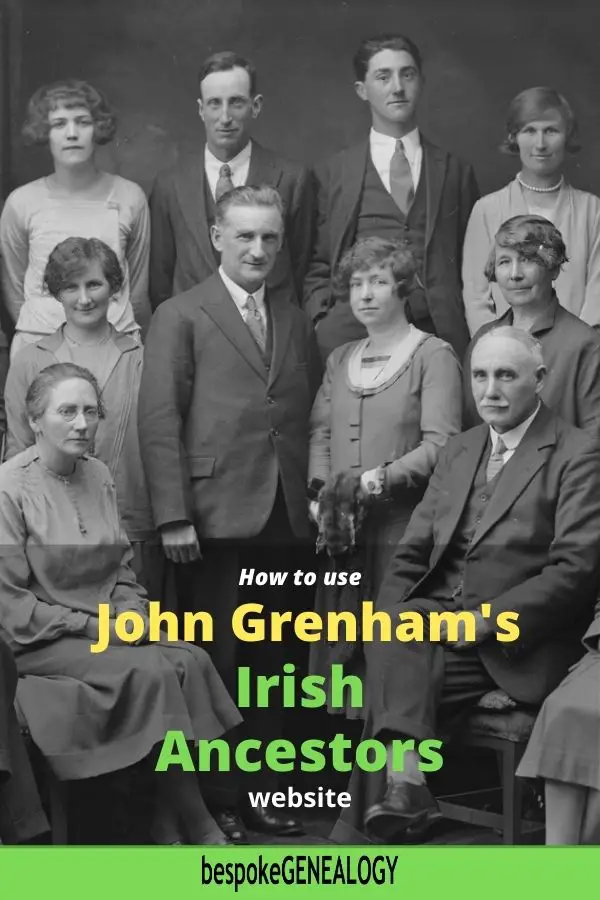 John Grenham is probably Ireland's leading genealogist. He is probably best known outside of Ireland for his excellent book, Tracing Your Irish Ancestors:
He developed Grenham's Irish Recordfinder in the 1990s. This was a database, available on discs, which  could be used to discover surviving Irish records and where they were held. The software morphed into a website, at first in partnership with the Irish Times, and now as the John Grenham Irish Ancestors site.
Although, much of the Irish Ancestors site is free, some pages are protected by a "soft" paywall. You'll be able to view up to 5 of these pages for free in a 24-hour period. When you hit the paywall, you can either return the following day or sign up for a subscription for 24 hours, for one month or for one year.
If you have a lot of Irish research to do, you may find it worth a subscription. That said, there is plenty on the site that you'll probably find very useful, before you hit the paywall. The protected pages are mostly the detailed surname and place pages.
Wizard
A good place to start on this site is the Wizard which you can find on the main menu. This free feature will ask you a series of questions about what you know about a specific ancestor and give you a report. I ran it for a Mary Connolly who I know was born in Monaghan in 1878. Here's the report:
The first part is a summary of what I've entered.
The second part is the result. It lists the 47 known name variants for Connolly. Knowing what the variations are of a name is really important in Irish genealogy. Most of the population couldn't read or write in the 19th century and earlier. They also spoke Irish, whereas officials were usually English speakers.
Names were therefore recorded as they were heard, hence the large number of variants. So, you'll increase your chance of success if you look at all the different spellings when searching for documents.
The Wizard then points out that, as the dates I entered were after the start of civil registration in Ireland, I should be able to find online BMD records. It gives me a couple of links to help me find them.
The final paragraph highlights that I've actually made a mistake. The place I entered does not exist, at least in the parish I think Mary was born in. I therefore need to go back and check.
So, you can see how useful the Wizard is if you know a little bit about your ancestor.
Browse
Almost all of all the Browse section is completely free. Most if it comes from John Grenham's book, Tracing Your Irish Ancestors. If you're relatively new to Irish research, it's well worth reading all the sections as it'll give you a good understanding of the difficulties of Irish genealogy as well as what's possible.
In this section, you'll find information on records available, counties and land divisions, maps, emigration and the Irish overseas, addresses of archives etc. and genealogy links.
An incredibly useful page is What's Online? This is a great overview of the main record types with links to the online resources (both free and paid for).
Surnames
Knowing which part of Ireland your ancestors came from is the key to making progress with your research. John Grenham has mapped where surnames appear on key resources like Griffith's Valuation and the 1901 and 1911 censuses. If you have a fairly uncommon surname, this can help in finding an area where your family may have come from.
In the Surname section of the site, you can type in your own family name to see its distribution. As an example, I've entered my own name, McGowan:
The map shows the distribution of the McGowan surname in the Griffith's Valuation (1847-64). As you can see, the name appears mostly in the North with County Leitrim having the most households (391). You can also see the distribution with other records by changing the maps.
Also on the surname page are entries showing the meaning and origin of the name as well as a link to the full surname history. And there is a link to bibliographies of any published family histories.
A really useful feature is the second surname tool. This can be very helpful in pinpointing the origins of your family. As an example, I know my family were living in Derry in the late 1800s. However, I believe that they came from somewhere else in Ireland. My 2x great grandmother was a Shiel, so typing in that surname in the tool, I get this result:
This gives me two lists showing only the parishes where both names appear and their frequency. So, instead of looking at all parishes where the McGowan name appears, I've narrowed it down to just nine. I can investigate these to try and find a marriage and/or birth records.
Finally, back on the McGowan surname page, you'll see the name variants on the right-hand side. As, I've already mentioned, it's important to check all variants.
I know the McGowans were in Derry in the late 1800s, so clicking on that link takes me down to the next level and this map shows the name distribution by civil parish (1858-9):
From a birth record, I know they were living in the parish of Templemore in the 1870s. So, clicking on this link, takes me down to the civil parish level:
On this page, you'll find links to other maps of the area, the adjoining parishes and common surnames.
On the right of the page is a summary of research sources for the parish such as graveyard resources, census type records and church records. This is the top part of the church record page showing the Roman Catholic and some of the Presbyterian records and where you can find them. If they are online, there is a link:
You can also search by Place name, and you can drill down to find the records available for that place.
Please note that the name and parish pages are covered by the soft paywall, so you can only view five of them for free in a 24-hour period, unless you buy a subscription.
John Grenham has done a fantastic job over the years building up this database. If you have Irish ancestors, I hope you can see how useful the site can be to aid your research.
Incidentally, Mr Grenham has made a series of YouTube videos where he talks though some of the features on his website.
Check out the Ireland page for more Irish articles. Also, check out: 125 Free Irish Genealogy Online Resources
Happy researching!
Please pin a pin to Pinterest: