The dreaded "brick wall" can be incredibly frustrating in genealogy and I'm always looking for ways to get over them. A few weeks ago I listed some tips for breaking down British brick walls. This post looks at 10 more British genealogy tips. So if you have ancestry in England, Wales or Scotland maybe these will be useful.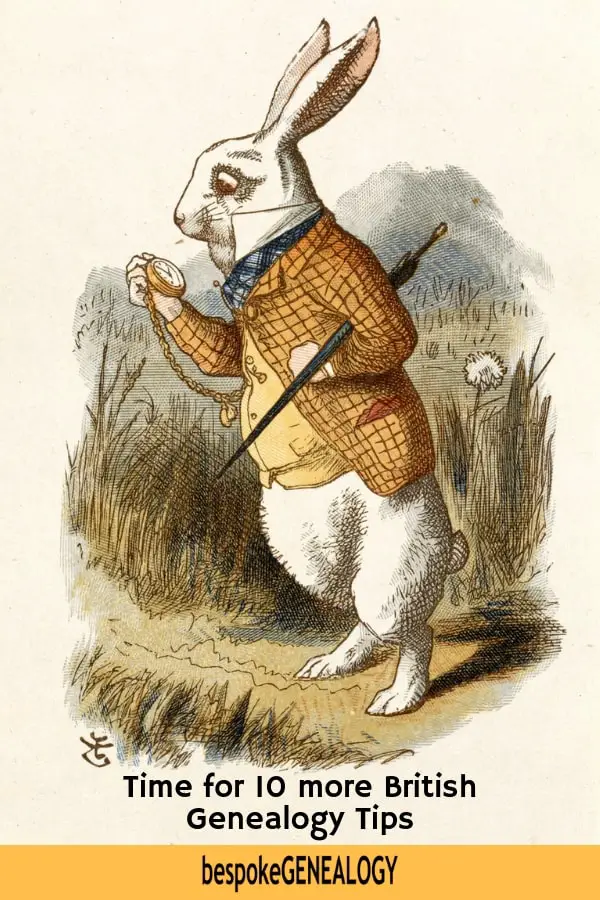 Use The National Archives
The National Archives (TNA) in Kew, London is the national repository for England and Wales and also holds historic documents relating to Scotland and Ireland. If you're researching your British family, it is well worth getting to know this website as it contains lots of useful information for genealogists including research guides, tutorials, webinars, podcasts and a blog. See the Help with your research page for links to the guides, webinars etc.
The records held by the archive go back 1000 years. These records cover the military, courts and prisons, foreign and colonial history, the medieval period and many other areas and periods. The TNA website has a powerful search engine called Discovery. Here you can search the index of the 32 million records held by TNA and other archives.
Only around 5% of TNA's records have been digitized and are online. You can find these records here. Some of these online records can only be accessed on other database sites like Findmypast and Ancestry. If that's the case, you'll find links. The other records can be downloaded directly from the TNA site. There is a charge for most of these records, although some are free.
If you're not able to visit the TNA in person to view some of the 95% of documents that are not online, then you can pay TNA or an independent researcher to find and copy documents for you. Details are on the Paying for research page.
Use Local Archives and Family History Societies
Eventually you're likely to get to a point in your research where you have exhausted the online records held by the database sites. The only way to continue is to find records held in archives. After the National Archives (above), the most important records will be held by the local county archives. You can find links to these archives in England, Wales and Scotland in the Parish Register Guides on this website.
It is worth checking out the websites for the counties you are interested in as they often have useful local information. Most sites have online catalogs so that you can find records of interest. The archives will usually be able to make a digital copy of a record for a fee. Some archive sites, like Essex, have online records that you can access on a subscription or pay per view basis.
As well as links to county archives, the Parish Register Guides also have links to local family history society websites. These sites are also worth visiting as you might find useful information or be able to purchase some records.
Use Family Search
The huge free Family Search website often gets overlooked for British research. This is a mistake as there is a lot here for anyone researching their UK roots. Check out the Help Center for lessons on British genealogy research. This is the page for England (ignore the New England lessons).
To get the best out of the Family Search website, I recommend starting with "Research By Location" on the Search page. Clicking on the British Isles on the World map gives you 7 locations:
England
Guernsey
Ireland
Isle of Man
Jersey
Scotland
Wales
Select the area you are interested in. In the top right of the page you can search the indexed record sets relating to your area. For England there are 76 indexed collections. You can filter your search to focus on specific sets.
Scroll down the page and you'll see the "Image-Only Historical Records". These sets are online, but have not been indexed, so you won't be able to access them using the search fields, you can only browse them. You may find a useful collection here.
Finally, the "Catalog Material" at the foot of the page lists the items in their catalog relating to the area you are looking at. Clicking on the links will give you more information and tell you where you can access the item, often a Family History Center. See this page to find your nearest center.
Find Online Browse Only Records
The genealogy database sites often have records sets that have not been indexed so you'll never find them by using the search fields. Some of these sets can be really useful, so it's worth tracking them down. I've mentioned the browse only records on Family Search (above).
To find browse only records on Ancestry see: How to Find Hidden Ancestry Records
It's very easy to find browse only records on Findmypast. Click on Search then A-Z of record sets and type "browse".  You'll then get a list of the sets.
Look for Wills
Wills can be incredibly valuable documents as they can give a rich picture of the life of a person and his family. They are especially useful before the first census returns as information tends to be a bit sparse.
Entries in the Probate Calendar from 1858 onward can be accessed for free online on the Probate Search website. The same records are available on most of the database sites.
In many cases pre 1858 wills which have been proved in the Prerogative Court of Canterbury will be held at the county archives (see above). Some wills are online on the National Archives website and the subscription sites Findmypast, The Genealogist and Ancestry. So check these sites first before you contact the archive.
Don't forget The Gazette
I've mentioned this great free resource in other posts. The Gazette is the official organ of public record in Britain and the archives go back to 1665. If your ancestors were involved in legal proceedings, became bankrupt, changed their name, were in the military or owned a company, then there's a good chance you'll find a record here.
For much more on The Gazette see An Amazing Free British Genealogy Resource: The Gazette.
Search by Place on census records
If you can't find an ancestor where you expect them to be on a census return, it could be that the record has been mis-transcribed and indexed or the enumerator has made a mistake on the original entry. It's always a good idea then to find the record for the address in question. This is really easy to do on The Genealogist as there is an address option on the census search fields. You will have to browse the records on Findmypast and Ancestry.
Look for Tithe Records
If you have rural ancestors in England or Wales in the first half of the 19th century then you may find them on tithe records. These are very useful as there are accompanying maps to the records so you can see exactly where they lived. Tithe records can be accessed online at the subscription site The Genealogist for England and for free at the National Library of Wales for that country.
Search for free online books
There are many out of copyright genealogy books available to download for free at a number of sites. Some of these books, like those on heraldry, can be invaluable for early research.
For more detail and links see: Where to Find Free Genealogy Books
Use Local Directories
Finally, local directories shouldn't be overlooked. They can be very useful, especially if your ancestor owned a business or had a skill.
For much more on this resource see:  Use Historical Directories to find your Ancestors
Happy researching!
For further reading, check out these great books:
Please pin a pin to Pinterest: