Sooner or later, we all hit dead ends in our research. We can't get any further, usually because we can't find particular records. If you have ancestors from England, Wales or Scotland, here are some tips you may find useful for breaking down those British genealogy brick walls.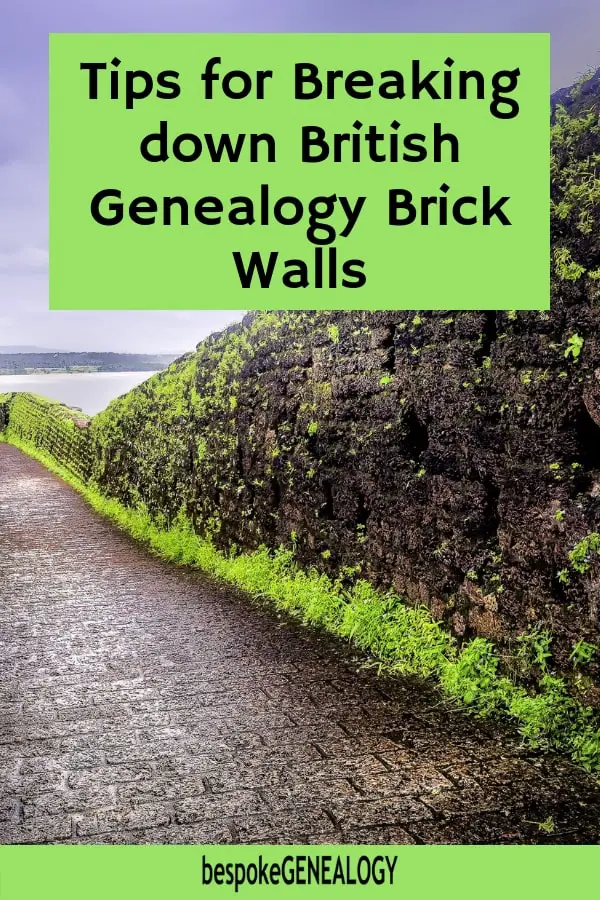 The first few tips relate mostly to the British census. For an overview of these core documents see The Complete Guide to the British Census.
If you can't find your ancestor on a particular census, here are some things to check:
Does the census record still exist?
The census records for England, Wales and Scotland between 1841 and 1911 mostly survive and are available online. However, some records have been lost over time, especially for the earlier years, so it's best to check for the area you are looking at before you waste time on a fruitless search.
You can find a list of the missing records by census year, county and parish on Findmypast here.
Ages can be variable
Don't assume that ages on census returns, or on many other records for that matter, will always be accurate. Ages on the 1841 census were listed as reported up to the age of 15 and then rounded to the nearest 5 for older ages in most cases.
Very often people wouldn't know exactly how old they were, and would often shave off a few years as they got older. So it's often useful to give some leeway to reported ages, especially if the other facts on a document look right.
Check for different spellings of names
Most people in the 19th century couldn't read or write, so they often didn't know how their name was supposed to be spelt. An official would write down what he heard or spelt a name in the way that he believed it should be written. My own surname of McGowan could be written as MacGowan, M'Gowan, McGown, McGowen, Gowan, Gow, Smith (the anglicized version) and many more.
You can check out the Surname Database for more information on the names in your tree.
Check for nicknames
Many people were known throughout their lives by their nickname, so may appear on census records with a different name to their birth or baptism records. For example, a boy born as William might appear on other records as Bill, or a girl born as Amelia might be recorded as Millie.
You can find a useful list of nicknames on this Family Search Wiki.
Try browsing the census records
If you can't find your ancestor on a particular census, try browsing the records for the parish where you think they should be. You can do this via, the card catalogs or A-Z indexes on the database sites.
Check for boundary changes
British county, district and city boundaries often change so if you can't find an ancestor where you expect them to be, look in neighboring areas.
The city of Peterborough is a good example of an area that has changed several times. The city itself was historically in Northamptonshire, later joined Huntingdonshire to form the county of Huntingdon and Peterborough before being swallowed up by Cambridgeshire in 1974. The boundaries of the city itself often moved and, over the years, devoured parts of what had been rural Lincolnshire, Northamptonshire and Huntingdonshire.
Why is the place of birth wrong?
It's possible that some of your ancestors might not know where they were born or assume that they were born in a place where they grew up. Agricultural workers for example, especially when they were younger, would often move around following work. So the place born on a census return might be different to a birth record.
Do you have Scottish ancestors?
Findmypast and Ancestry have transcriptions only of the 1841 to 1901 censuses for Scotland. Often records are mis-transcribed, so if you want to see the actual records for these and the 1911 census, then you'll have to access the pay per view site Scotland's People. This is the only online source for all the available Scottish censuses.
For more about Scotland's People see Scottish Genealogy: Making the Most of Scotland's People.
Don't forget the 1939 Register
If you have 20th century English or Welsh relatives, the 1939 Register can be very useful. Although not strictly a census, the register was very like one. It was undertaken on the eve of the Second World War so that the Government could determine who was available for the armed services and other war work and also to issue identity cards.
After the war, it became the basis for administering the new National Health Service and was kept up to date until computerization in the 1980s. This means that if a woman was single in 1939 and later married, you will often find her married name written over her entry in the register, which can be very helpful.
The 1939 register for England and Wales is now available on Findmypast and Ancestry.
Research siblings and spouses
It's often a good idea to research wider than just your direct line. There may be valuable information to be found by looking at a sibling or a spouse. I was recently researching a non-conformist (Methodist) family. The baptism record of a person in a direct line just gave the names of the parents. Looking at the same record for one of her siblings, much more information had been recorded including the names of the parents of both parties, so I was able to take the direct line back another generation.
In another example, the army record of a sibling led to the address of his mother which meant that I could confirm that a marriage record for a direct line ancestor was correct. In my experience, you will hit brick walls a lot later if you spread your net wide!
For some examples of why this is important see Don't make this Common Genealogy Mistake
Use the GRO site
The General Register Office website is where you order historical (from 1837) birth, marriage and death certificates. For more on this resource see: How to find English and Welsh Vital Records
Unlike in Scotland and Ireland, English and Welsh birth, marriage and death records have not all been digitized. A project to digitize all vital records held by the GRO was started in 2005, but was cancelled in 2008, by which time only about 50% of records had been scanned. The records that have been digitized are:
Births 1837-1917
Deaths 1837-1957
No marriage records have been scanned.
These digitized records can be ordered on the website and will be emailed within a few days.  The records at the GRO have been indexed and you can search them for free. However, you will have to set up an account to access the index. It is often worth searching the indexes, even if you don't buy a copy of a record as you can extract some valuable information, such as a mother's maiden name from the births index.
Use the card catalogs
Instead of always using the general search function on the database sites, it is often a good idea to use the card catalogs or A-Z indexes and search individual collections. Very often you'll find extra fields so you can narrow down your search.
Using these indexes is usually the only way you'll find "hidden" record sets. These are browse only collections so will never appear in the general search.  See: How to Find Hidden Ancestry Records
Search electoral registers
Electoral registers can be great for finding ancestors between censuses and especially in the 20th century after the last available census in 1911. After the First World War, most of the adult population were entitled to vote so they are worth investigating. Many records are now online with Findmypast probably having the most extensive collection.
See: Find Your UK Ancestors with Electoral Rolls.
Use online newspapers
Historical newspapers can be a rich genealogical resource. Family information can be found in:
Family notices – birth, marriage and deaths as well as engagements, anniversaries, in memoriam, birthdays and congratulations
Obituaries
News articles – national and local events
Illustrations – including photographs, maps and cartoons
Advertisements
Letters to the editor
The largest collection of British and Irish newspapers can be found at the British Newspaper Archive.  And a great free resource for Welsh newspapers is the National Library of Wales collection.
See also: Online British Newspapers for more information.
The Gazette is another, often overlooked, free newspaper resource with 350 years worth of notices. You'll find records of military awards, changes of name, bankruptcies and much more. See: An Amazing Free British Genealogy Resource: The Gazette.
For more tips see 10 More British Genealogy Tips
Happy researching!
For further reading, you may be interested in these books:
Please pin a pin to Pinterest: