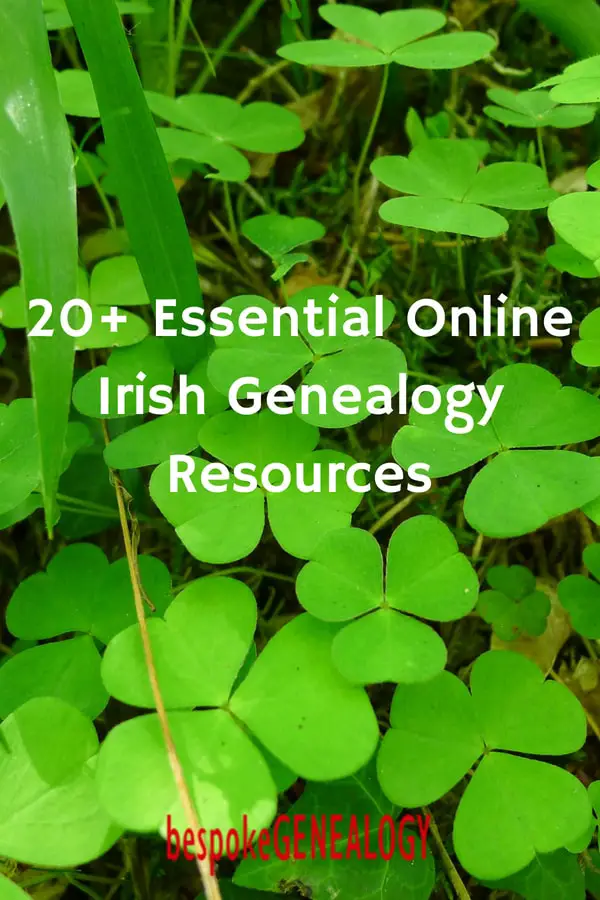 With the loss of many key genealogy records in Ireland during the civil war and earlier, researching your Irish ancestors can be a bit harder than in other countries. The good news is that plenty of records survived and many of these can now be found online with more being added all the time. Following on from my earlier post about starting your Irish research, this article is a round up of some of the key online Irish genealogy resources.
If you think a website should be on this list, please leave a comment below.
Main Sites
The National Archives of Ireland
The most important records on this site are the surviving Irish census returns. I go into more detail about these records in an earlier post here.  Almost all of the 1901 and 1911 census records of Ireland (Including Northern Ireland) survive as do fragments of the 1821-1851 returns. All of these records are searchable and free to download. In addition, the following records can also be accessed:
Census Search Forms 1841 and 1851. These were used in 1908 to verify pension applications
Tithe Applotment Books 1823-37
Soldiers Wills 1914-1918
Calendars of Wills and Administrations 1858-1922
Prerogative and diocesan copies of some wills and indexes to others, 1596 – 1858
Diocesan and Prerogative Marriage Licence Bonds Indexes, 1623 – 1866
Catholic Qualification Rolls, 1700 – 1845
Valuation Office books 1824-1856
Records of the Registrar General of Shipping and Seamen, 1860 – 1921
Will Registers 1858-1900
IrishGenealogy.ie
On this site, run by the Irish Ministry of Culture, you can download free images of civil birth marriage and death records as follows:
Births for the whole of Ireland – 1864 – 1916
Marriages for the Republic – 1870-1942
Marriages for Northern Ireland – 1870-1922
Deaths for the Republic – 1878-1966
Deaths for Northern Ireland – 1878-1922
More images are being scanned and eventually marriages will go back to 1845 (non Catholic only) and deaths to 1864, so keep checking back. For more information about this record set, see my earlier post here.
Some church records are also available on this site:
Dublin City; some Church of Ireland and Roman Catholic registers
County Kerry; some Church of Ireland and Roman Catholic registers
County Carlow; surviving Church of Ireland registers
Cork and Ross; Roman Catholic registers
Lucan, County Dublin, some Presbyterian records, transcripts only.
More information about these records can be found here.
National Library of Ireland
In the 1950s, the National Library of Ireland microfilmed all the Roman Catholic baptism and marriage registers up to 1880. These microfilms have now been digitized and are available to browse and view for free on this site. They cover the whole of the island of Ireland.
Some registers start around 1740-50, but most are later, some not starting until the mid 1800s. You need to know the parish where your ancestors came from as the records have not been indexed on this site. However, they have been indexed on Find My Past and you can search them for free, although you will have to set up an account.
Family Search
Family Search has some Irish records, but most of them like the surviving census and civil registration records are available on other sites (see above). However, it does have some Church of Ireland transcripts which may be useful. A list their Irish records collection can be found here.
FindMyPast
Subscription
14 day free trial available
NLI Catholic Registers free to search
Of all the database sites, FMP has the most comprehensive and largest collection of Irish records with over 100 million documents.  Although some records are available for free elsewhere, most of the collections are exclusive to FMP. Highlights include:
Dublin Workhouses & Discharge Registers 1840-1919
Ireland, Poverty Relief Loans 1821-1874
British Army, Irish Regimental Enlistment Registers 1877-1924
Electoral Rolls
Easter Rising & Ireland Under Martial Law 1916-1921
Index of Irish Wills 1484-1858
Ireland Dog Licence Registers
Ireland Merchant Navy Crew Lists 1863-1921
Ireland National School Registers
Ireland Valuation Books
Ireland Petty Sessions Court Registers
Royal Irish Constabulary Pensions 1826-1925
Thom's Directory 1844-1900
Irish Prison Registers 1790-1924
Slater's Royal National Commercial Directory of Ireland 1894
And much more. You can find a full list of Irish collections here.
By the way, a subscription to FMP also includes access to the British Newspaper Archive which has a large collection of historic Irish newspapers.
Ancestry
Subscription
14 day free trial available
Ancestry is the largest genealogy website in the world with a huge database. It does have significant Irish records but not as big or as comprehensive as FindMyPast. Many records are available for free elsewhere, but it does have some exclusive records. A full list of Irish record collections can be found here.
My Heritage
My Heritage is a growing database site and has some Irish records. Again, many of the sets (like the 1901 and 1911 census records) are free elsewhere. A full list of the Irish records they hold can be found here.
John Grenham/Irish Ancestors
This site aims to be a single reference point for Irish genealogy records. It contains information about surname distribution in Ireland as well as parish and poor law maps and where record sets can be found. Some of the site is free to access, but much of it needs a subscription which can be bought for a day, a month or a year.
John Grenham is also the author of a key reference book on Irish genealogy.
Click here to see it on Amazon
Roots Ireland
Roots Ireland is a pay site belonging to the Irish Family History Foundation. They have transcriptions from the registers of Catholic and other churches in most of the counties of Ireland. Before you commit to a subscription, you should check what records they have for your county and to make sure the records are not available for free elsewhere (see the other sources mentioned above).
PRONI
PRONI is the Public Record Office of Northern Ireland and is the official archive for the province. It holds records of the 6 counties that remained in the United Kingdom after the Republic of Ireland gained independence in 1922. The following online records are held:
Freeholder records
Londonderry Corporation Records
Historical Maps
Street Directories
Ulster Covenant
Valuation Revision Books
Will calendars
More information about these databases can be found here.
All other records held by PRONI have to be physically accessed in Belfast. You can view PRONI's e-catalogue here to search their collection.
GRONI
GRONI is the General Register Office Northern Ireland and you use it to access historic civil birth, marriage and death records. It works like Scotland's People  for Scotland where you buy credits then use the credits to pay for images of the records.
Civil registration began in Ireland in 1845 (including the North) with non Catholic marriages and for all births, marriages and deaths from 1864, so civil records only exist from these dates. You can only access online birth records over 100 years old, marriage records over 75 years old and death records over 50 years old. For more recent records you will need to apply online for a copy of the certificate.
Important Note: You only need to use GRONI for records from 1922. You can access Northern Ireland BMD records for free before this date from Irishgenealogy.ie (see above).
Other Sites
Irish Genealogy Toolkit
This site, run by genealogist Claire Santry, is full of useful information, tips, links and tools for Irish research. Claire also writes the Irish Genealogy News blog which is a must read for anyone researching their Irish roots. Last year she also published The Family Tree Irish Research Guide which is the most up to date book on Irish genealogy and I highly recommend it, especially if your ancestors were immigrants to North America.
Click here to see it on Amazon
From-Ireland
This site, compiled by Dr Jane Lyons, has over 70,000 free Irish gravestone records with coverage of all 32 counties. There are also other records including directories and a Roman Catholic parish index as of 1836.
Eddie's Extracts
Here you will find birth, marriage and death extracts transcribed from historical Irish newspapers.
Ask About Ireland
Often used as a census substitute, the Griffith's Valuation was a survey of property in Ireland published between 1847 and 1864. Transcriptions of the valuations can be found on this free site.
SWilson.info
There are lots of useful free information on this website including historic maps, a Townland database and directories.
Fáilte Romhat
More useful Irish genealogical information can be found on this free site including cemetery transcriptions, directories and maps.
Ulster Ancestry
Ulster Ancestry undertakes genealogical research, but they also have some free pages containing Northern Irish genealogy records. Sets include passenger lists, directories and headstone transcriptions.
Find A Grave
This international site has cemetery records from Ireland, so is worth checking.
Historical Newspapers
Newspapers contain valuable genealogical information including birth, marriage and death notices, obituaries and court records. These can be very valuable for Irish research as so many other records have been lost. There are several newspaper database sites that have Irish titles (most of them need a subscription to access). These include:
These links plus many more are now on the new Irish Genealogy Links page.
Please leave a comment below if there are other sites you think I should add to the page.
Happy researching!
For further reading on Irish genealogy research, check out these books:
Please pin a pin to Pinterest: