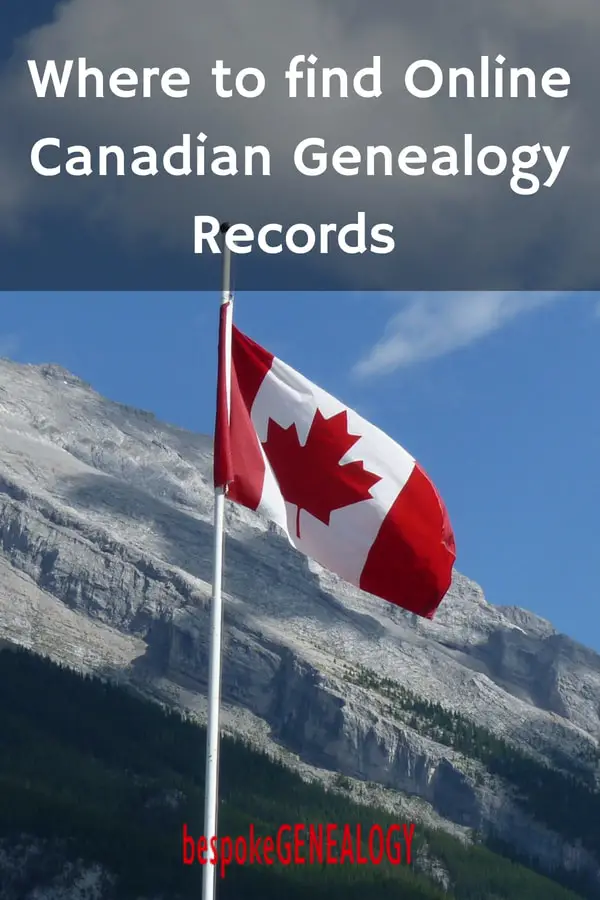 Canadian genealogy is not just for Canadians; many family historians in other countries, especially the US, have Canadian connections. After Canada became a British colony, waves of migrants came from Britain and Ireland. Many then travelled southwards to the US to seek greater opportunities or escape the severe Canadian winters. In the 19th century, assisted passage was also sometimes available, so it was often cheaper to sail to Canada rather than a US port.
If you are in the US and have British, Irish or other European ancestry, you may need to search Canadian genealogy records to find the link back to the home countries. This post is therefore a roundup of some of the Canadian genealogy records available online.
Libraries and Archives Canada
Libraries and Archives Canada (LAC) is the nation's repository, based in Ottawa. The website is a little clunky, but perseverance is worth it as there are masses of free online records available. A good place to start is the Ancestor Search page in the Online Research section. Listed on this page are the record sets available online. The key sets include:
National census returns 1861, 1871, 1881, 1891, 1901, 1911 and 1921
There are also some provincial censuses available from 1825 to 1916.
Divorce transcription index 1841-1968
A limited number of birth, marriage and death records
Immigration records
Land records
Military records (including World War One personnel files)
Canadiana
The aim of Canadiana is to preserve as much of Canada's documentary heritage as possible. Membership of this non-profit charitable organization includes libraries, archives and universities. More than 40 million pages of books, newspapers, periodicals, images and other culturally significant items have been scanned covering the years from early settlement to the beginning of the 20th century.
The Ships List
The Ships List contains transcribed passenger lists including many bound for Canada. The earliest list dates from 1803, with further lists covering much of the 19th century. Other useful information on the site includes an account of emigration in 1847; the worst year of the Irish famine, as well as details of ship wrecks, fleet lists and pictures.
Dictionary of Canadian Biography
This free website contains biographical information of thousands of influential people from Canada's past. It is basically the online version of the Dictionary of Canadian Biography which was a project started in 1959 by the Universities of Toronto and Laval.
Hudson's Bay Company Archives Biographical Sheets
The Hudson's Bay Company (HBC) is known throughout Canada now as a chain of department stores. However, it started life very differently as long ago as 1670 when King Charles II granted the company a Royal Charter which gave it exclusive trading rights in the Hudson's Bay area. Over the years, before Confederation, the company expanded the territory they controlled; setting up trading posts in what is now Western Canada. Some of these trading posts eventually became significant cities such as Winnipeg and Calgary. You can find a brief history of HBC here.
The HBC archives are now held by Manitoba Archives in Winnipeg. The bulk of the collection is not online. However, you can access "biographical sheets" of former employees of the company. These sheets list a person's employment history as well as place of birth and some family information. If you have an ancestor that worked for HBC, you should find some information here.
Family Search
Family Search, a free database site, has a number of Canadian record sets including:
Canada census 1851-1916
Some provincial censuses
Various BMD records from British Columbia, New Brunswick, Newfoundland, Nova Scotia, Ontario, Prince Edward Island, Quebec and Saskatchewan.
Passenger Lists 1881-1922
Ancestry
The subscription site Ancestry has a large collection of Canadian records covering all provinces and territories. Records include:
Censuses
Civil birth, marriage and death records
Church records
School records
Military records
Passenger Lists
Border crossing records
Employment records
Land records
A full list of Ancestry's Canadian collections can be found here.
FindMyPast
The British based subscription site FindMyPast has a growing collection of Canadian records. Although not as extensive as Ancestry's, it does have good coverage of records covering most provinces and territories. A full list of their Canadian record sets can be found here.
Free Online Newspapers
The Ancestor Hunt Blog has links to several free online historical newspaper archives in North America, including collections in Canada. You can find the links here.
British Home Children
Between 1869 and 1948, over 100,000 children were sent to Canada from Britain by organizations like the Salvation Army and Dr. Barnardo's Children's Homes. These children were used as domestic servants and farm workers. British Home Children is the official website of BHCARA (the British Home Children Advocacy and Research Association) and aims to create a registry of the immigrant children. Work is ongoing and at the time of writing, there are 45,464 names on the online registry.
More information about these children can also be found on British Home Children in Canada.
Canadian Virtual War Memorial
Over 118,000 Canadians (and Newfoundlanders) since Confederation gave their lives to the Country whilst serving in the armed forces. The Canadian Virtual War Memorial is a registry of these Canadians which lists some personal information as well as details of where they are buried or commemorated.
Canadian Headstones
Canadian Headstones is a website run by the Ontario Genealogical Society and contains a database of nearly 2 million gravestone photographic records across Canada.
Good luck with your research!
For further reading, you may also be interested in these books:
More genealogy books can be found in our Resources section.
Please pin a pin to Pinterest: