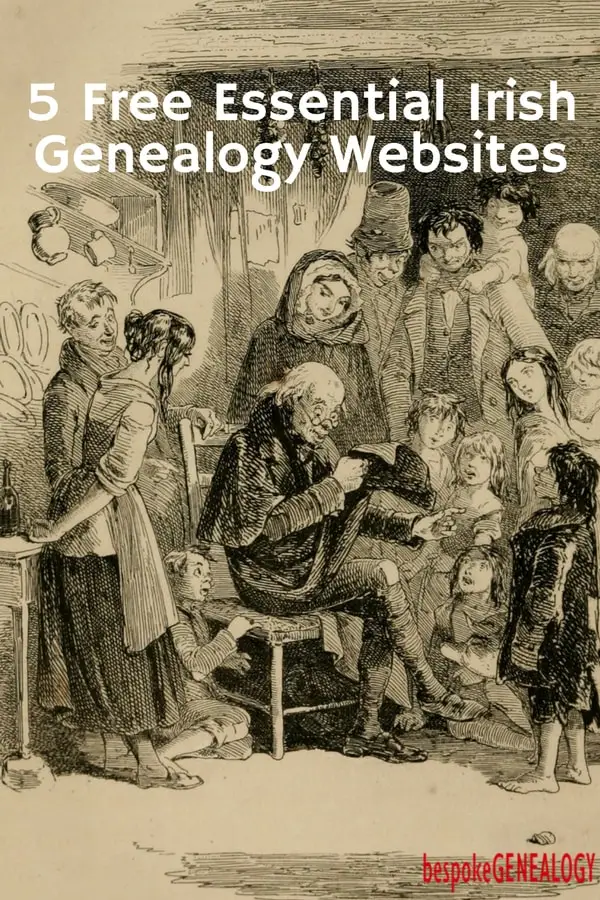 If you have Irish ancestry, the bad news is that many records no longer exist, especially almost all of the pre-1901 census returns. The good news is that there are still many records available to search so you can still make meaningful progress with your family tree. And a lot of these records are free! Here are the top 5 essential free Irish databases:
The National Archives of Ireland
The following records can be accessed on this site:
• All of the 1901 and 1911 census records of Ireland (Including Northern Ireland)
• All the fragments of previous census records that survive 1821-1851
• Census Search Forms 1841 and 1851. These were used in 1908 to verify pension applications
• Tithe Applotment Books 1823-37
• Soldiers Wills 1914-1918
• Calendars of Wills and Administrations 1858-1922
• Prerogative and diocesan copies of some wills and indexes to others, 1596 – 1858
• Diocesan and Prerogative Marriage Licence Bonds Indexes, 1623 – 1866
• Catholic Qualification Rolls, 1700 – 1845
• Valuation Office books 1824-1856
• Records of the Registrar General of Shipping and Seamen, 1860 – 1921
• Will Registers 1858-1900
irishgenealogy.ie
This site is run by the Irish Ministry of Culture and is really important for people with Irish ancestry as it contains:
• Searchable images for the whole of Ireland (including the North) of births 1864-1916; marriages 1870 to 1941 (Northern Ireland to 1922 only) and deaths 1878 to 1966 (Northern Ireland to 1922 only). More images are being scanned and eventually marriages will go back to 1845 and deaths to 1864, so keep checking back. This is really is a big deal as you have to pay for these types of images in Scotland, England and Wales.
• Some church records are also available on this site; see this page For a list of what is available.
Family Search
Run by the Church of Jesus Christ of Latter Day Saints, this site contains a huge amount of records from all over the world. Some Irish ancestry records are held and probably the most interesting are:
• Ireland Births and Baptisms 1620-1881. These sets are incomplete; see this page for a coverage table by county.
• Ireland Marriages, 1619-1898. See this page for coverage by county.
The National Library of Ireland
All of the microfilms of Catholic parish registers that the NLI hold have been digitized and are available on this site to browse. These are images of most of the surviving baptism and marriage records to 1880. Some registers start around 1740-50, but most are later, some not starting until the mid 1800s. You need to know the parish where your ancestors came from as the records have not been indexed on this site. However, they have been indexed on Find My Past and you can search them for free, although you will have to set up an account.
PRONI

 
PRONI is the Public Record Office of Northern Ireland and holds records of the 6 counties that remained in the United Kingdom after partition in 1921. The following online records are held:
• Freeholder records
• Londonderry Corporation Records
• Historical Maps
• Street Directories
• Ulster Covenant
• Valuation Revision Books
• Will calendars
More information about these databases can be found here .
For more free Irish genealogy see: 125 Free Irish Genealogy Online Resources
And for more free resources in other countries see: 120 Free Genealogy Websites
See Also:
To read much more about Irish genealogy, I suggest getting hold of Claire Santry's best selling book "The Family Tree Irish Genealogy Guide". See it on Amazon
Other useful Irish genealogy books include:
There are more genealogy books in our Resources section.
Good luck with your research!
Please pin a Pinterest Pins to your board: