I'm often asked how to save an Ancestry tree onto a computer. So, this post looks at how you can easily download an online tree using a GEDCOM file. I look at Ancestry as well as Findmypast. Other sites have similar methods for downloading GEDCOMs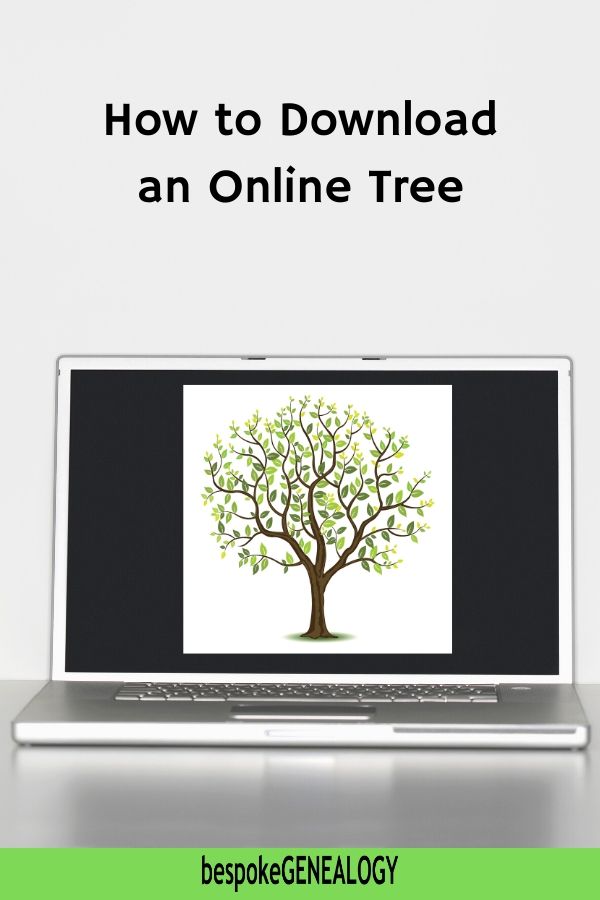 Why download an online tree?
In the last few years, the increased availability of online records has meant that genealogy has become a popular pastime for millions of people. The large database sites allow subscribers to create their own online family trees for researching.
Online trees on the subscription sites, especially Ancestry, have become the most common way for people to research and keep their findings. According to Family Tree Magazine, Ancestry alone has more than 34 million member trees on its site.
Subscriptions are expensive, so it's often not feasible to pay year after year. Until a couple of years ago, even if your subscription had expired, you could still access your Ancestry tree and view the attached records. You just couldn't use the site to find new records. This has now changed and although you can still access your tree after an expired subscription, you can't now view attached records.
There is always the possibility that Ancestry's terms will change again in the future and members with expired subscriptions will no longer have any access to their trees. And there is also the security aspect. What if a database site is hacked or there is an algorithm change that causes a loss of data? I lost one of my trees on a database site for a week once after a software upgrade. What if I'd never got it back?
I look at this in more detail in a previous post: Stop Relying on Online Family Trees.
So, this is why it makes sense to download your online trees on a regular basis.
Limitations of GEDCOM files
It is relatively easy to download GEDCOM files from the database sites and save them to your computer (see below). However, these files will only save your actual family tree, including names of records, sources etc. You won't be able to save the documents attached to your tree with a GEDCOM. You will have to save these manually. It's always best to save documents to your computer as you go along. Every time, you save something to your tree, save a copy to your computer.
The only way you can download a tree from Ancestry along with the documents attached is to buy Family Tree software that can sync your computer with an Ancestry tree. Currently that means Family Tree Maker or Roots Magic.
How to export a GEDCOM from Ancestry
Go to Trees on the main menu and select Create & Manage Trees:
Select Manage Tree:
Next click on the Export Tree button:
Ancestry will prepare the file and you will see the Download your GEDCOM file button:
Click on this button and your file will be downloaded onto your computer. You should find it in your Downloads folder.
How to export a GEDCOM from Findmypast
Findmypast has a similar procedure to Ancestry:
From the main menu, select Family Tree, then from the drop-down menu click on View Trees:
On the right of the name of the tree you are going to download, there are three symbols. Select the middle one with the arrow; this is the Export Tree button.
Clicking on the button will prepare the GEDCOM file for export:
Finally, click on Download tree. This will download the GEDCOM file onto your computer. You should find it in your Downloads.
What to do with your GEDCOM file
Now you've downloaded your GEDCOM file, you have some options.
You can upload your tree to the free database site Family Search. You need to set up an account if you don't already have one. From the main menu, hover over Search and from the drop-down menu select Genealogies.
At the foot of the Genealogies page there is a Submit Tree button. Click on this button and you can upload the GEDCOM file.
If you take out a subscription with another paid-for database site, you'll be able to upload your GEDCOM.
If you want your family tree on your computer, I've already mentioned the paid-for software Family Tree Maker and Roots Magic (above). A great free option is Gramps. Gramps is completely free open-source family tree software. I used it a few years ago and it is pretty good. Once you have downloaded the software, you can open the GEDCOM on your computer to access your tree.
Happy researching!
Please pin a Pin to Pinterest: