If you're planning a trip to Scotland to find your ancestors, explore the heritage or just enjoy the scenery renting a car is not the only option. With a bit of planning, using trains, trams, buses, coaches and ferries can be a perfectly viable option and even a rewarding experience. So here is a brief guide to using public transit in Scotland.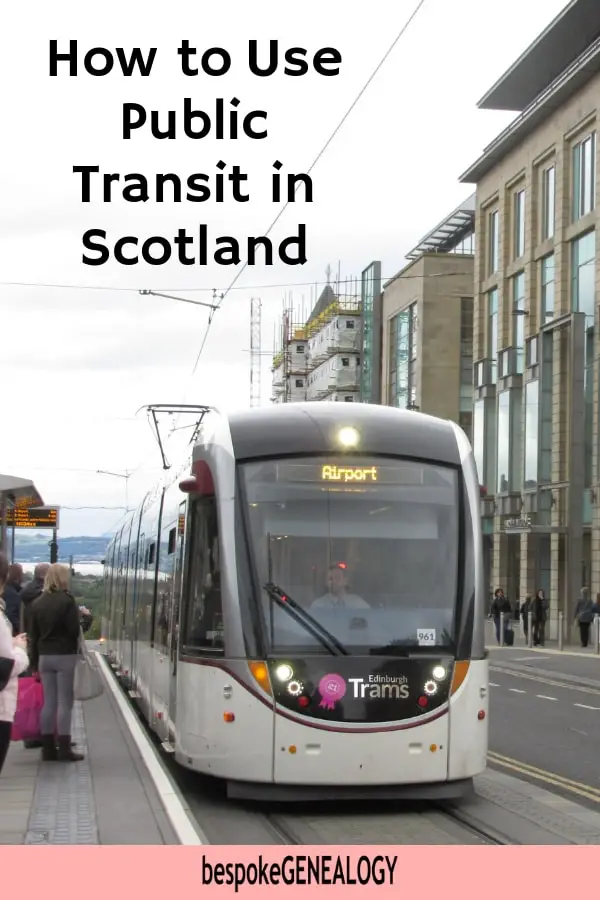 Trains
Scotland has an extensive rail network and most of the main centres are connected. Some lines like the West Coast routes from Fort William to Mallaig and Inverness to the Kyle of Lochalsh and are among the most scenic in the world. You can find a rail network map here.
Train fares in Scotland, along with the rest of the UK, are some of the highest in Europe; that is if you buy tickets on the day of travel. It is almost always cheaper to buy tickets in advance and the savings can be considerable.
Britrail Pass
If you live outside of the UK, and are planning to use the trains a lot during your trip, the best option will probably be to buy a BritRail Spirit of Scotland Pass. These passes need to be purchased before you arrive in Scotland and are valid for 4 days (within 8 days) or 8 days (within 15 days).
The pass is valid on all train services run by ScotRail (the main operator in Scotland) as well as most other scheduled services in Scotland. Unfortunately (as of 2023) they can no longer be used on all scheduled Caledonian MacBrayne ferry services within Scotland. You can find more details here.
ScotRail
ScotRail is the main train operator in Scotland. You can use the Scotrail website to plan journeys, make seat reservations and buy tickets (if you don't have a pass). If you don't have a rail pass, I recommend downloading the free Scotrail app so that you can easily buy tickets and get information on your phone.
For information on the most scenic train rides in the Country, see the Scotland's Great Rail Journeys page on the Visit Scotland website.
Coaches
Coaches (long distance buses with comfy seats) are (usually) cheaper alternatives to the train. Most main towns and cities are served. Apart from on the main corridors (such as Edinburgh to Glasgow), services are not usually as frequent as the railway, so it is important to plan ahead.
The main coach operators in Scotland are:
Some operators compete on the same route, so it's best to check all the websites when planning your journeys.
In the peak holiday season it is always advisable to book seats as early as possible to make sure you can take your desired journey.
If you plan to do a lot of coach travelling, and you can organize your trip so that you use only Scottish Citylink or Stagecoach, then a multi-journey ticket may save you money:
Edinburgh
Most trips to Scotland will probably include time in Edinburgh. The city is relatively small for a capital and it's very easy to get around using public transit.
Transport for Edinburgh runs the Tram service from the Airport into the city centre as well as the main bus operator, Lothian Buses
Day tickets can be bought for unlimited travel on the trams and Lothian buses. Details are here. Lothian route maps and timetables can be found here.
The other bus operator in Edinburgh is First. Check out their website here for routes and fares.
Glasgow
SPT (Strathclyde Public Transport) is the public body that co-ordinates transit in Scotland's largest city. Visit the SPT website to find details on the Subway and bus services.
Day tickets are available for unlimited travel on the Subway, local trains and buses. See the Travelcard page for more details.
Local Buses in the rest of Scotland
Several operators run local bus services in the other cities, towns and larger villages. The Traveline Scotland website is the best place to find details of these services.
Ferries
Scotland has hundreds of islands and many of the larger ones are well worth visiting for the history and scenery. The important islands are well served by frequent ferries, so you can integrate them into your tour of Scotland.
Caledonian MacBrayne
Caledonian MacBrayne operates a large fleet of ferries linking the west coast of the Scottish mainland to some of the larger islands. Details of routes, times and fares can be found on the CalMac website.
CalMac have a range of Hopscotch tickets which allow you to plan island hopping holidays. You can find more details and prices here.
A range of day trips are also offered from Oban. For example, the Three Isles Tour crosses to Mull and then on to Staffa to see Fingal's Cave and finally to Iona, the "cradle of Christianity in Scotland". Details of all the day tours can be found on the CalMac Adventures page.
Ferries to Orkney and Shetland
A number of companies operate services to the northern Orkney and Shetland islands. They are:
Tours
Finally, you may want to take a tour, whether that's an all inclusive two week tour or one just focusing on a specific aspect of Scotland for a shorter period. There are many companies offering many different types of tours. A good place to start looking for these is the Visit Scotland Tours of Scotland page.
Hope you have a great trip!
Please pin a pin to Pinterest