This post looks at the hidden free records you can access on the largest genealogy subscription site. There are records from all over the world, not just the US, UK and Canada and you may find some of them very useful. So, here's how you can find free records on Ancestry.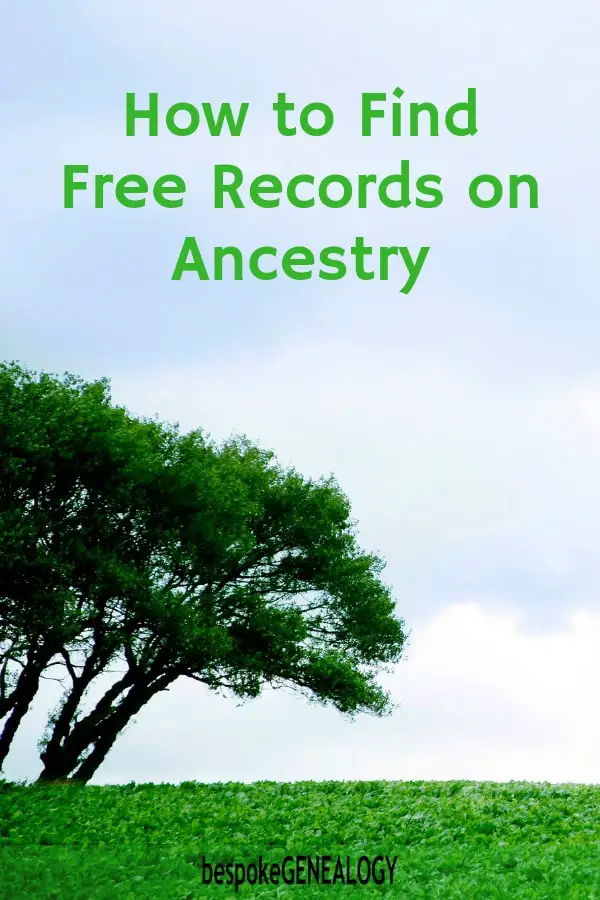 In my last article, Find your British and Irish Ancestry for Free, I looked at how you can do a lot of British and Irish genealogy research for free using a number of websites. One site I didn't mention was Ancestry. This website is, of course, a subscription site, but surprisingly it does have a huge collection of records that are free to access. As well as British and Irish records, there are collections from the US, Canada and from countries around the world. As of today there are 1054 free collections.
These free records are not very easy to find, as they don't seem to appear on any menu or on the site map. To access the complete list you can go to the main Ancestry search page for all categories and then add categories/freeindexacom/ to the URL. Alternatively click on this link to go straight there.
The link will take you to a page called Free Index Collections  and here you will see a complete list of links to the record sets. Here is a screenshot of part of the list:
You'll notice that all the records are tagged either "FREE" or "FREE INDEX". The "FREE" sets will let you see transcriptions and/or images of the records, whereas you'll only have access to an index with the other collections. However, even the index only records may yield useful genealogical information.
These collections are a mixture of records held on Ancestry's own site or hosted on other websites like Family Search or an archive. The records may be indexed or they may be browse only. Some sets are unique to Ancestry, others can be found on other websites.
There is plenty of variety within these collections and some of them are quite obscure. It is well worth browsing the list to see if you can find anything of value for your research.  As examples, here is a random collection of six of the sets:
Findmypast also has some free British, Irish and US collections. These are much easier to find than Ancestry's; see How to Find Free Records on Findmypast for more information.
Happy researching!
For further reading, you may find these books useful:
Please pin a pin to Pinterest: