This post looks at the family tree facts you need to find for all of your ancestors.  These are essential to have before you can move back to the next generation. I also look at other facts you ought to find to get a good picture of someone's life. The article is aimed mainly at new genealogists just starting their research.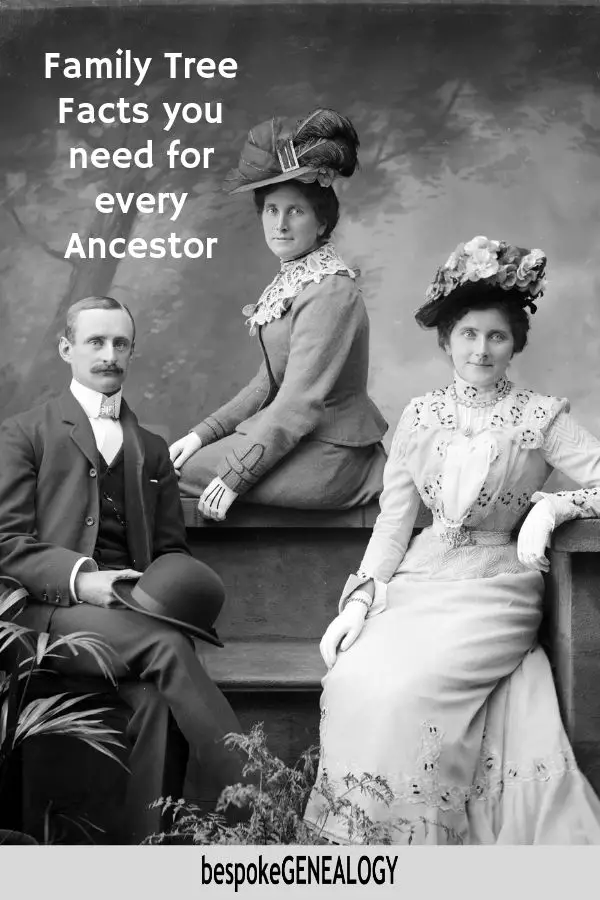 When I talk about facts in this article, I mean verified facts. These are facts that are correctly sourced and backed up with documentation.
Why are you researching your family history? Is it because you want to know about your ancestors and the lives that they led? Or do you just want to find a link to some historical celebrity? Or is there another reason? I'm sure most people reading this will say it's the first reason. You want to learn about the lives of your ancestors. Where they lived, what they did for a living etc.
The reason that I've asked this question is that I see many online trees that have very little information on them. If you look at the profiles of many of the individuals, they often contain very few facts. I learn almost nothing about these people when I look at these trees.
The good news is that there are also many online trees that have obviously been thoroughly researched. The owners have tried to find out as much as they can about their ancestors. Their work contains many family tree facts.
This is the best way to research your ancestors for three reasons:
You get a much better picture of your ancestors lives
Your tree is more likely to be accurate
Genealogy research is much more fulfilling done this way
Just to expand a bit on point 2; the more facts you have, the more likely it is that the profile of a person is accurate. You can cross reference the facts to make sure that they fit. For example, birth and marriage records may verify that you have the correct census returns.
In my view, you need to know when and where your ancestors were born, were married (if applicable) and died. You should also know where they lived, how many children they had and what they did for a living.
Essential Facts
Essential facts are the facts that you must find for all of your direct ancestors. I would also recommend that you find them for all siblings and spouses as well. Until you have these facts, you shouldn't move back to the next generation.
Birth/Baptism
Civil registration of birth, marriage and deaths began at different times in different countries. In England and Wales for example, it started in 1837. If civil birth records are available, I would always recommend getting the actual records if possible and not just rely on indexes. The records usually give much more information such as the family's address, the occupation of the father and the mother's maiden name. You may find even more information in other countries. Scottish records, for example, often include the date and place of the parent's marriage.
Before the start of civil registration, the parish baptism register will be the only record of a birth. Sometimes the actual date of birth will be recorded, but usually you'll only see the baptism date. Baptisms often happened within a few days or weeks of a birth. However, sometimes it might not occur for several months or even years after the birth.
Other places to look for birth information include historical newspapers, census returns and military service records.
Marriage
Civil and/or church marriage records are also key records that are essential to find. Civil and later parish records usually contain a wealth of useful genealogical information such as the bride's maiden name, names and occupations of fathers, occupations of the couple and places of residence. The names of the witnesses may also be useful if they are relatives.
Earlier parish records contained much less information, but you should find at least the date of the marriage and the names of the couple, including the bride's maiden name.
Again, newspapers are often a source for marriage announcements.
Death/Burial
Finally, death and or burial records are the last essential record that must be found for your ancestors. Civil death records usually contain the date and cause of death as well as the deceased's age and the address where death occurred. They may also list the next of kin as the informant.
Before the start of civil registration, burial records will be the key record here, either in church or cemetery registers. Early records will probably only record the name of the deceased. If you can find a monumental inscription for the gravestone, this may yield more information.
Wills and probate records as well as newspapers may also be useful records here.
Church records are sometimes difficult to find as they are not all available online and the ones that are tend to be spread out over different database sites. It is worth making the effort to try and find them. If you can't find them online, a good idea is to contact a local family history society for advice. They will likely be able to tell you where you can find them. They may even have transcriptions available to buy on disc.
If your ancestors were British, you can find links to local family history societies and county archives for England, Wales and Scotland in the Resources section of this website.
Other useful records
The essential records (above) only give the bare bones of a person's life. To get a much fuller picture you need to find other family tree facts, especially those relating to someone's family, occupation and location. Records to search for include:
Census returns
Where still available, census records (usually starting in the first half of the 19th century) are the most useful after vital records. They usually give details of where families lived, their ages, places of birth and occupations.
Wills and Probate
Wills are also incredibly useful as not only do they give the date and place of death, but usually also details of the deceased's family and the property that they owned.
Newspapers
Newspapers (especially from the early 19th century) can yield lots of useful genealogical facts about a person. As well as birth, marriage and death announcements you may also find your ancestors mentioned in obituaries, appointments, legal proceedings and general news articles.
Land records
If your ancestors owned or rented property, you may find relevant land or tax records that yield useful information.
Military service records
Many men served in the army, navy and later the air force. If there are surviving service records, these can be very useful. As well as details of their service life, you may also find information about their family, residence and occupation.
Passenger lists
If your ancestors emigrated or just traveled to another country for pleasure or business, passenger lists can be a rich source of facts, especially later ones. You may find details of previous addresses, next of kin, occupations and destination details.
I think that finding all these facts for family trees add "color and depth" to research and I reckon make genealogy much more interesting.
For more on family history research see: The Complete Family History Guide
Happy researching!
Please pin a pin to Pinterest: