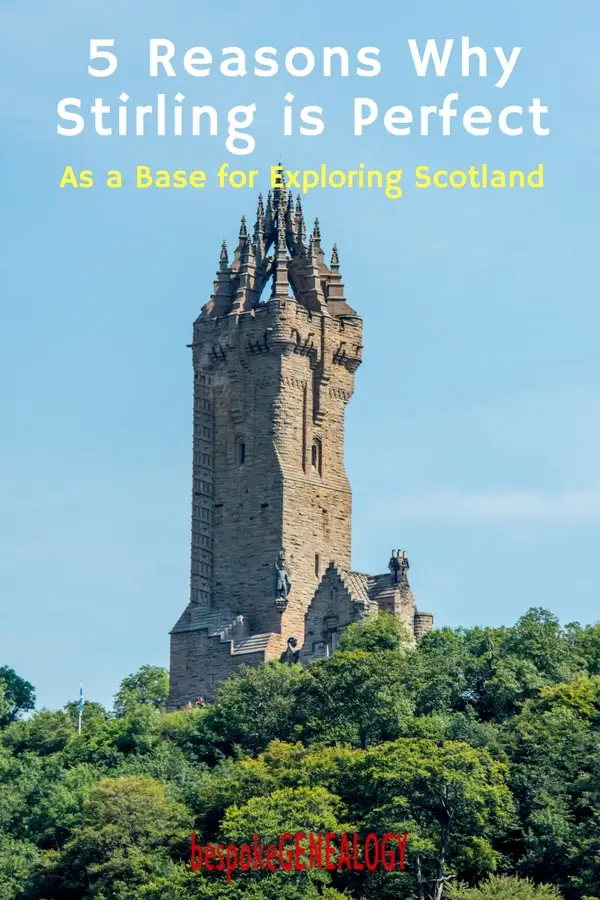 Edinburgh is by far the post popular destination for people staying in Scotland. According to Visit Britain (the UK tourism agency), more people stay in Edinburgh than the rest of Scotland combined. This is understandable as Scotland's capital is rich in history and culture. However, if you are planning to see more of this beautiful country, than Edinburgh, to find your Scottish roots or just for a vacation, I would suggest that Stirling is a much better place to stay as a base for touring Scotland. Here are 5 reasons why:
1. Central Location for Touring Scotland
The City of Stirling is in a splendid central location for touring Scotland. It is on the motorway network within easy reach of the two main international airports; Glasgow (35 miles) and Edinburgh (30 miles). It is also on the railway network and has frequent trains to Edinburgh (55 minutes) and Glasgow (40 minutes) as well as other major destinations in Scotland.
Stirling is also situated at the foot of the Scottish Highlands, so travelling north you are soon in stunning countryside dotted with small towns and castles. To the west is the Loch Lomond and Trossachs National Park.
2. Stirling is cheaper than Edinburgh
It's the law of supply and demand; Edinburgh attracts most of Scotland's international visitors (1.73 million in 2016), so accommodation, restaurants, shops etc. are priced accordingly. Whereas the Stirling region is competing with the rest of country for the 40% of international visitors who don't stay in Edinburgh, so prices tend to be cheaper.
On a recent trip to Scotland, my wife and I stayed in Stirling. We rented the ground floor of a Victorian house (pictured) and the price was about 30% cheaper than anything I could find in Edinburgh. We booked this with Unique Cottages.
3. Edinburgh is within easy reach of Stirling
On any trip to Scotland, you are more than likely going to visit Edinburgh to visit the archives or look at the sights. The good news is that you can get to the Capital easily and quickly from Stirling.
If you are renting a car, my top tip is to take the M9 motorway to Ingliston, near the airport, on the outskirts of Edinburgh. Leave your car in the free Park & Ride parking lot. You can then take the excellent and frequent tram service into the city centre.
Alternatively, Scotrail runs frequent trains (40 a day) from Stirling to Edinburgh Waveley station in the centre.
4. Stirling has its own attractions
Stirling is seriously old; there has been a settlement here since at least the Iron Age. The town was granted Royal Burgh status by King David I in 1124 and was once the Capital of Scotland, being strategically located between the Highlands and Lowlands. The place feels very old, especially in the Old Town area (unsurprisingly).
Stirling Castle dominates the city and dates back to the 1100s. Although not quite as big as Edinburgh Castle, it is just as impressive sitting on the top of a huge volcanic rock overlooking the River Forth and surrounding area. The Castle is known as the "bloodiest" in Scotland and was continually fought over for centuries as it was in such a valuable strategic position.
Tip: If you are planning to visit several castles in Scotland an Explorer Pass  may save you money. It gives free admission to 70 castles and other attractions run by Historic Environment Scotland.  
The National Wallace Monument was completed in 1869 as a tribute to Sir William Wallace, Scotland's first hero and subject of the Hollywood movie Braveheart. It is a magnificent structure and a climb to the crown is rewarded with great views of the castle and surrounding area.
Old Time Jail is a 170 year old former Victorian prison where you can get an idea of what it was like then behind bars. Note that it is only open between July and September as well as Easter weekend.
Church of the Holy Rude  is a 15th Century building with a beautiful interior and is where the infant King James VI was crowned in 1567.
For more places to visit in Stirling, visit the Your Stirling website.
5. There are plenty of other places to visit within easy reach of Stirling
Here are just three examples of other places that are within easy reach of Stirling for day trips:
Loch Lomond; this gorgeous loch set within the stunning Trossachs National Park is less than 40 miles from Stirling. Head for Balloch at the foot of the loch and take a cruise. If you don't have a car, there is a regular train to Balloch from Stirling.
Doune Castle; this 14th Century Castle is now famous as a film and TV location for productions such as Monty Python and the Holy Grail and Outlander. It is just 11 miles from Stirling
Oban; on the west coast of Scotland is this lovely fishing town and is only 88 miles from Stirling. It is reputed to be the seafood capital of Scotland and there are plenty of places where you can indulge.
For many more places to visit, check out the Visit Scotland website.
Enjoy your stay!
You might also find these books useful for planning your trip:
Please pin an image below to your Pinterest board: