There is always something to learn in genealogy I find. That's what makes it so interesting as it keeps the old grey cells active. If you'd like to learn more about genealogy research as a whole, or about a particular topic, I've put together a list of some resources.  Here are some great free online genealogy courses.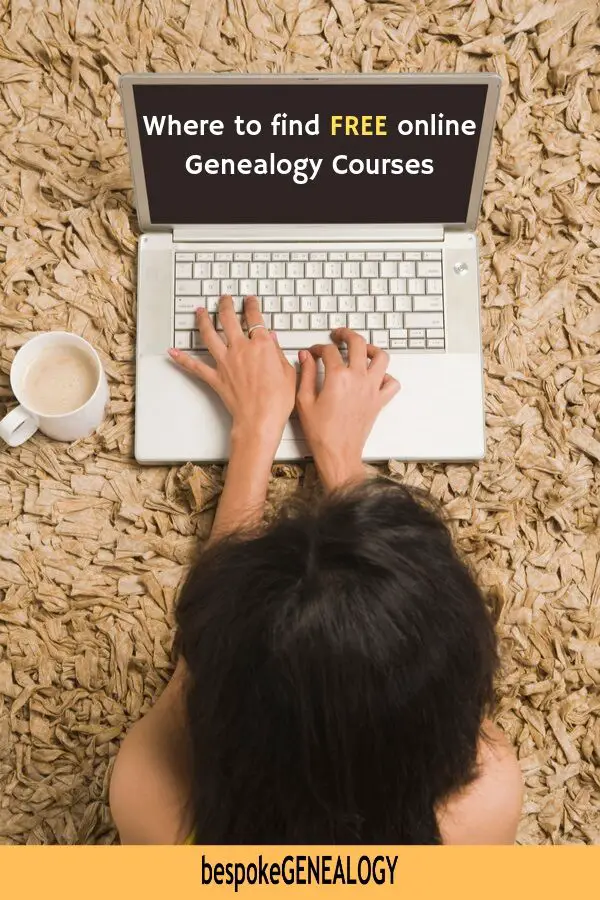 Genealogy: Researching Your Family Tree by Future Learn
This is an excellent course and I would recommend anyone interested in genealogy, especially those at the beginner or intermediate level, to take it. I was reasonably experienced when I took it a few years ago and I'm glad I did. It improved my research techniques no end.
Future Learn courses usually have set start dates and run one or more times a year. The next start date for this course (at the time of writing) is 28 October 2019. If you miss this date or are not able to join at this time, I recommend registering with Future Learn here and signing up to the mailing list option so you'll be informed of future dates.
Like most Future Learn courses, this genealogy one is tutor taught via videos and printed material. There is a discussion board where you can communicate with tutors and fellow students. There are no exams or essays to complete and the course can be done at your own pace. It lasts for six weeks and requires about 4 hours study a week.
Topics covered on the course include:
Differences between primary, derived primary and secondary sources
Importance of knowing who made a document and why
Lateral approaches to researching
International and local primary and secondary source databases
The main genealogical source types including civil, church, census and military records
Genealogical proof standard
DNA testing for genealogy
Importance of evidence in sourcing
Overview of family tree tools; paper, software and online
Protecting and preserving physical and digital records
The course is run by Strathclyde University in Scotland who are world leaders in genealogical study. It does not concentrate on a specific country's records so it is useful to anyone around the world.
This genealogy course is completely free to join and you will have access to course materials and videos for its duration plus 14 days afterwards. You can upgrade by paying a fee which will give you access as long as the course remains on Future Learn. The upgrade also gives you a certificate of achievement. You can decide whether or not you want to do this after you have completed the course.
For more details and for enrollment go to the course page here.
You can find other Future Learn courses here.
Society of Genealogists Record Guides
The Society of Genealogists in London has four detailed record guides on their website that take you through the main record types in family history. The focus here is on British records.
The SOG also has a very useful Hints and Tips section which contain a number of shorter guides on various aspects of genealogy:
Starting your family history
Difference between genealogy and family history
Surname searching
Genealogy as a career
Standards and good practice in genealogy
Employing a professional genealogist
London research
Getting the best results from Family Search
Getting the best results from the IGI
Finding and downloading Wills from the National Archives
Writing genealogical reports
National Archives Research Guides
The National Archives in London has a huge collection of research guides on the records it holds as well those held by other archives. These include 192 family history guides covering the following areas:
Army and militia
Births, marriages and deaths
Census and other national surveys
Courts, criminals, prisoners and litigants
Divorce, adoption and change of name
Foreign and colonial
Health and welfare
Houses, schools and other institutions
Immigrants, emigrants and refugees
Medals and awards
Merchant Navy
Occupations, commerce and trade
Prisoners of war and internees
Religious groups
Royal Air Force and other air services
Royal Navy and Royal Marines
Tracing living people and electoral registration
Wills, inheritance and land ownership
See this page for the full list of family history research guides.
Family Search Classes
The free database site, Family Search, has a large collection of classes. Many of these are on video. Topics include Beginners research techniques, getting started in Irish genealogy, South African records, research in Poland and many more. For a complete list see the Classes page here.
Ancestry Academy
Ancestry has a good collection of video courses to choose from including Understanding DNA, Mexican Civil Registrations, Social Media and Genealogy and many more.
See the full list of courses here.
Public Record Office of Northern Ireland
If you have Irish ancestry, there are some great family history guides on the PRONI website. The guides are downloadable pdfs and cover a wide range of topics. Subjects include emigration records, the Registry of Deeds in Dublin, a guide to gravestone inscriptions, tithe records and many more.
See the full list here.
For more free resources see the Free Genealogy page.
Happy learning!
Please pin a pin to Pinterest: