If your British ancestors were not members of the established Anglican church, it can be difficult to find birth, marriage or death records, especially before the start of civil registration in England and Wales in 1837 and in Scotland in 1855. This post looks at some of the resources on the web that can help you find British non-conformist records.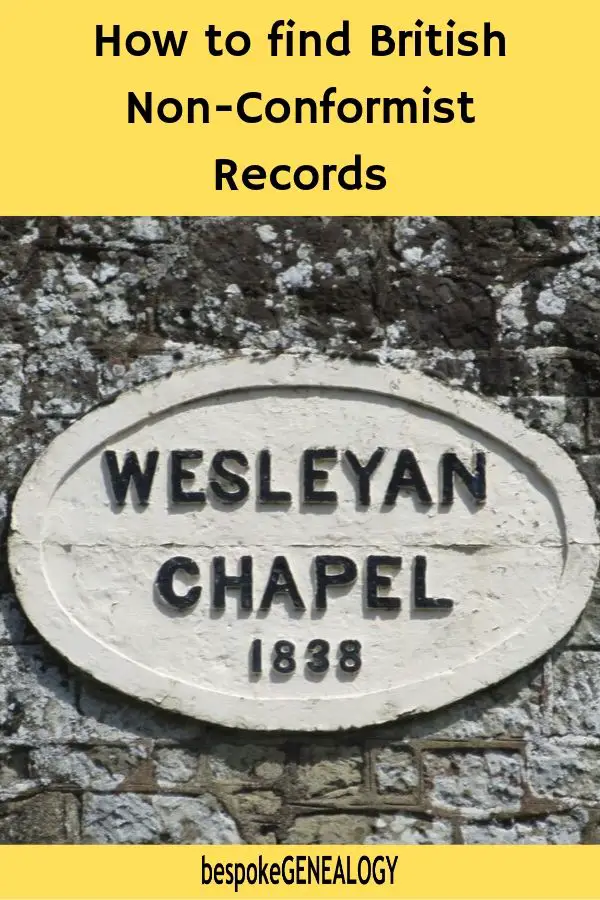 It is not unusual for families to have changed churches more than once. There was a lot of pressure for people to conform and attend the established church; from Tudor times up until the early 19th century. Angry mobs would often disrupt "dissenting" services, making it difficult for congregations. In spite of this, throughout the 18th and 19th centuries, membership of dissenting churches grew as did the number of denominations.
So, if you are having difficulty locating parish records for your ancestors, it may be because they spend some time as members of a non-conformist church.
For the purposes of this post, I'm including as non-conformists, any church that isn't the established Anglican church, for example Methodists, Quakers, Roman Catholics, Presbyterian etc.
A couple of things to note first. Between 1754 and 1837, by Act of Parliament, all non-conformist marriages (apart from Quaker and Jewish marriages) had to take place in an Anglican church. So, these marriages will be recorded in established church registers. Also, dissenting churches often did not have their own graveyard, so burials would happen in a parish church or civil cemetery.
The National Archives
A good place to start your non conformist research is with this helpful TNA guide.
When civil registration began in 1837, many non-conformist registers were collected by the General Register Office (GRO) and are now held at the National Archives in London. These can be viewed at TNA in person. Most of them have been digitized and can be viewed on the subscription site, The Genealogist (below).
The Genealogist
The Genealogist, a subscription site, has digitized copies of the records held by TNA. These include:
RG4: Non-parochial Registers 1567-1858
RG5: Protestant Dissenters' Registry
RG6: Quaker Registers 1578-1841
RG7: Fleet Marriages 1667-1777
RG8: Non-Parochial & Miscellaneous Registers
Also, of interest on this site are scanned copies of the Jewish Chronicle 1905-1908 and Jewish Synagogue Seat holder records.
National Library of Wales
The NLW holds many non-conformist records relating to Wales. Use the search page to find records. Most of these records have not been digitized, so if you can't visit the library in person, they do have a coping service. See the Requesting copies page for more information and fees.
The NLW does have a very useful free resource available online, and that is its collection of scanned newspapers. Newspapers often have information about non-conformist churches and conferences, obituaries of members etc.
British Newspaper Archive
Talking of newspapers, the largest online collection of British (and Irish) newspapers is the British Newspaper Archive. This is a joint venture between the British Library and Findmypast. It's not free, but it is a fantastic resource for genealogists. Access to this collection is also available with some Findmypast subscription packages.
Scotland's People
This pay per view site has a large collection of Scottish Roman Catholic, Presbyterian and other non-conformist records available. See the Church Registers guide for more information.
For more on Scotland's People, see: Scottish Genealogy: Making the Most of Scotland's People
Findmypast
Findmypast has a large collection of British Roman Catholic and other non-conformist records. See the Search A-Z of record sets page to find the collections.
Ancestry
Ancestry has several non conformist record sets including Liverpool Quaker Registers and Catholic records. See the Card Catalog to search
Family Search
Like the other database sites, Family Search has some non-conformist collections. Check the record collections for Great Britain to find them.
Quakers in Britain
The Library of the Society of Friends (Quakers) in London holds the indexes or digests of Quaker births, marriages and deaths. There is an online catalog which can be searched here.
The Quaker Family History Society has a detailed guide on Researching Quakers. This is well worth checking out if you have Quaker ancestors.
Other useful non-conformist guides
Finally, some other guides which you might find useful:
For further reading, check out Tracing Your Nonconformist Ancestors: A Guide for Family and Local Historians:

Click here to see it on Amazon
Happy Researching!
Please pin a pin to Pinterest: